81% do research online before buying
Want to generate thousands of local views of your haunted attraction, haunted hotel, or Halloween event? FrightFind can help you reach your audience with these offerings:
---
For Haunt Owners
Add & Customize Your FREE Listings
There are several options to promote your haunted listing on FrightFind. Simply go to our Add Your Scare page to get started. You can feature your Haunted House locally to your city or state, as well as feature your listing on high trafficked category pages or our homepage. Want help? Contact FrightFind anytime and we can help you get set up.
Feature Your Haunt On State & City Pages
Local searches lead 50% of consumers to shop within 1 day. Our state & city pages get very targeted local traffic every month. This is a perfect way to announce to your city, state, and surrounding states, that you have the best haunt around. More on our State & City pages>>
Geo Local Advertising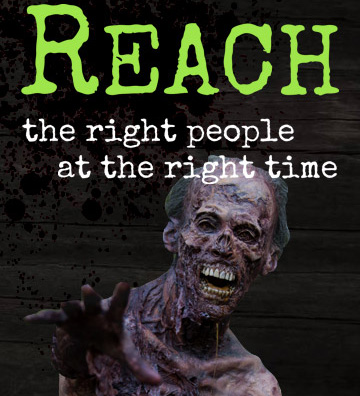 Haunts can make an average of $2 for every dollar spent on advertising with Google. AND paid advertising is 43% more successful at generating sales than TV or radio advertising at a fraction of the cost.
More on Geo Local Advertising >>
---
For Media Buyers
Image & Media Banners
We have several options to advertise your product, movie or show, website, conference, specials, and more. You can sponsor specific pages, email newsletters, categories, or takeover the entire site.
Typical Size & Placement Options:
250 x 300 banner can be featured on any page
768 x 90 on the homepage
768 x 90 on category pages
Contact us about other sizes, too!
Featured Videos & Content
Videos have a great response rate from our audience. Want to feature a video on every page of our site or sponsor a particular category? We can get your video in front of the right people.
---
Product & Conferences
Haunted House & Halloween Product Reviews
We can also feature your haunt or product with a custom review. We can review in person, or interview you, and feature blog posts, videos, and more on our site. This gets highly customized and our expert marketers can help devise a package that will help build audience awareness at the right time.
Conferences
FrightFind travels to some of the best conferences in the country – let's team up and see who we can spook!
---
Custom For You
Lots of options. Let's talk.
We're marketers at heart. We can help you decide what is best for you. Not everything comes in a cookie cutter package. Just give us a call at (720) GHOULS9, contact us here, or email us at [email protected].