Haunts can make $2 for every $1 spent
On average, Haunts can make an average of $2 for every dollar they spend on advertising with Google. AND paid advertising is 43% more successful at generating sales than TV or radio advertising at a fraction of the cost.
Want to reach more customers?
---
Geographic Advertising
Reach More Customers With Google & Facebook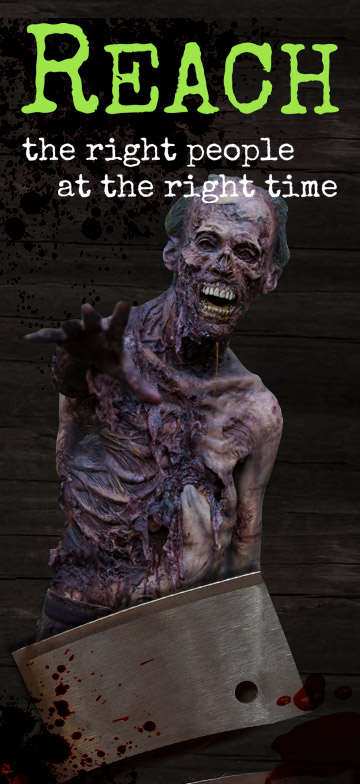 Let FrightFind manage a geo-targeted online advertising campaign for your haunt. We match customer searches directly with your webpage.
This is where our experts manage a paid advertising campaign with Google or Facebook on your behalf. Because we advertise annually with Google, we're able to buy more traffic at a better rate than most of our customers.
We set up a geographic radius around your haunt and deliver highly targeted relevant traffic to your business with a much better success rate than radio or billboards. This is custom consulting by seasoned Internet marketing veterans at a great rate. Contact us to discuss further.
The Math Can Be Compelling.
Say you spend $500 to advertise your haunt. You pay $1.50 average per click. You drive 333 searchers to your page. Convert 10% of those customers and you have 33 purchases. An average customer buys 3 tickets. So if you sold 99 tickets at a price of $15, you've made $1,485 from spending $500*.
*This depends on a lot of course and the numbers aren't guaranteed. Conversion rate, ticket price, and many other factors can impact success, but you will know that when people are searching, they are looking for a haunted house. That in itself is something TV and radio cannot guarantee.
Everything You Get:
1. Free market estimate. We'll tell you how much traffic is in your area and how much you could spend to advertise your haunt.
2. Ad campaign set up in your geographic radius. It could be 30 miles – 100 miles or more. It depends on you and your haunt.
3. Ongoing management by expert Internet marketers.
4. A monthly report detailing how much you spent and where it went.
5. A special Call To Action button to get people into the purchase funnel.
Pricing
Pricing for our local advertising package is a $100 set up fee and 15% of your ad spend.
If you are a smaller haunt we can work with you on the set up fee too. Just ask! It never hurts to ask.
Need more? We can get creative. We have more campaign opportunities at our fingertips. Contact us or check out our advertise page for more options.