Haunted Places in Illinois
Illinois is a Midwestern state jam-packed with haunts. Famous for being known as the "Land of Lincoln", it's because his ghost still haunts there!
Springfield is the sight of his grave at the Oak Ridge Cemetery where visitors have spotted him walking near his very own tombstone a night. Speaking of haunted cemeteries, the Woodlawn Cemetery of Oak Park is the final resting place of the tragic Showmen's Rest Circus tragedy where a train derailment and fire tore an entire circus company apart overnight. More Haunted Illinois »
Featured Haunts
in Illinois
Haunts in Illinois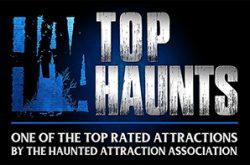 613 LaSalle Blvd. Marquette Heights, IL 61554, USA
Box Office is OPEN from 7-11pm, October 15th,16th / 22nd,23rd / 29th,30th 2021
Online tickets:
https://spookhollow.ticketleap.com/
WORLD FAMOUS - SPOOK HOLLOW™ with M.C. MANOR & M.C. NIGHTMARE stays open each night until the last soul goes in!
Spook Hollow Haunted House in Marquette Heights, IL THE ONLY TOP HAUNT in the State of Illinois, as recognized by the HAUNTED ATTRACTION ASSOCIATION (https://hauntedattractionassociation. Read more…