FrightFind Partners with HauntPay to Provide
Full Service Ticketing Solution
FrightFind is partnered with HauntPay to help you
sell more tickets… anywhere!
---
HauntPay Tix With FrightFind
Sell Tickets Anywhere!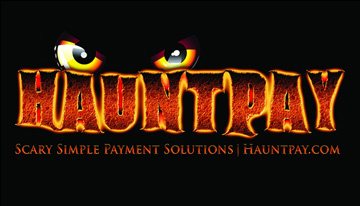 HauntPay's ticketing system is flexible and can be used point-of-sale or online. In fact, if you sign up through FrightFind, you get a FREE mobile credit/debit card swiper and concierge setup for your business (a $35 value).
FrightFind wanted to partner with HauntPay from the start. We love that they are made for haunts, have a simple and easy way to get started, and they can be an all-in-one solution for tickets, merchandise, and concessions, including both online and at-the-door.
HauntPay Features
The HauntPay service is loaded with features.
1. Customers can purchase online, via mobile device, or in-person.
2. You can embed ticket purchasing on your website AND on FrightFind.com.
3. Sell Tickets AND Products.
4. Manage transactions for both cash, debit, and credit card records.
5. Many ticketing options such as ticket bundles, promo codes, group discounts and social discounts.
6.Advanced reporting that tracks tickets, attendance, and promotions.
7. Entry recording via electronic guest list or barcode scanners.
8. Optional hardware for scanning, printing, and cash management.
9. Integrations with over 500 web applications like email, CRM, and more!
HauntPay Fees & Pricing
HauntPay pricing is the clear choice when you consider the alternatives. Their pricing is 100% FREE for haunt owners. All fees can always be completely passed on to the ticket purchaser. You can see a nice comparison below.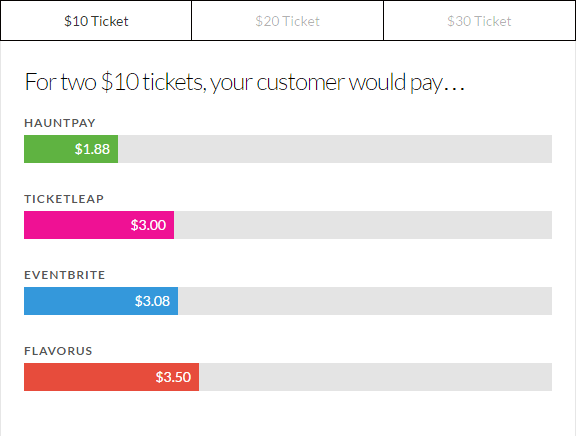 Free Credit Card Swiper
once you've signed up to recieve a FREE credit card swiper for at the door ticket sales.
Get Started with HauntPay
To get signed up with HauntPay go to http://ff.hauntpay.com and Click "Start now for free" and follow the sign up options.
Want to learn more about HauntPay?
Read the HauntPay flyer here for more information and details.
Need more ticket sales?
Need help advertising your haunt, pumpkin patch, or corn maze? We have several campaign options to help you reach your audience. Contact us or check out our advertise page for more options.