Haunted Places in Indiana
When a state has a town officially named Gnaw Bone, you just know that you're in a supernatural state. While no township by the name of Eerie is found here, there is plenty about Indiana that brings out the creepy and weird full force.
This Midwestern state is nicknamed the "Crossroads of America" and it's only fitting to learn of such haunted roadways. More Haunted Indiana »
Featured Haunts
in Indiana
Haunts in Indiana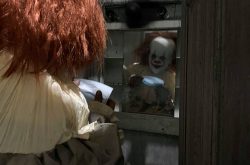 317-899-9619
1927 S Meridian St, Indianapolis, IN 46225, USA
Open Friday, Sept. 25 – Saturday, Nov. 7 (Thursdays, Fridays, and Saturdays). Gates and ticket booth open at 6:30 p.m., haunts open at 7 p.m., and gates close at 10 p.m. on weekdays and 12 midnight on weekends.
Nightmare on Edgewood (1927 S. Meridian) opens for its 42nd season on Friday, Sept. 25. All 2020 attractions will adhere to health and safety guidelines. Read more…