Haunted Places in Indiana
When a state has a town officially named Gnaw Bone, you just know that you're in a supernatural state. While no township by the name of Eerie is found here, there is plenty about Indiana that brings out the creepy and weird full force.
This Midwestern state is nicknamed the "Crossroads of America" and it's only fitting to learn of such haunted roadways. More Haunted Indiana »
Featured Haunts
in Indiana
Haunts in Indiana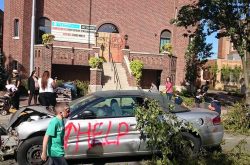 119th Street, Whiting, IN, United States
11:00 a.m. - 11:00 p.m.
The dead have risen, and they're hungry. Consumed with a ravenous desire for human flesh, they are everywhere. Read more…