Overview
Situated on the Ohio River, the working class town of Brandenburg, Kentucky is an incredibly small place. With a population of barely two thousand people and exactly four square miles in size, there is not much that can be hidden from view. But amongst the serene natural backdrop, against the nearby creek, the Doe Run Inn is one very active paranormal place.
Is the Doe Run Inn Haunted?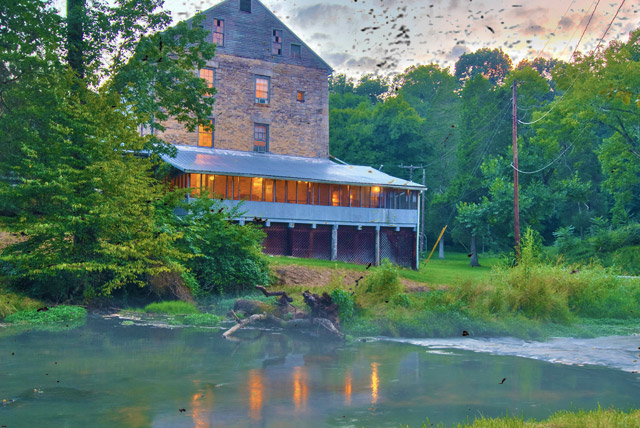 The area that the Doe Run Inn rests on was formerly a Native American settlement in the late 1700s. It was recorded that Squire Boone called the nearby creek Doe Run because of the unusually large amount of deer that lived in the area. Originally, the Doe Run was first called Stevenson's Mill and was an actual timber cutting building.
Over the years, the building ceased operations and was repurposed in 1901 into an inn due to a nearby water spring that was discovered and purported to have healing powers influenced by the Native American history. By 1958, a new set of owners added a restaurant and called it the Doe Run Inn and it was open for business. Decorated with over three centuries the Doe Run Inn is packed with plenty of history, and plenty of ghosts.
Ghosts of the Doe Run Inn
The activity is spread out against a wide variety of sightings and stories. Laughter and voices of children can be heard at all hours both inside and outside room number twenty, which was formerly a children's playroom.
Amongst the furnishings in room number twelve is a rocking chair that is sometimes inhabited by an older man who can be seen slowly rocking in it.
The reflection of a younger woman can be seen throughout the inn's mirrors. Her dress is antiquated and her expression said to be somewhat melancholy.
At other times, staff inside the Doe Run have had physical encounters as well. The apparition of a young mischievous Confederate soldier actually unties the shoelaces of employees and reties them very quickly causing them to fall over to the floor!
Many times during simple landscaping of the inn, staff have reported seeing a woman dressed in white, edging herself along the creek as if looking for someone in it.
Most stories and accounts from visitors to the Doe Run are non-violent in nature. Nothing demonic or sinister is said to prey upon any visitors to the inn. Paranormal enthusiasts speculate that the inn has simply adapted some of the ghostly energy given off by the centuries of people who have visited the area. For whatever the case may be, in Brandenburg, it is without a doubt the most haunted place there.