Overview
Stages of Fear – Return to Mayhem Manor
The annual Stages of Fear Haunted House is the premier fall fundraiser for our theatre hosting close to 1000 patrons at our last haunt. This event helps us continue our mission of providing a quality theatre experience to Mont Belvieu and surrounding areas. This event funds; scholarships to our children's programs, scholarships for graduating seniors, theatre in the Mont Belvieu city park, production costs for upcoming shows, and various other forms of community outreach. This year we are proud to partner with The Plantation Subdivision to help them raise money for their park renovation fund!
Concessions nightly, firepit to just enjoy the weather and fellowship with members of theatre and community!
Family fun day Saturday, October 22th with bounce house games and trick or treating for the kids!
GET READY TO EXPERIENCE ALL STAGES OF FEAR! 18-19 FEAR ROOMS!!!!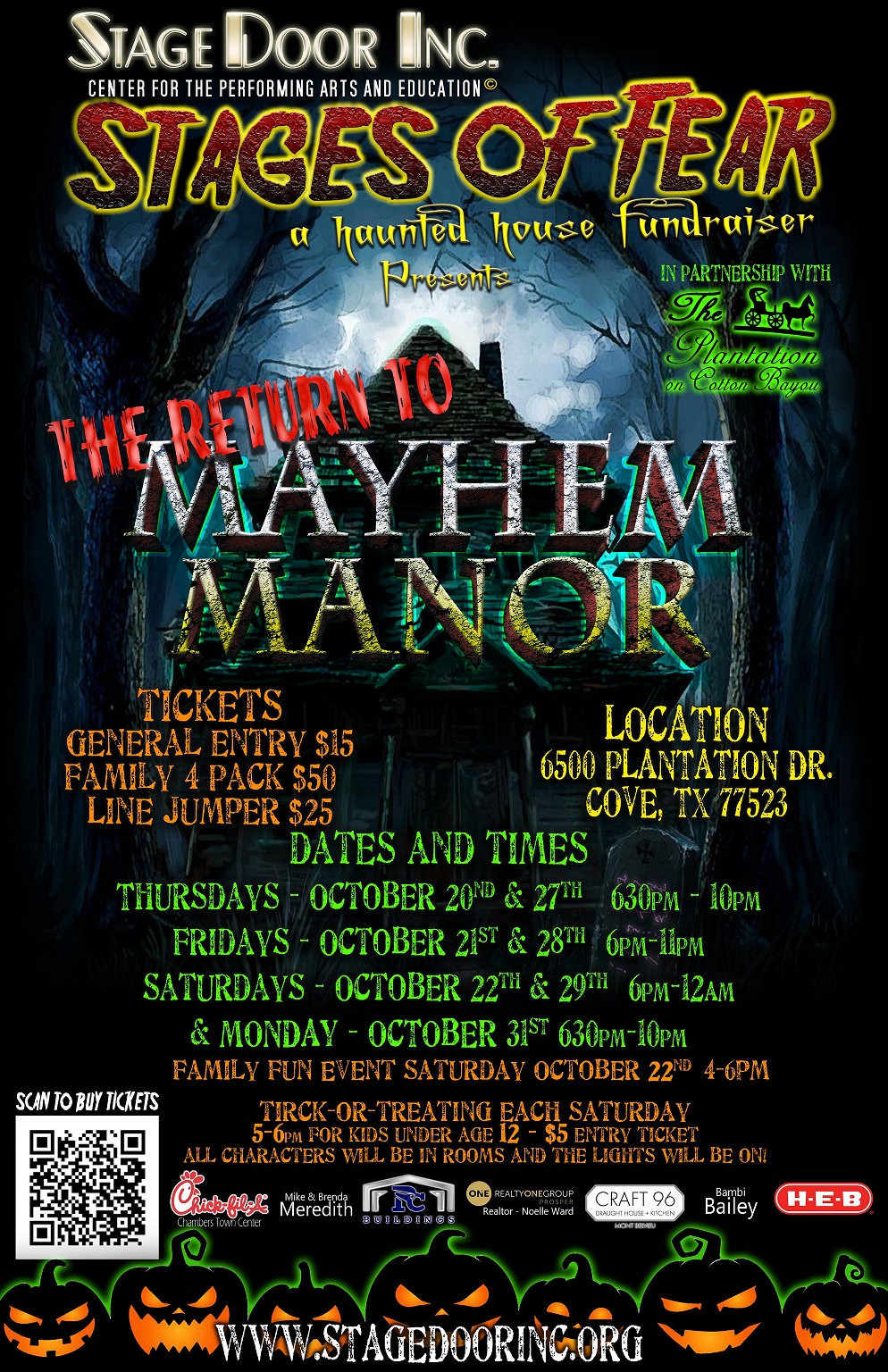 Stages of Fear – Return to Mayhem Manor Dates & Times
Thursdays – October 20th & 27th, 6:30 PM – 10 PM
Fridays – October 21st & 28th, 6PM – 11PM
Halloween – October 31st, 6:30 PM – 10 PM
Saturdays October 22nd & 29th
October 22nd – Family Fun Event Starting at 4 PM, Haunted House Opens at 5 PM for these children.
Special Pricing
GENERAL ENTRY $15
FAMILY 4 PACK $50
LINE JUMPER $25