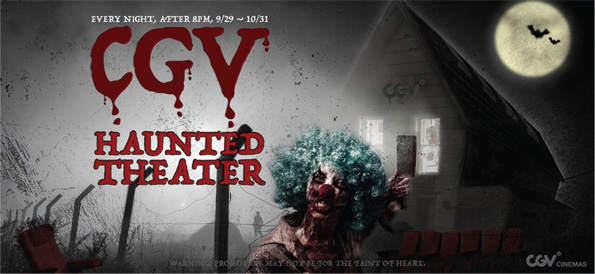 Experience scary movies like never before at Buena Vista's Haunted Theater.
CGV Cinemas in Buena Park, California will be transformed into a haunted movie theater as Halloween is upon us. The theater takes place every weekend (Friday to Sunday) until October 31st. This is your last chance… Or should I say your last gasp?
Get a ticket and you'll be transported to CGV's Halloween wonderland. Complete with spooky decorations, eerie noises, and a delicious Halloween-themed concessions menu. On weekends you will find live (or dead) wandering zombies wandering the halls. Come take a picture with a walker perhaps?
Enjoy Batty Pizza, Franken Finger Hot Dogs and Halloween themed popcorn in a variety of colors, all of which pairs perfectly with soju cocktails such as The Witches Brew and The Candy Corn. Attendees can also get a ticket to Knott's Scary Farm, where they can continue the Halloween fun.
Experience the Haunted Theater in menacing 4DX
This weekend Jigsaw, the new horror film from the Saw franchise will be playing in bone-trembling 4DX.
Check out tickets and more here >>