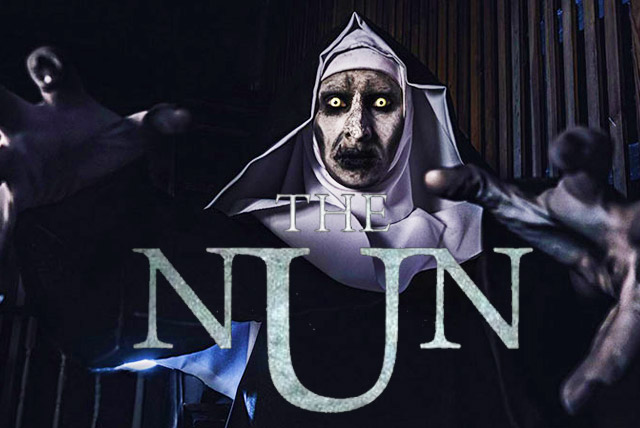 On September 7, the fifth installment in the Conjuring saga will be unleashed, and, unfortunately, it seems like gripping your rosary will not be enough to save your soul.
While The Nun is the latest release in the series, the film will serve as a prequel: as it is set in 1952 Romania, the chronological order of the prior movies place The Nun at the historical forefront of the horror franchise.
The Nun 2018 Plot Details
The story so far is that novitiate Sister Irene (Taissa Farmiga, American Horror Story) was plagued by visions of a ghastly black-eyed nun as a young girl. However, when another young nun in a Romanian abbey dies by suicide, Sister Irene joins forces with Father Burke (Demián Bichir) under the direction of the Vatican to solve the mystery. However, Father Burke doesn't have the holiest of pasts, and Sister Irene is on the verge of taking her final vows—will what lies in store for them further strengthen their faith, or will they lose their souls to a greater evil?
A familiar face—if we can call it that—will be returning as the source of mayhem and terror in The Nun: Valak (Bonnie Aarons). The demonic nun was last seen in The Conjuring 2, and also probably your nightmares after seeing the movie…We at FrightFind might still be trying to get over the painting scene.

Aside from Aaron's reprisal of her role as Valak, Taissa Farmiga was originally not going to be in the film due to being the sister of Vera Farmiga, who plays Lorraine Warren in the Conjuring franchise. However, director Corin Hardy found himself convinced to share in the family ties after seeing Taissa's auditions: "Honestly, I probably wasn't going to cast her because she was Vera's sister, in order for it to not look convenient, but she was so good in her auditions," he recalled at last year's Horror Channel FrightFest, where fans were indulged with a sneak peek of The Nun. "I watched 100 auditions for this role and she had some kind of presence outside of her own body that is evident, and she's phenomenal."
The Nun Trailer
With a trailer promising The Nun as being "the darkest chapter" of the franchise, you can try to pray for forgiveness, but it just might be Valak who will be answering your pleas.

The Nun is slated for release by Warner Bros. Pictures on September 7th.