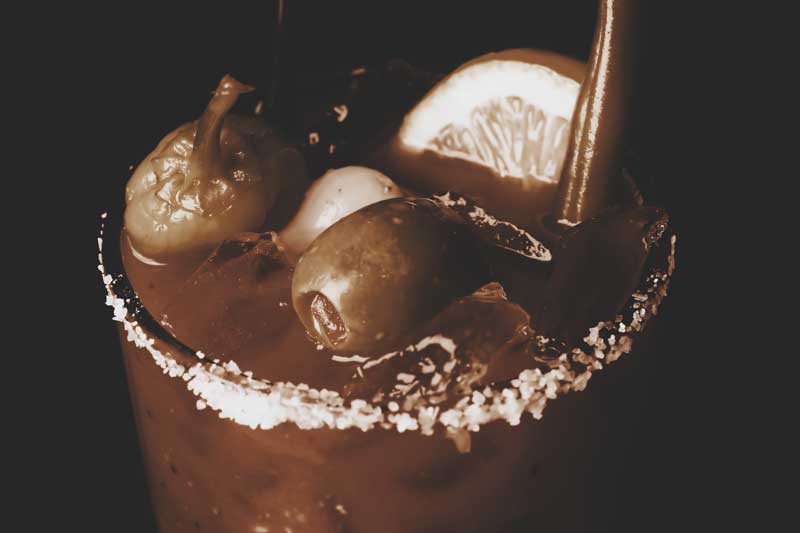 When Halloween comes along, there's no drink more thematic than the Bloody Mary. This iconic combination of tomato juice and vodka has been around for decades, and its origins can be traced back to Paris in the 1920's.
Fernaid Pitiot has the earliest claim of being the first to concoct the Bloody Mary. He claimed to have first made the drink at the New York Bar in Paris (which later became known as Harry's New York Bar) and was a popular hangout for author Ernest Hemingway and other American expats at the time. Harry's Bar has credited themselves with the invention of other classic cocktails, such as the White Lady and Side Car.
A popular dispute to Pitiot's claim states that the drink was actually first made at the Hemingway Bar in the Ritz Hotel in Paris. Later, in the 1930s, claims of the drink being created overseas began to emerge with two different stories. The first belongs to Henry Zbikiewicz, who was charged with mixing the drinks at New York's 21 Club. The second goes to comedian George Jessel, who was one of the club's frequent patrons.
Over the years, the drink began to cross borders and was soon a staple on menus worldwide. Vodka, a lemon juice, seasonings like cayenne pepper, salt, black pepper and a splash Worcestershire sauce was now a favorited cocktail by many.
The truth behind "Bloody Mary" and how the name came to be has many historical contexts, most predominantly with Queen Elizabeth I of England. She was given the name in "Actes and Monuments," commonly known as "Foxe's Book of Martrs," a work of Protestant history and martyrology written and published by John Foxe in March 1563. Fictional women in folklore, a waitress named Mary who served at a bar called the Bucket of Blood and even Hollywood starlets have also been rumored to be the source behind the unforgettable name.
Wherever it truly originates from, one thing is for certain: the Bloody Mary is an iconic cocktail, and one that any budding mixologist should know about. Enjoy this original Bloody Mary recipe published by food.com so you're ready to drink with the best of them.
BLOODY MARY COCKTAIL RECIPE
Ingredients
1 Serving (who are we kidding):
1.5 ounces of vodka
3 ounces of tomato juice
1 freshly squeezed lemon juice
1/2 teaspoon of Worcestershire sauce
3 drops of Tobasco sauce
Pinches of pepper and salt to taste
1/4 tablespoon of prepared horseradish for extra kick
Optional lime or lemon wedges, celery sticks and green onion garnishes
Preparation
Prep serving glass by rubbing rim with lime or lemon juice and dipping in margarita salt, if desired. Add ice.
Mix vodka, tomato juice, Worcestershire sauce, Tabasco Sauce, salt, pepper and horseradish (optional).
Add additional seasonings and garnish to taste.
Pour into glass and serve immediately.