Overview
The Darkside Haunted House in Middlesex, NC is Open for 2023!
For over 20 years, from monsters to mayhem and all things that go bump in the night, Darkside Haunted Estates have brought nightmares back to life, and this year's Haunt Season is no exception! The Boo-Crew Build Crew has designed, fabricated, and integrated dynamic special effects into every haunted attraction at Darkside Haunted Estates. From the quarter-mile haunted walking trail to the Mayhem Hayride through the backwoods. Our newest attractions include the Insane Asylum, JoJo's Clown Town & the Slaughterhouse! Come visit the scariest, most intense haunted house attraction in North Carolina – Darkside Haunted Estates. We dare you to take the scare!
8 Horrifying Haunted Attractions
Fright Trail
Insane Asylum
JoJo's Clown Town
The SLAUGHTERHOUSE
MAYHEM HAYRIDE
RottenKorr Cemetery
Skully's Inlet, featuring the S.S. Sea Hag
The Bundie Hotel
2023 Open Dates & Times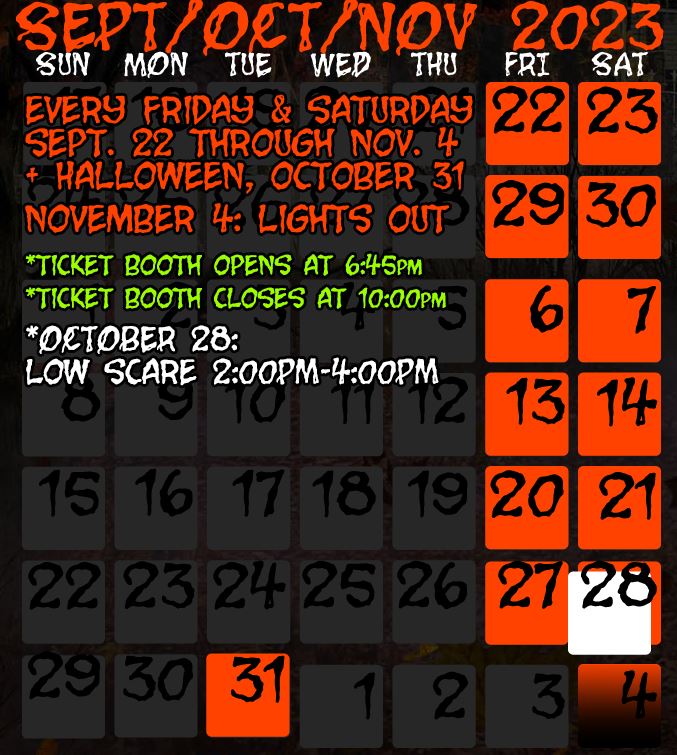 Safety Precautions
While waiting in our outdoor, open air queue line, 6'-8' distances are marked to keep EXTRA spacing.
Additional hand sanitizing stations will be available for customer and staff use.
If you are sick or have any symptoms of concern, please do not visit Darkside Haunted Estates until your symptoms have been clear for 72 hours.
All staff will be wearing masks, as required by the North Carolina Health Department.
Temperatures of our entire staff will be taken prior to their entry of the property and any staff with a temperature over 100℉ will be sent home and advised to seek medical advice.
For added precaution, concessions will have a limited menu selection for our event.
We will have dedicated staff to regularly disinfect high touch surfaces.
Waivers for all entrants must be signed upon entrance to Darkside Haunted Estates. You can not enter without signing the waiver.
High risk individuals may enter the property the first 15 minutes of opening time.
Please keep a minimum of 6' from all other patrons that aren't in your individual group and from Darkside Haunted Estates staff at all times including while walking through the attraction.