Overview
Paradise Valley, Arizona is a supremely small municipality within the enormous confines of Phoenix's own Maricopa County. Affluent by nature, this wealthy area was carved out a long time ago European migrant settlers in the late 1880s. As Phoenix and nearby Scottsdale were annexed and grew into their own, Paradise Valley became an area that commanded commercial attention. One of the premier places to stay in this sun-dried desert locale is The Hermosa Inn. But settled in such a wealthy area backed up by the desert, is this oasis inn greatly haunted?
Is the Hermosa Inn Haunted?
Famed cowboy artist Alonzo "Lon" Megargee built the Hermosa Inn back in 1935 on six-plus acres of arid and commercially rich property. The layout of the inn was really quite simple in that sun-dried adobe bricks were used to eventually construct the entire building. Megargee also found himself heavily influenced by old-world Spain, and the use of wooden beams and some iron fixtures. While open for business, things went a little too well for Megargee and he began to take advantage of his success by running gambling games inside the inn. So as to avoid detection from law enforcement, he had a tunnel constructed from underneath the inn that ran all the way out to the stable area on the fringes of the property.
The wild times at the inn were proving too much for Megargee and he eventually ended up selling the Hermosa to some private individuals in 1941. Megargee lived something of a tumultuous life in his later days being married upwards of seven times before he finally passed away on his ranch at the age of 77 in Cottonwood, Arizona. Subsequent owners to the ranch added other amenities such as the tennis courts, swimming pool, bar, spa, and of course refurbishments and additions to the landscape. However, it was years after Magargee's death when stories of the paranormal really began to emerge for the Hermosa Inn.
The Ghosts of the Hermosa Inn
The chief spirit of the Hermosa Inn is actually that of Lon Megargee himself. While it is common knowledge he passed away at his ranch some two hours north of the Hermosa, paranormal theorist muse that his fierce love and attachment to the inn forced him to in fact haunt it. And like many facets of the paranormal, their activity is as varied as ever. One of the more popular spots is the kitchen area where staff have claimed to see a tall, and ghostly man resembling Lon's trademark cowboy figure looming over areas where pots and pans have routinely flown off racks by a pair of invisible hands!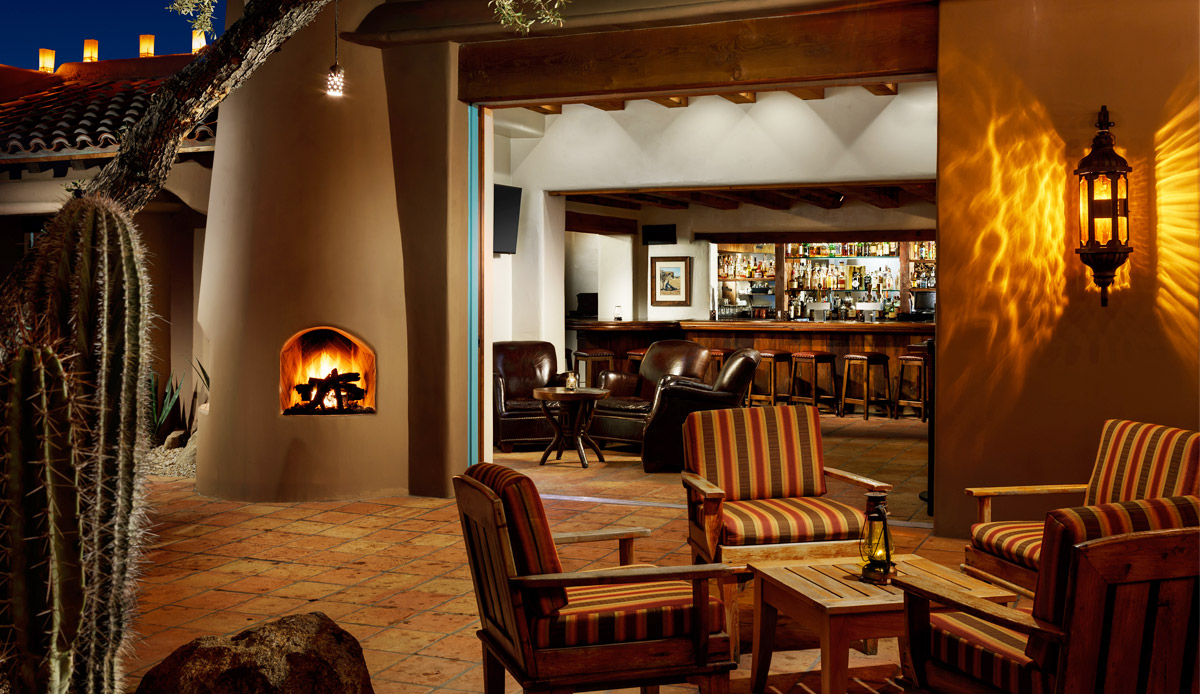 Not to be outdone in proximity, and just past the kitchen waiter door to the bar area of the inn's fine dining restaurant, wine glasses have been seen not only moving by an unseen force, but also tumbling to the floors in an instant. Chefs in the kitchen look to the supernatural mishaps as nothing more than Lon acting up and showing others that he's still around, however not all staff have taken such a jovial approach to Lon. A newly hired maid in desperate need of a job was hired to clean the guest rooms. Not long after starting, she went to a normal room that was empty and had just made the bed when she turned around and saw Lon's ghostly figure staring back at her in the mirror! Fleeing in terror, this once job-desperate maid gave notice and quit her job immediately.
It's wholly possible that the maid had found herself in an impossibly haunted situation as a good portion of the rooms at the Hermosa are rumored to be haunted, including number seven which was said to have been Lon's personal favorite. The heavy sound of footsteps is very common to be heard in the doorway of the guest room without anyone even being there. Is this Lon acting up again? Of all things, Lon isn't thought to be the only ghostly spirit that haunts the Hermosa Inn property. There have been sightings of a woman in a pink dress that has been seen spotted outside on the property's waterside strolling bridge. Some believe that the pale specter of this woman in pink could have been an ex-wife of Lon, however, since he was married seven times it's hard to pinpoint just exactly which wife this could be that shows up at any time of day or night before fading away back to the afterlife.
One of the more eerie sightings has been what one longtime employee of the Hermosa saw, which was a pair of ghost children dancing in the parking lot in the middle of the night! Absolutely zero information could be found on the genesis of their ghostly states, but from all indications, they have been spotted laughing and dancing so they appear comfortable in their paranormal dispositions.
The Hermosa Inn is one of the most luxurious boutique hotels in the entire Paradise Valley and Phoenix area with particular attractions to its award-winning fine dining and wedding hotspot. But if in a party picture a cowboy hat faintly shows up, it might just be Lon checking in to say hello.