Overview
It goes without saying that cemeteries and graveyards are the final physical resting spots for a loved one's remains. Dignity, proper decorum, and an overall sedated sort of existence, these cemeteries and graveyards are not the places for noisy human behavior. As it so happens in Troy, New York, at the Forest Park Cemetery, the quiet surroundings there have been unduly violated by the ghosts who long haunt this hallowed and sacred ground.
The stretch of land that makes up the cemetery is believed to have been used as a graveyard all the way far back as 1856. However, by 1897 the land that the Troy locals were using as a graveyard was formally purchased by a businessman and named the Pinewoods Cemetery, as this particular section of Troy is referred to as the Pinewoods. Hard for one to imagine, the cemetery actually went through a formal bankruptcy in 1914 when not enough plots were purchased or paid for. A new owner came in and got as far as renaming it the Forest Park Cemetery before it was bankrupt once more and a large portion of the land parceled off. Largely abandoned with well over an estimated one thousand graves in the cemetery, it has become a chilling memorial to the dead. It is from behind these very cemetery gates that the haunting encounters and stories have emerged.
Is The Forest Park Cemetery Haunted?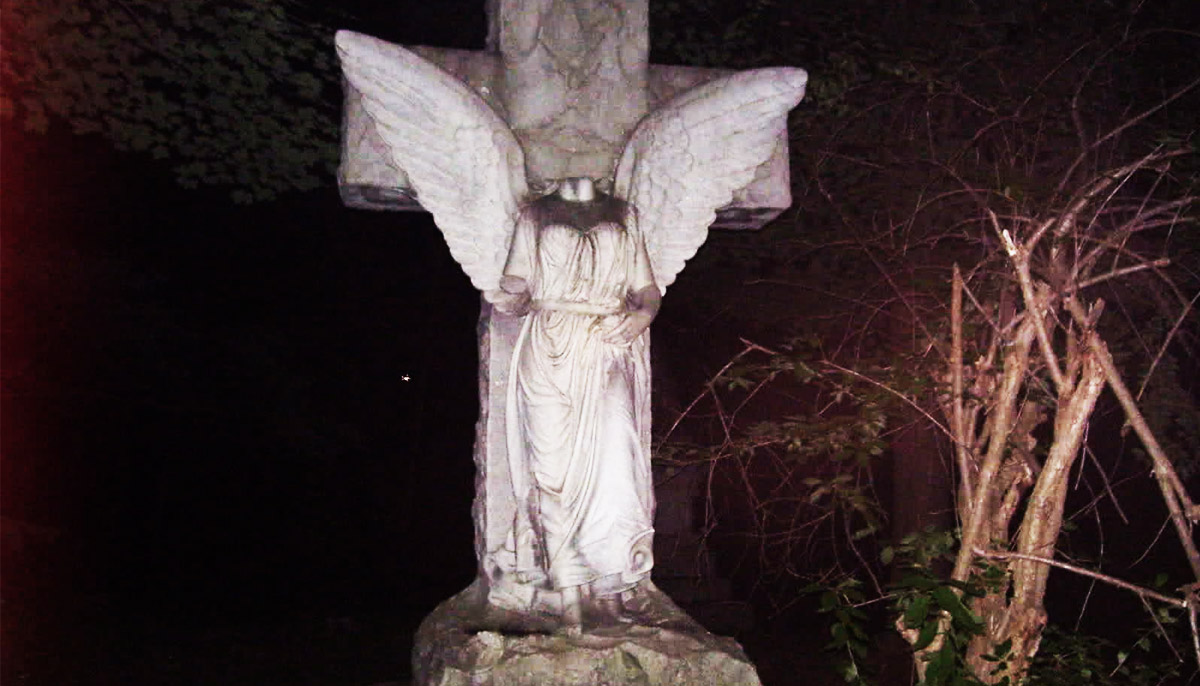 Right away the atmosphere is moody and dark and backdropped against the granite tombstones and aged mausoleums is an angel statue that has been decapitated. There's an urban legend that some teenagers years ago snuck around the cemetery at night and discovered the angel bleeding from the eyes. They were so scared they cut off the head and threw it away. Today, some visitors claim that this blood from the statue still drips from the neck where it lost its head, but this has never been confirmed. For those brave enough to make it past the headless angel, people have reported being scratched by an unseen force in the cemetery across the back of the neck and down their arms. Flurrying red orbs and spectral lights are sometimes spotted floating and streaking past some of the caved-in graves.
Sometime in the early 20th Century, a young soldier from the war in Germany named Harold Horne committed suicide at the cemetery. Paranormal visitors to the cemetery claims that Harold's spirit has not only been spotted traipsing around the plots at night but also has acknowledged the living with an audible, "hello" in their direction.
Today the cemetery still sits on those twenty-two acres, totally abandoned to the world. Upkeep is done by those with an affinity for appreciating the sacred grounds. A formalized gate was put in to help eliminate wanton loitering about, but as the headless angel sits near the front of the cemetery, with its grisly and mutilated visage, many locals have deemed those very gates, "the Gates To Hell!"