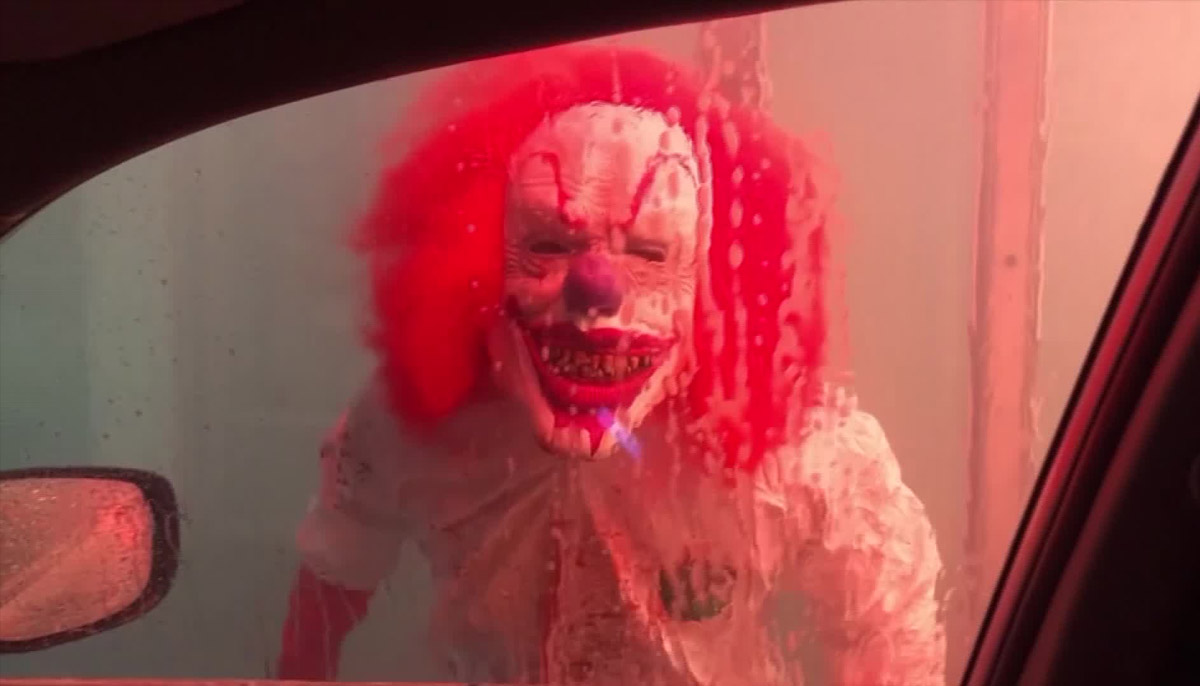 Drive-thru car washes are something that everyone has in their part of town. Most of them cost $8 or $10, and you can drive your car right up to the conveyor built, slip it in neutral, and feel the weight of your car being pulled inside the wash tunnel. Some use neon lights while others utilize near-total darkness, but overall people find this oddly claustrophobic trip to be therapeutic at times. It is only natural that some car washes have upped their game by adding terrifying and gruesome clowns to the experience. Here are three spooky clown car washes that can help get those bloodstains out……or do they?
GFY Car Wash – Houston, Texas
Located at 20615 Kuykendahl Road, the GFY Car Wash is once again providing the scares along with a rinse and wax to customers looking for a Halloween fright with their wash. This location is providing extra late hours so as to make use of every drop of nighttime goodness that they can. Expect to be given free candy before your wash, but stay alert because at any moment gruesome-looking clowns and spooks of all types can appear at your window! Ghostface from Scream, Pennywise from IT, and even Jason Voorhees are scaring things up in any car wash capacity you can think of. Be sure to get there as the sun goes down as the lines are known to be long, and above all else keep your windows up and doors locked!
Rain Forest Car Wash – Brunswick, Ohio
Situated at 3365 Center Road, the Rain Forest Car Wash is looking to get all those pesky bloodstains off your car. During the Halloween Season, the Rain Forest extends their hours into the late evening so that victims…er…customers can come in for some cleaning up. Approach the misty, and fog-filled wash tunnel as a cavalcade of sinister-looking clowns offer to squeegee your windows and others prowl and tap on your windows. Never before has terror been so close, and cleansing to your car at the same time. Get there early to avoid late-night lines.
Rich's Car Wash – Daphne, Alabama
If you're in the Mobile area of Alabama and looking to get your car washed as you're terrorized by some ghastly ghouls, then get on over to 28823-US98 in Daphne to Rich's Car Wash. For the second year in a row, the "Tunnel of Terror" is back. Have your pre-wash check conducted by a machete-wielding psychopath before you enter the fog-filled, red-lighted wash. Was that blood that just sprayed across your windshield? Or perhaps a cleaning solution used to get all those streaks off? You'll never truly know because some frightening fiends will pound and tap on your windows hoping you may be their next victim. Rick guarantees you'll drive away with a cleaner car, but can't guarantee you to be nightmare-free!