Overview
The History of the Haunted Maribel Caves Hotel
Now reminiscent of Western European Medieval castle ruins, the Maribel Caves Hotel originally began as a therapeutic hotel/spa where the "tired and worn" could be "invigorated." Thanks to its unique location, both in close proximity to a natural spring and the railroad that passed through Maribel, the hotel became a popular rest stop for many traveling Americans throughout the early 1900's. In fact, notorious gangsters and bootleggers such as John Dillinger and Al Capone are said to have been included among the guest list. As the Maribel Caves Hotel also functioned as a spring water bottling plant with carbonizing equipment, one can imagine why they might have fixated on the particular location.
Still, contrary to its reputation, the hotel and bottling plant began to "go under" around 1915 and was eventually purchased by Adolph Cherney, owner and operator of a local construction company, in 1931. He and his family resided here until his death, which was preceded by the death of his young daughter, Norma, who expired under mysterious circumstances.
Hotel Hell Opens For Business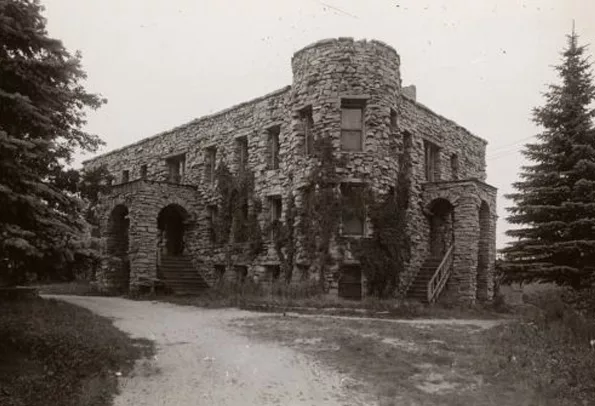 Under a new owner, Jeff Miller, the building reopened as a hotel again in 1981. Miller saw little success, however, as the hotel had adopted a reputation of being haunted by angry spirits by that time. Then, in 1985—with no known cause—the building was engulfed in a fire large enough to reduce the building to its limestone bones.
In the years that followed, the dilapidated fortress earned a third name, "Hotel Hell." Since it was gutted and abandoned, bone-chilling rumors have constantly surrounded the place. Many claim to have seen the figure of a man that continually looms in various windows around the building, always facing out. Additionally, visitors have experienced feeling cold hands pressed on their back when they walk around the ruins alone. Some have heard voices and shrieks coming from the basement and caves below. Others have sworn that stones and other objects move on their own accord.
Hotel Hell Pt. II?
Today, the property is declared structurally unsafe due to being nearly leveled by a tornado. Still, the rumors of paranormal activity persist.
Most recently, the newest owner—who has long tried to put rumors of its haunting to bed—has voiced plans to rebuild the hotel to its former glory. If there is validity to the many ghost stories, only time will tell.