Overview
In the sweltering summer heat of 1973, a group of local Austin, Texas filmmakers scraped together a mere $80,000 to produce one of the most terrifying films in American cinema history, The Texas Chainsaw Massacre. Enduring the brutal late July heat that would regularly have the temperatures at 110 degrees during filming, the crew made up entirely of university film students and local actors ended up creating a film that has terrified generations of moviegoers.
Texas-born film critic and horror historian Joe Bob Briggs claims it is the greatest film (not just horror) ever made, which is precisely why checking out the "Gas Station" is a must on any Texas Chainsaw or horror fan's list.
For those who have viewed this cult classic film, know that the Gas Station is one of the earliest stops in the film. A group of young people came from visiting a local cemetery to check on loved ones remains after news reports of vicious grave robberies surface. After picking up and tossing out a psychopathic hitchhiker, the van-load of teens stumbles upon a dusty and nearly abandoned gas station. Unbeknownst to the teens, it's actually a front that's operated by Leatherface's family of deranged, cannibalistic savages. To be fair, the gas station plays more than one pivotal part in the film. But for the cinematically curious, we here at FrightFind have some good news for you…..you can spend the night there!
Can you stay at the Original Texas Chainsaw Massacre Gas Station?
Owners Roy and Lisa Row totally restored and brought back from the dead this iconic film location in the form of, part barbecue restaurant and part overnight cabin stay. They have 4 unique cabin locations to choose from which of course come with all the latest furnishings and amenities, even free wi-fi. Reservations for this overnight spot fill up fast so reservations are always a must if you are wanting to stay here.
Then, of course, there is the meatier side of the surprisingly large gas station area that operates as a highly rated barbecue restaurant. Chomp down on some finely smoked brisket or homemade sausage as you dine on some true Texas Chainsaw-era picnic tables, where even takeout barbecue is big business here. The owners even included a Texas Chainsaw themed gift shop on this historic filming site where you can not only purchase official autographs from the actors in the various Texas Chainsaw franchise films over the years but where you can also buy actual wooded boards from the station itself.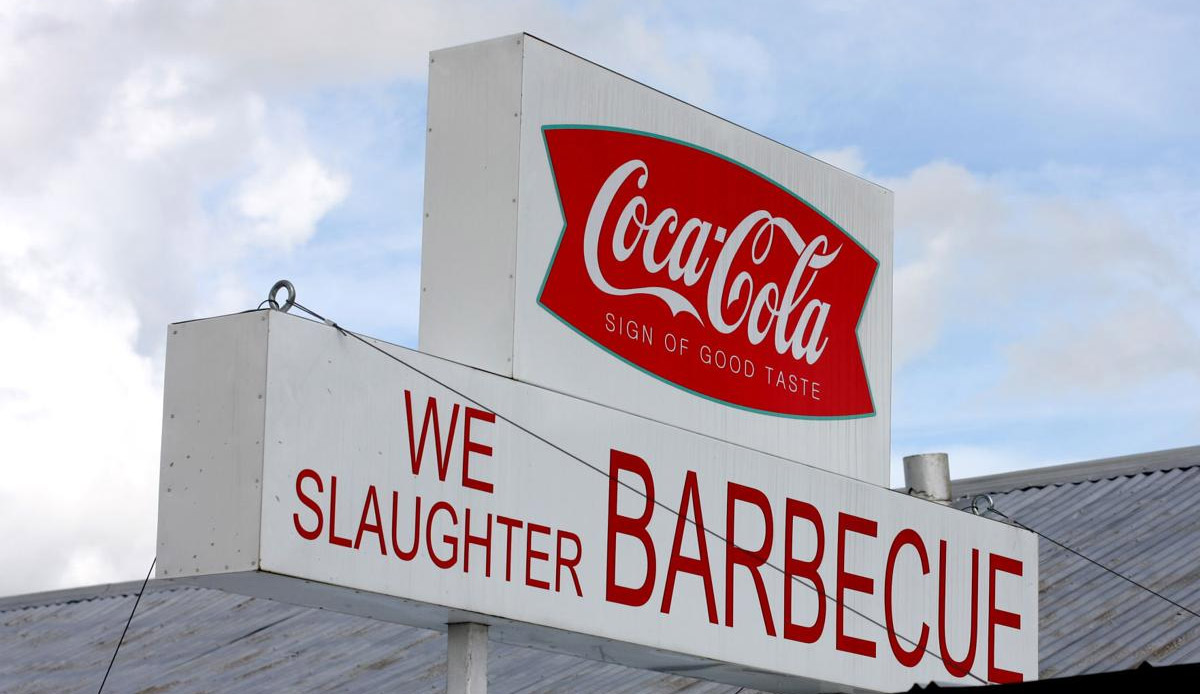 Authentic Texas barbecue at the Gas Station of the famous Texas Chainsaw Massacre, coupled with a night's stay and a Leatherface autograph to boot, what more could a horror fan want in life?
The official gas station from The Texas Chainsaw Massacre is alive! Roy Rose of Texas, has turned the Bastrop, Texas horror gem into what she calls a "horror barbecue resort." The gas station from The Texas Chainsaw Massacre has been rebuilt and is a must see for fans of recently deceased Gunnar Hansen and the masterful film that has horrified us all for years.