Overview
Cemeteries and graveyards are places where the dead are buried and the living go to mourn and remember them. It can be a common thought to those who enter past those cemetery gates, that there are perhaps spirits there. Waiting and watching, but nonetheless, they are trapped or wandering the grounds in a supernatural purgatory. To most people, seeing or knowing the spirit of an innocuous man, woman, or child roaming the cemetery grounds can be brushed off without concern. However, when you encounter and enter into a cemetery that is haunted by a dark entity, then your perception and complexion are liable to change completely.
In northern Knoxville, Tennessee is the Old Gray Cemetery. Adjacent to the Knoxville National Cemetery, the Old Gray was first established all the way back in 1850. Contained within a sprawling thirteen acres, the Old Gray Cemetery is home to nearly 5,700 graves. Being the second oldest cemetery in the city of Knoxville, the Old Gray (which was named for poet Thomas Gray) actually appears on the National Register of Historic Places and is known for its plots containing the remains of senators, colonels, mayors, legislators, and even a governor. The antiquated yet ornate tombstones set coolly against the serene backdrop of the nearby Smoky Mountains make this cemetery a picturesque one. However, when the sun goes down, something far more sinister makes itself known to unlucky visitors.
Is The Old Gray Cemetery Haunted?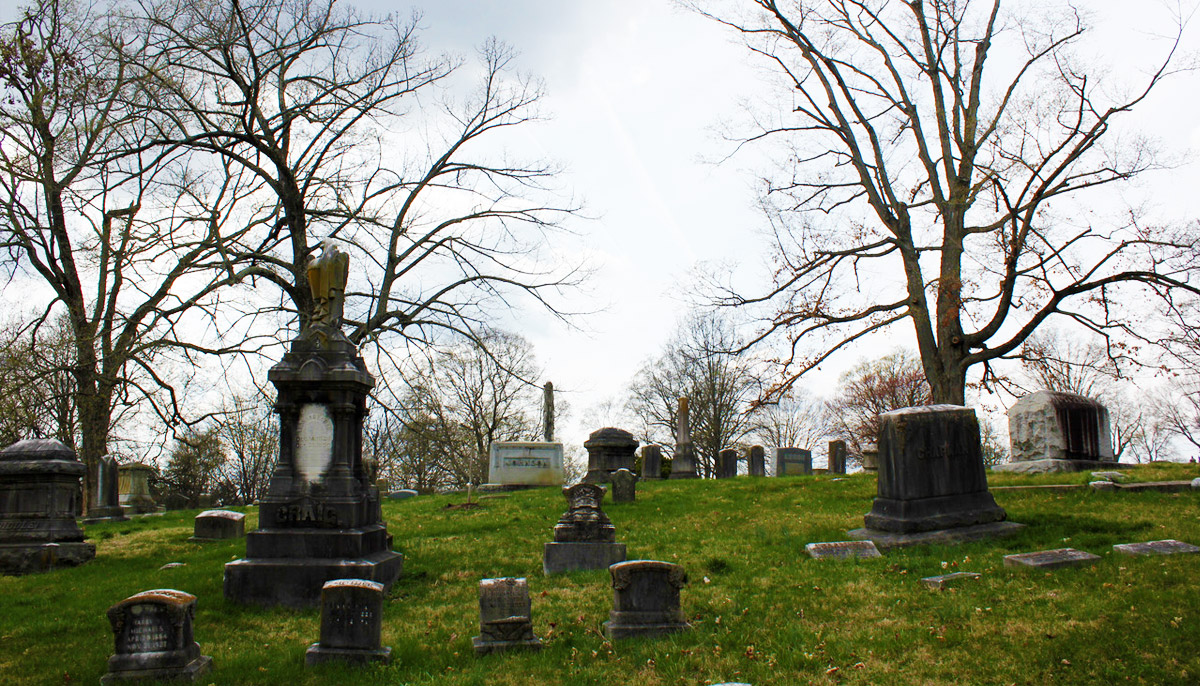 The entity said to be haunting the cemetery is referred to as Dark Aggie. The description of this terrifying spirit vary, but it chooses to manifest itself in the shape of a man but clouded by a black mist. The timing of Dark Aggie appearing is closer to that of sundown when the cemetery doesn't really have anyone there. Straggling visitors have reported seeing Dark Aggie simultaneously walk and sometimes float, within the rows of tombstones. For the more unfortunate, they have reported Dark Aggie being alerted to their presence and chasing them out of the cemetery in pure terror. Some people have reported that before seeing Dark Aggie, they have mysteriously heard an unseen entity whisper their name. Spinning around naturally, they find nobody living to be in the vicinity. Visitors have also reported a crying sound to emanate from the rear area of the cemetery as well as a whistling noise of unexplained origin. One of the more interesting occurrences is people who have taken photographs inside the cemetery claim that blurry shapes and malformed orbs appear.
Dark Aggie is said to be haunting the Old Gray Cemetery to this very day. Informal paranormal investigations of the cemetery haven't yielded much in terms of origin for this potentially malicious entity, but the most echoed advice is that if you see Dark Aggie, remain still and do not bring attention to yourself or else if you do you risk being chased off the property.