Overview
There's something about the performing arts stage that both the living and the dead find so intoxicating. For the living, if you're performing then the adulation of the adoring fans creates a certain emotional high that isn't easy to take away. For the dead, this same high creates such an attachment that even the throes of the might and unknown afterlife aren't enough to drag you away from it. One such existing venue today is the Ryman Auditorium in none other than Music City itself, Nashville, Tennessee. And judging by the paranormal encounters there, it is one really haunted place to see a concert at.
Is The Ryman Auditorium Haunted?
Technically you could say that the Ryman Auditorium was started all the way back in 1885. A highly charismatic evangelist minister named Sam Jones held a tent revival on the grounds were the auditorium stands now. A riverboat captain named Thomas Ryman was in attendance at this Christian tent revival and was passionately moved by the words in Jones's sermon. Pairing himself with Jones, Ryman helped to gather up the funds to construct a building that could be used in a tent revival capacity. A dream venue that took nearly six years to build and was originally the Union Gospel Tabernacle.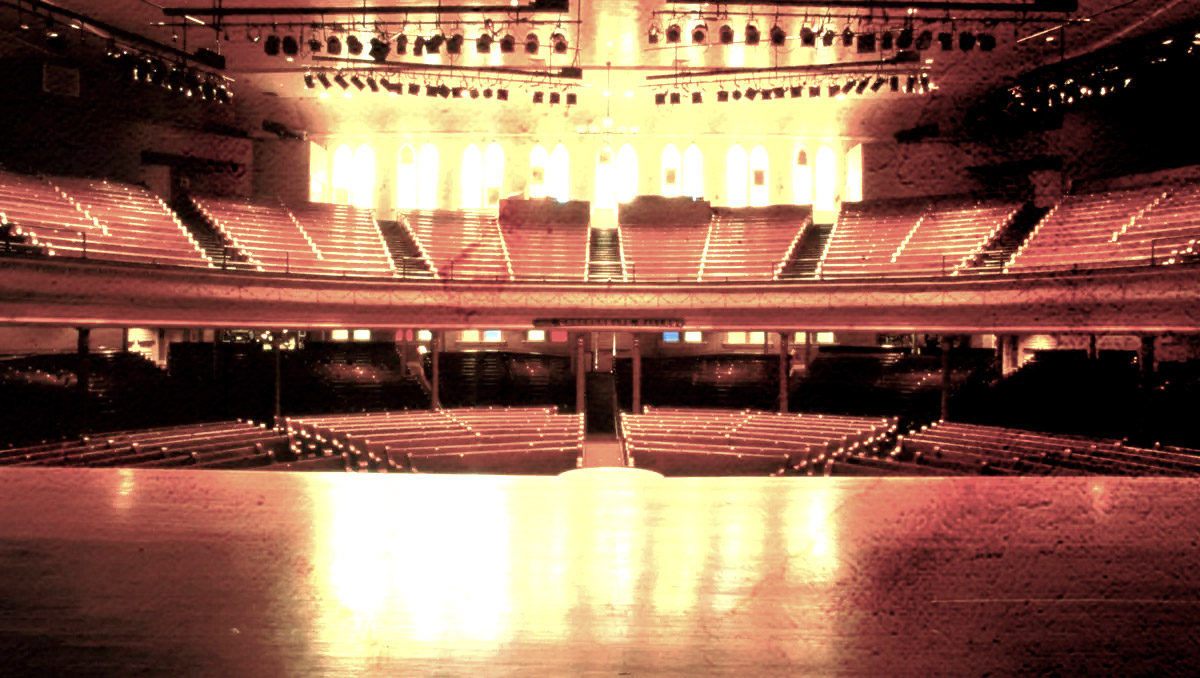 Popular plays were ushered through to perform at the Tabernacle, which also was the regular site upon which one would hear one of Jones's powerful sermons. Musical acts were approved at times, and even John Phillip Sousa came through to conduct one of the most rousing performances ever initially held there. Even the famous women's rights speaker Susan B. Anthony came through to give lectures. By 1901, a stage was added to bring in even more selected acts such as orchestras, and higher profile lecturers. However, in 1904, Thomas Ryman passed away and Rev. Sam Jones further dedicated the official renaming of the venue to the Ryman Auditorium. It is said that upon this announcement, that the Tabernacle members gave one of the longest standing ovations in the auditorium's history. Rev. Jones died eighteen months later, and the Ryman began to change ownership from various hands.
Presidential conventions and debates, Russian ballets, Vatican choirs, and even Harry Houdini himself all came and performed at the Ryman in one capacity or another. In 1943, one of the biggest acts in music history came to the Ryman, and that was the Grand Ole Opry. Country music's hottest and upcoming acts all performed there for the whole world to hear. From all the reports of various concert goers, one of them is still said to remain until this day.
The Ghost of Hank Williams
Hank Williams Sr. was a popular country-western crooner who died in 1953, yet makes his presence known today. Various employees at the Ryman have reported seeing a pale, and ghostly figure that resembles Williams Sr. standing in the adjacent alleys and backstage areas of the venue. The manifestations are said to accompany a white mist that surrounds Williams Sr's spirit, which is said to include his trademark cowboy hat as well. Even more, chilling on the scare factor charts is that Williams's voice can be heard singing one of his personal country music songs when nobody else is even in the building at all.
Williams died far away in Oak Hill, West Virginia, but it is said that his death was from the "Grand Ole Opry Curse". The curse has no official origin behind it, but close to thirty-five different country musicians have suffered tragic deaths after performing there including Jim Reeves, Texas "Ruby" Fox, Stringbean Akeman, and Patsy Cline to a name a few. In fact, while Patsy Cline's spirit isn't seen at the Ryman, just like Williams Sr. her voice has been heard singing a ghostly tune.
Aside from the many sightings of Williams Sr.'s spirit, there is also one particular entity that is unnamed which people have called, "The Gray Man". This ghostly specter is a pale man dressed in a gray suit that can be spotted during rehearsals, backstage meetings, and even in the last row of the balcony when it has been cleared after a show. It is believed he is the one responsible for the lights going on and off without explanation during performances, unexplained cold spots, as well as musical equipment malfunctions. While his presence isn't malevolent, it is chilling at best if he's spotted anywhere in the building.
The ghost of Thomas Ryman himself is believed to be one of the many ghosts haunting the venue. When a turn of the century performance featuring the racy French opera Carmen, guests during the performance remarked to have seen the ghost of Ryman himself shuffling through the audience! Even more alarming is that knowing Ryman was such a devout Christian who would never have approved of the opera while alive, took to causing such unexplained onstage mishaps and noises that no other performances of Carmen were carried out there.
Today the Ryman Auditorium truly stands as a classic Nashville landmark in the city. Musical groups, plays, lectures, films, and even professional wrestling matches still tour through with regularity. But if the ghost of Thomas Ryman is spotted, one must note that the particular artist that night might not be one of his favorites!