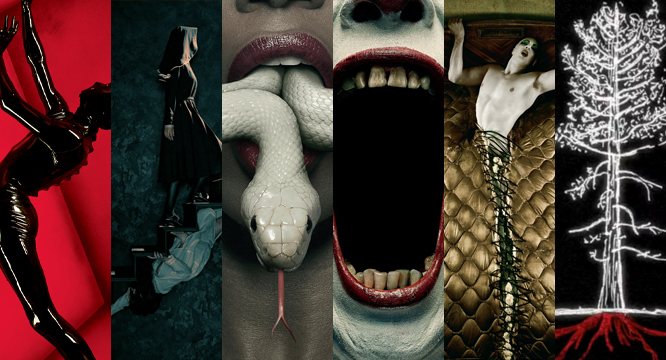 AHS Hints at Season 7
Fans of FX's American Horror Story are undeniably loyal to the anthology horror series, yet some didn't care for AHS 6's plot-twisting, "Roanoke" and hope that a similar theme won't be repeated. One fan Tweeted: "I can't believe the ending of this AHS season is a fake tv show about a fake tv show, based off of the first season of a fake tv show."
The finale drew mixed reactions, and while it is still too early to draw any solid conclusions, AHS creators may have began hinting at a possible theme for the follow up season…
A Tweet posted by the show's Twitter account immediately following the finale of season six revealed that the theme for season 7 might somehow involve water. Show creator Ryan Murphy says that only three people other than himself know what the theme will be including the series regular, Sarah Paulson. We'll find out in due time if this was misperceived or more misdirection.
AHS Season 7 Cast
Evan Peters and Sarah Paulson have starred in all six seasons of American Horror Story thus far, and Murphy confirms that they each will return for season 7. No word on Lady Gaga, whose season 6 return had a few fans upset at how limited her role was.
Will There Be A Season 7 Theme Reveal?
Traditionally the show's producers have created anticipation and media buzz about upcoming seasons by creatively unveiling plotlines, new and returning cast members, and themes in early spring. But last season, Murphy and company broke with that tradition.
The theme of AHS season six was only mildly hinted at in July of 2016, but plotlines were not unveiled until the season premiered on September 14th. Until that point, there had been very little chatter about the season's theme; show's producers revealing only that it could be expected to be even more dark and offbeat than seasons past.
I don't know that we'd do [a surprise reveal] again. Maybe we would release [season 7 theme hints] earlier. I just started writing it. I haven't decided how to do it yet. – Ryan Murphy
Will Murphy and AHS keep us on the edge of our seats before the season starts? Murphy said, "I don't know that we'd do [a surprise reveal] again. Maybe we would release [season 7 theme hints] earlier. I just started writing it. I haven't decided how to do it yet."
Present Day Season 7?
The theme of American Horror Story changes each season, telling a different narrative using the same cast playing different characters. The innovation has been hailed as "genius," "insane," and ultimately terrifying by fans and critics alike.
While season 2 titled "Asylum" took viewers back to 1964, and season four was set in 1952, all other seasons were set in the present day. When questioned about the upcoming season of AHS, Murphy revealed that it will be set in modern day.
An American Horror Crossover?
Fans have long predicted that all previous storylines actually exist within the same fictional universe, and season six all but confirmed that theory. Murphy recently went on record that there are plans to create a season that does exactly that.
According to Entertainment Weekly, Murphy told a crowd in Los Angeles: "It's not going to be next season, but we are going to do a season that's a crossover between Murder House and Coven together, which is very bizarre."
Murphy promises to reveal more about the upcoming season's theme this spring. And in true American Horror Story style, it is sure to be an interesting reveal.
AHS 7 Air Date
Murphy began writing the script for season 7 in January and while filming has historically taken place during the summer, it is unknown when cameras will roll for the upcoming season. No air date has been confirmed, but is likely to debut in September or October.
AHS is slated to continue for at least another 3 seasons.
More questions than answers remain: In what shocking way will the show's creators reveal the plot for season seven? Will they somehow weave Jessica Lange's characters back into the show's bizarre universe? Doubtful!?! Will Lady Gaga return with more screen time than the paltry few minutes she had in all of season 6?
Who really knows AHS 7's Theme?
The knowledge of the theme is in short supply right now.
There are only three people in the world who know what [American Horror Story Season 7 is about] And that's FX CEO John Landgraf, [studio executive] Dana Walden, and Sarah Paulson.
Is water a part of the theme? There's a lot of doubt that the watery teaser from Twitter was related. What do you think?