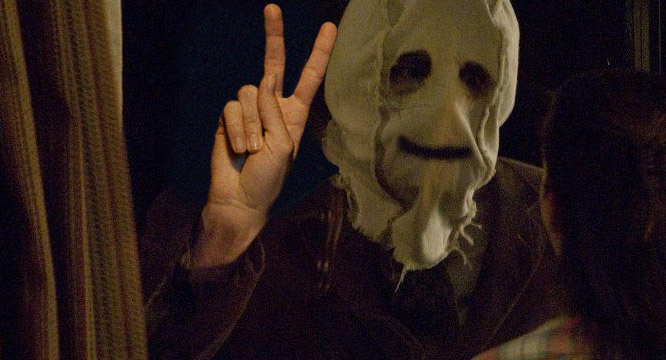 The production schedule for The Strangers sequel has been as on-again, off-again as Brad and Angelina, but without all the tabloid trash talking.
The sequel to the 2008 horror flick was said to be in production in early 2011, and later announced to be released in 2014. While both of those release dates have come and gone with no trace of the trippy trio of masked intruders, it has now been undeniably confirmed that a sequel is imminent. The script is currently being penned by Bryan Bertino, who both wrote and directed the 2008 film.
The Strangers, which grossed over $82 million internationally, starred Liv Tyler as Kristen McKay, and Scott Speedman as James Hoyt, and was not well-received by critics, despite being a major box office success. The film currently holds a 45% approval rating on Rotten Tomatoes.
Matt Mueller of Total Film gave the slasher 3 out of 5 stars calling it "Lean, mean and razor-edged, this nasty little home-invasion thriller drags you by your white knuckles on a horror chill-ride while flicking its middle finger at Funny Games. Prepare to be scared something rotten."
"Why are you doing this to us?"
The sequel plans to take viewers on a road trip gone wrong, following a family who finds themselves holed up inside an abandoned trailer in a roadside RV park.
Immediately our minds conjure up a Hills Have Eyes scenario and we imagine a landscape plagued by grotesque, disfigured hill-people, but writer Bertino has plans for a more familiar cast of characters. The masked invaders who terrorized Kristen and James in the original will once again don their death masks and stare eerily through the shadows at unsuspecting strangers.
"Because you were home"
Critics and fans agree that there is nothing creepier than the masked psychopath staring in at Tyler through the kitchen window. If The Strangers 2 lives up to the hype, it will leave us all double-checking the locks when it finally hits theaters, hopefully sometime in 2017.
Filming in 2017
Liv Tyler has confirmed that she will return for the sequel, however, her role is expected to be minor. Filming is set to begin this summer.