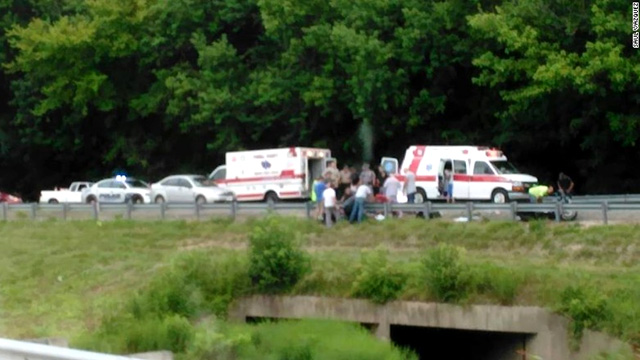 A photo taken by Saul Vasquez in KY may have caught an image of a man's spirit leaving his body after a single vehicle accident. Do you believe?
Stanton, Kentucky -Saul Vasquez's father took this photo while passing by in their tractor-trailer in Kentucky. Saul later posted it to Facebook and the image has been shared over 14,000 times in 3 days. It looks like the only thing more talked about this week is Pokemon Go. He later noticed something unusual. Vazquez writes on Facebook, "Zoom in and pay attention to the shadow just off the top of the state trooper hat. All I say is I hope everyone involved is okay!!"
The incident involving a motorcyclist happened on Tuesday (7/13/16). The motorcyclist was the only person involved and he was taken to the hospital where he succumbed to his injuries.
Was This the Man's Spirit Leaving His Body Or…?
There are many theories as to what is happening in the photo. If you look closely, just above the troopers hat, you see a white mist in the shape of a person's body.  It doesn't look to be a glare on the trees nor does it appear the photo has been tampered with. Theories are that the figure could be the man's spirit leaving his body or an apparition watching over him. Some have speculated the figure was an angel and some suggest it's our minds trying to associate the shape with something we're familiar with.
Other non-paranormal theories are that the image could be something on the window of the truck. Maybe a smudge on the lens of the camera too. Smoke from the accident. Perhaps a glitch in t he Matrix. The original photo from Saul Vasquez is below.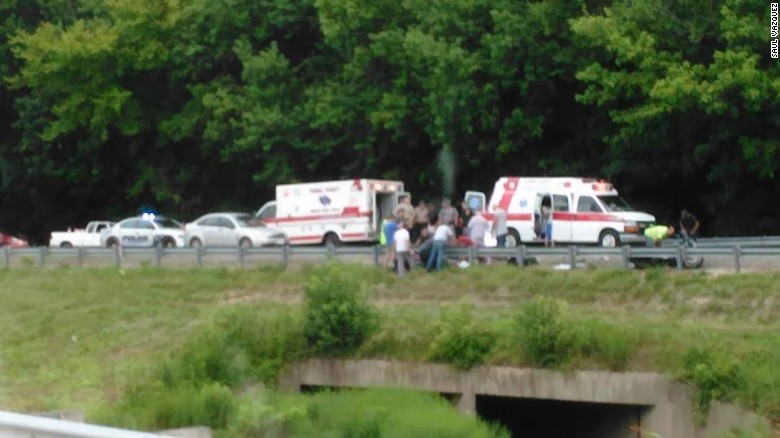 Photo Credit: Saul Vasquez
Saul Vasquez Photo Magnified
Here's the same photo magnified 5 times. The figure looks less like the shape of man at this magnification, but the same can be said about the trooper. However, the whitish color does look like it extends down into the trooper when you compare him to the other people in the photo. Not completely a reason to say it's debunked, but it does raise questions.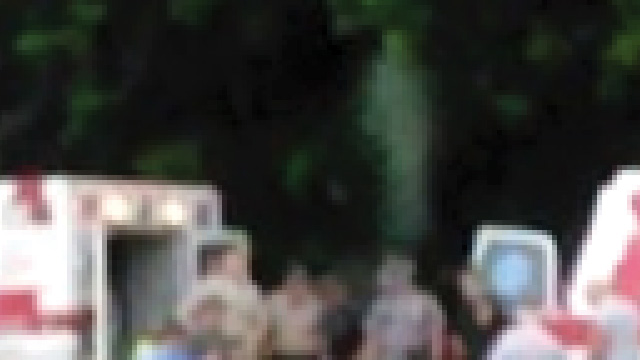 Photo at 5 times magnification
It's definitely a sad situation for the family who lost a loved one, but hopefully this image can provide some help in their grief. What do you think this image could be?
Vasquez didn't respond to FrightFind's request for comments, but has said his photo has not been altered.