Overview
The Dark Hour Haunted House: A Fright-Filled Adventure in Plano, Texas
Come one, come all to the spookiest spectacle Texas has to offer: the Dark Hour Haunted House! This isn't your typical neighborhood scare-fest — it's a bone-chilling journey where your nightmares come to life.
Experience the thrill of the Dark Hour's numerous horrifying attractions. Navigate your way through the Coven Manor, a terrifying mansion that houses a wicked witches' coven. Take a spine-tingling stroll through the Graveyard of the Doomed, where the undead lurk around every tombstone. And don't forget the Torment Factory, a maze of terror sure to send shivers down your spine.
Dark Hour Calendar and Times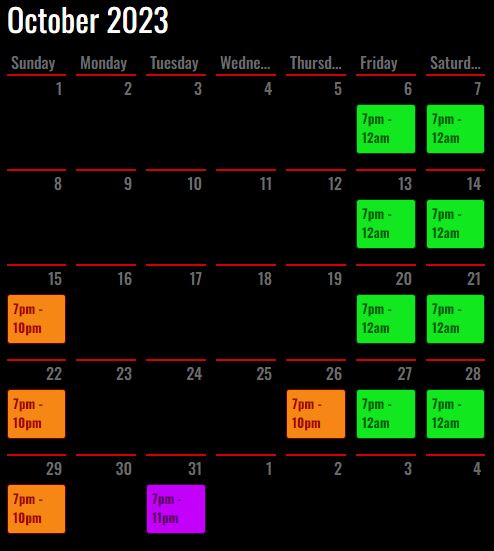 So mark your calendars for a fright night to remember. The Dark Hour Haunted House opens its creaky doors from 7 PM to 10 PM on some weekdays, and from 7 PM to midnight on Fridays and Saturdays throughout the month of October. It's the ultimate destination for thrill seekers, horror lovers, and anyone who enjoys a good fright.
Enter if you dare, but beware: once the clock strikes the Dark Hour, there's no telling what horrors await.
WARNING: THIS EVENT MAY BE TOO INTENSE FOR CHILDREN UNDER 10.
Video
https://www.facebook.com/DarkHourHaunt/videos/1676450242388568/