Overview
Los Angeles Haunted Hayride
2017 Haunted Attractions at the Los Angeles Haunted Hayride at Griffith Park's Old Zoo.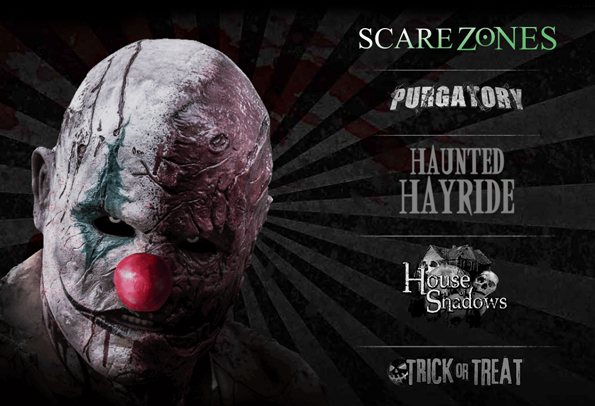 Purgatory
An ALL NEW LAYOUT that may just make Purgatory the best part of the entire attraction. The charm and magic of our old world 'haunted village' invokes the nostalgia of Halloweens past; smell the freshly cut hay, feel the chill of cold fog, and see the deep, rich orange glow of jack o' lanterns as you pass through our gates. Become a part of the show at Theatre Macabre, ride the Scary-Go-Round, enjoy food & drink at the Grub Shack, shop in the Bootique, visit a psychic and get ready, we're about to blow your minds. Get ready, we're about to blow your minds.
Trick or Treat
It's Halloween EVERY NIGHT. Go get candy from strangers. The interactive neighborhood has doubled in size and has tripled the mischief. The suburb of Hell welcomes trick-or-treaters to go door to door and come face to face w its freakish occupants. You've always known your neighbors were a little off, so tonight let's pull back the curtain. "Ding Dong!"
Haunted Hayride
Take a seat on our tractor-pulled hay wagon as we slither through the genuinely haunted woods of Griffith Park's Old Zoo. Meet a legion of vicious clowns waiting with more psychopathic fun than any wagon can handle. And if you think you know clowns…you don't know our clowns. The evolution of demonic possessions that live within these trees have created a darkness that will leave with you, sleep with you and dream with you. You will wander through unforgettable life-sized sets set to an all original narrative and cast of characters from the safety of the wagon. That is until you disembark ON FOOT to experience the winding, weaving Corn Maze smack dab in the middle of the ride! This year's hayride will be your favorite hayride to date. We are sure of it.
House of Shadows
Our legendary fan favorite scare zone House of Shadows will leave you lost in the darkness. The shadows of the most vicious, the most depraved and the ugliest souls will take over in this re-imagined, colossally possessed demonic house. SoCal's ONLY true dark maze.