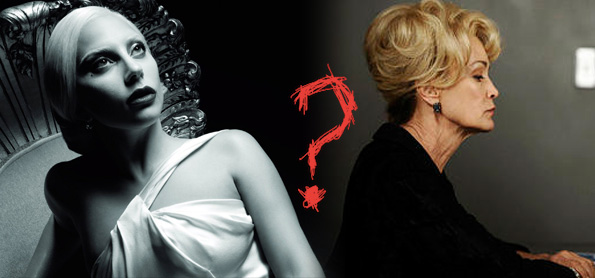 The frenzy continues to grow as the newly named AHS season 7 approaches. As this anthology-driven horror series has progressed over the past six seasons, more and more fans have discovered and fallen in love with it. One of the things that have fueled this popularity is the performances of fan favorite characters, in particular, Jessica Lange, who starred in the show for the first four seasons, and Lady Gaga, who joined in season five and also had some appearances in season six. With season seven looming above us, and seasons eight and nine confirmed, fans have been speculating as to whether or not either of these iconic ladies will return, especially since recent events have more or less proved the theory that all of the various storylines are, at least in some crazy way, connected. With that in mind, let's look at these rumors in more detail.
Will Lady Gaga Return to American Horror Story?
Fans have been wondering about the future status of Lady Gaga since the airing of the last few minutes of season six. A June 24 tweet by AHSLeaks launched fans into a frenzy when it stated the iconic pop singer might return in some capacity once again, which was based in part of information taken from Vogue.
RUMOR: According to an article in Vogue magazine, Lady Gaga is returning for #AHS7 pic.twitter.com/aVnZTMDjFS

— AHS LEAKS (@ahsleak) June 24, 2017
Fans immediately reacted.
Yessss

— Lindsay Kelly (@lindskkelly) June 25, 2017
The rumor mill went into overdrive, with speculation about which sort of character she might play in the upcoming season, and — just as important for many of her fans — what look she might adopt for the role.
However, recent information has been released which seems to squash this rumor for all but the most ardent fans. Even a retraction by AHSLeaks posted a couple of days later, on June 26, which states clearly "Lady Gaga will not be returning for #AHS7" hasn't stopped fans from wondering. In a show filled with twists and surprises at every turn, no one would be completely shocked if Gaga didn't manage to somehow make it into the show at some point. One thing's for certain: if she did make an appearance in either a small role or even a more important one, it would most certainly be a role that would keep people talking for months.
Lady Gaga will not be returning for #AHS7 pic.twitter.com/QkSTJ8L6hG

— AHS LEAKS (@ahsleak) June 26, 2017
Will Jessica Lange Return to American Horror Story?
With the seemingly definite absence of Lady Gaga this season, many of the show's strongest fans have been secretly wondering if season seven wouldn't bring a return of the show's original, and arguably even more popular, the leading lady, Jessica Lange. During the first four seasons, Jessica's strong presence helped to propel this series to something special, and her performances are still being talked about. And why not? With a pedigree and legacy as long-lasting as Ms. Lange, it would be more surprising if she had brought anything less to the show. With that in mind, AHS creator Ryan Murphy has mentioned more than once that, with season seven being an apparent crossover of sorts between the Murder House and Coven story lines, bringing back Ms. Lange is an idea that he definitely open to.
Unfortunately for fans, though, Jessica herself has squashed this rumor.
In an April interview, Jessica stated that she has "no plans" to return to AHS, despite what Murphy may or may not have in mind. Since leaving the show she's been rather busy herself, playing the role of Joan Crawford to Susan Sarandon's Bette Davis, as well as roles in Wild Oats and Horace and Pete, and it's quite possible that the Oscar, Emmy and Golden Globe-winning actress just doesn't have the time. This hasn't stopped fans from wanting to see her back, however, with one recent fan demanding her return to Ryan Murphy himself.
WE WANT JESSICA LANGE https://t.co/T6vviUvCiv

— christian (@christianbliss) July 12, 2017
Now that filming is underway, though, and recently released photos of cast and crew hard at work show no sign of Ms. Lange, it's probably time to put this rumor to bed.
But what about season eight or nine? Never is a long time to wait.