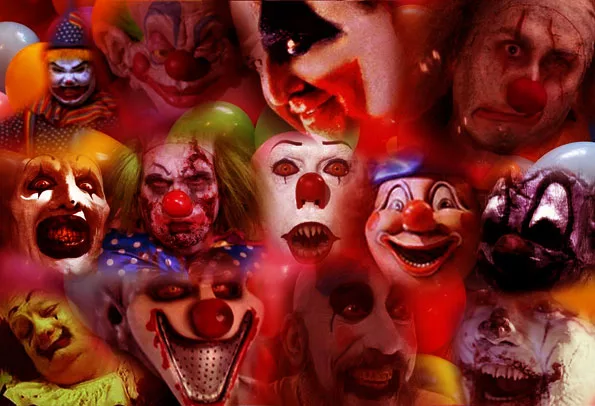 With Rob Zombie's new movie 31, and the upcoming remake of Stephen King's IT, we thought we'd take the time to look at some of the scariest clown movies of all time. Why not 31 movies? Because in the world of funhouse mirrors and your worst nightmares, everything is turned around. People have been frightened by clowns for centuries. There is even a word for it: Coulrophobia.
While most real clowns are silly, there is just something sinister about clowns. Those smiles are fake and painted on. The more you stare, the more the face warps into something wicked. Clowns push what is rational and reasonable to the breaking point, and that alone is enough to fear them. Here is our list of the Top 13 Scary Clown Movies. I wonder where 31 will fall into this in the future.
1. Stephen King's IT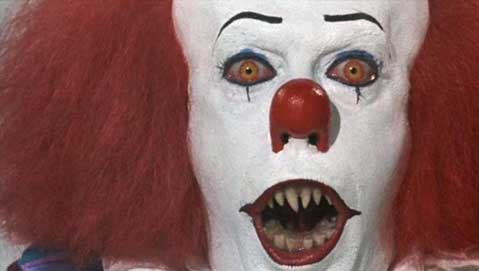 I have very strong memories of this movie, and it quite possibly has one of the scariest clowns you're ever going to come across. At least with most clowns, you don't have to worry about them coming after you once the sun rises. This clown appeared in a dreary haze, like a daydream, and quickly turned your pleasant Sunday afternoon into a slice of pure Hell. Ultimately, this movie is frightening because of the overall message that you can't escape your past, and when you finally realize you have "a past" to escape, it's grown into a virtually undefeatable monster. One has to wonder wear the new Tim Curry-less IT remake will fall.
2. Poltergeist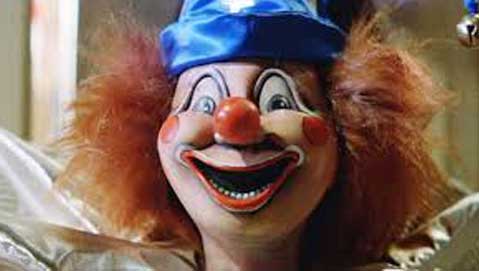 We all watched the original poltergeist knowing damn well that the freaky clown sitting on that chair was up to no good. We could have warned that poor kid, but he was too wrapped up in the tree outside to really pay attention. Before you know it, lightning strikes, the clown has been released, and its frighteningly soft-cloth-filled arms have him in a vice-grip from Hell.
3. Killer Klowns from Outer Space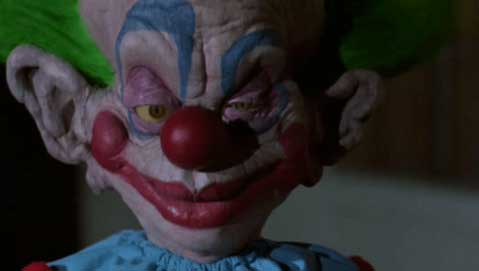 I'll admit, the first time I saw this movie I thought I had suffered and survived an aneurysm. War of the Worlds has nothing on this movie. We all know if aliens come to Earth we're essentially screwed. If they truly did their research, then it makes perfect and total sense that they would come as clowns. I mean, half the population would drop dead from fear, and the other half would simply lose their minds. Well, except the teenagers, they are always up for a good fight and will likely be the savior of us all in a real-life horror situation.
4. House of 1000 Corpses & The Devil's Rejects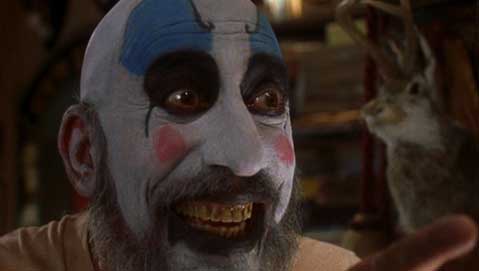 Sid Haig as Captain Spalding. That's really all you need to know. He's simply amazing in both films, and his nuanced performance while the two teens flee through the woods is mesmerizing. Captain Spaulding was rumored to have some influence on Rob Zombie's new release, 31. Zombie denied it, but nonetheless, this is one clown you'll likely end up rooting for in the end.
5. Gacy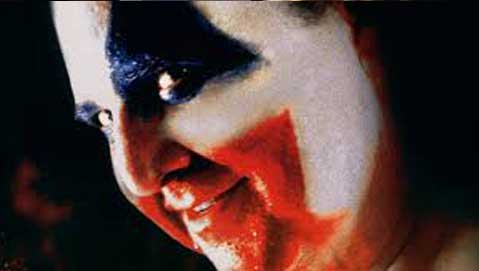 There are few things as terrifying as a movie based on an actual, real-life serial killer who dressed up as a clown. John Wayne Gacy is one of America's most sinister serial killers, and this movie reflects that.
6. Stitches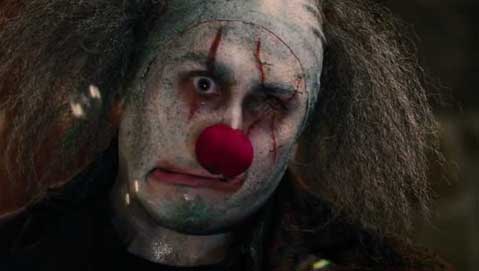 Think twice before you forget to tip the clown at your kid's birthday party. This birthday clown came back from the dead with the intent of exacting its revenge on the kids he blames for his death.
7. All Hallow's Eve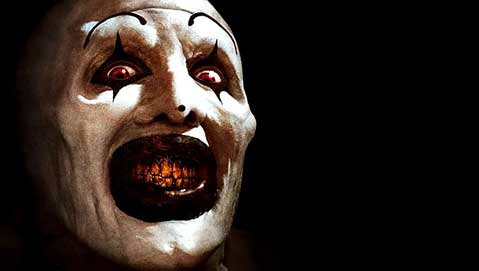 Where do we start? All Hallow's Eve pulls out all the horror stops. Not only is there a homicidal clown named Art, but there is a VHS tape that won't turn off, trick or treating gone horribly wrong, and deranged demons who perform c-sections! Did I mention the babysitter is having her worst night ever?
8. Clownhouse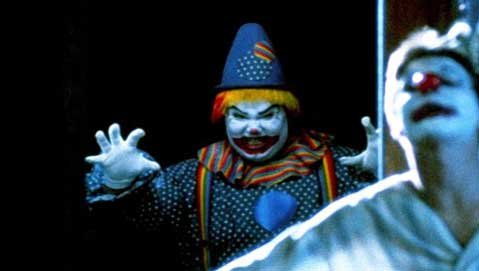 This one's scary because there is a large dose of reality. It's staged at a circus where Casey discovers his life is about to end from a fortune teller. The clowns do a good job setting the stage for disaster.
9. S.I.C.K. Seriously Insane Clown Killer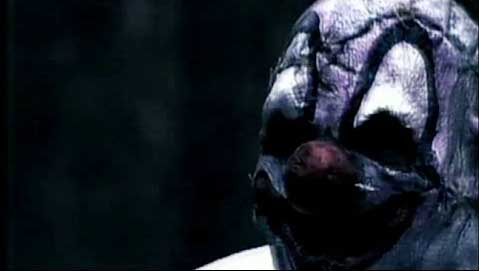 This has some of the 31 flavor to it. A group of clowns hunts friends who are lost in the woods. It's a seriously creepy movie, and the clown make-up really helps to reflect the evil clowns psychopathic tendencies.
10. Clown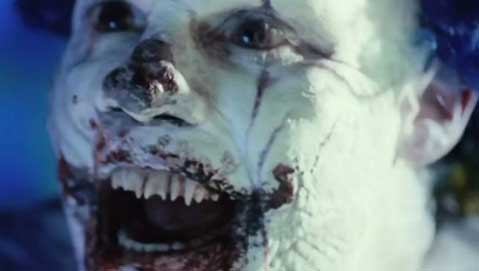 This isn't so much about a killer clown but a killer clown suit. What happens when the clown costume you put on for your son's birthday party just won't come off? Apparently it gives you a big appetite and the only thing that sounds good is small children. Did I mention this is produced by and stars the new king of horror, Eli Roth?
11. Zombieland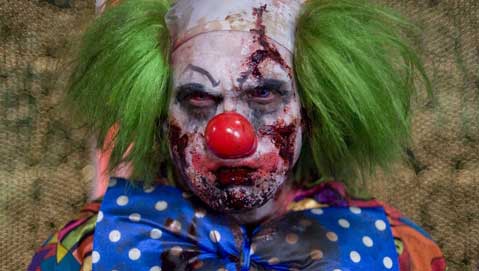 It's not fair. Not only is this clown freakishly disturbing looking, it's also a zombie. That's a double-whammy that is enough to scare anyone away from visiting an amusement park or carnival during the zombie apocalypse.
12. Drive-Thru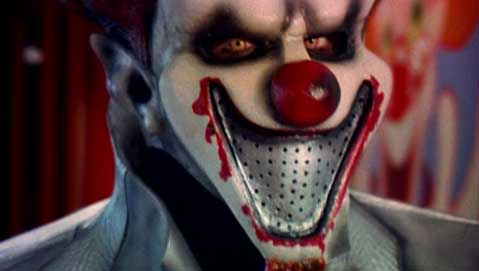 If someone wanted to make a horror movie about Ronald McDonald, they could use this movie for references. Horny the Clown is the mascot for Hella Burger. What makes him most scary? The fact that he's a vengeful clown spirit set upon killing his murderer's kids.
13. 100 Tears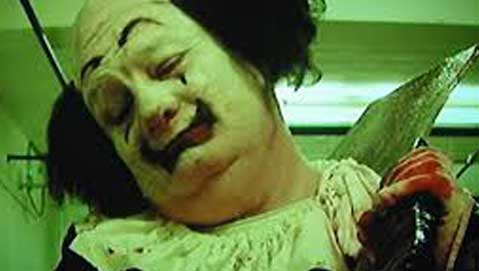 Okay, this is an independent release, and you likely haven't heard of it. This doesn't take away from the fact that Gurdy is an innocent man accused of rape. So, he does what any high-functioning psychopath in the making does. He goes on a murderous rampage of revenge but finds he simply can't stop.
Suggestions?
This is our list. Did we miss your favorite? If so, let us know what your faves are in the comments below.
Want the full clown experience? Try a stay at the haunted Clown Motel in Tonopah, Nevada. It's one of the craziest places in the US sitting right next to an early 1900s cemetery.