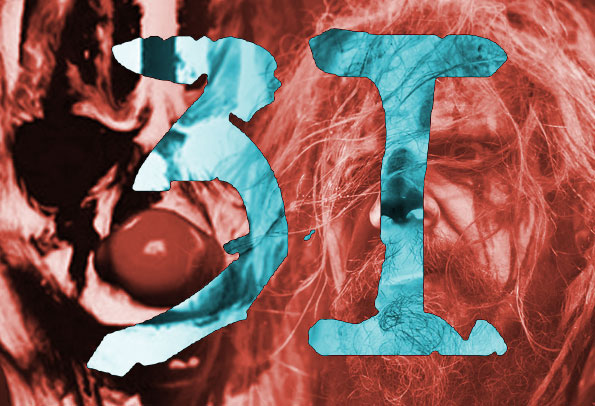 Rob Zombie's 31 focuses on five carnies held hostage and forced to play a horrifying game called "31." The goal of the game? Survive the night. All while sadistic clowns hack at their heels in a compound that resembles The Circus from Hell. It's as if Rob Zombie physically entered my nightmares when conceiving this movie. Carnies, clowns, and total carnage ensue.
How Did Rob Zombie Come Up with the Name "31?"
The title 31 was chosen after Zombie found a statistic noting that Halloween is the most notorious day for mysterious missing person reports. Similar to the storyline of Nicholas Cage's equally horrifying movie, Pay The Ghost, which adds absolutely nothing to this conversation, but does allow us to plug Nicholas Cage.
31 Rated "R"
This film is over-the-top horror, which is a good thing and something you expect from the creator of House of 1000 Corpses and The Devil's Rejects. Although the film's intensity did originally get 31 slapped with an NC-17 rating, Zombie was able to get it downgraded to rated R before the release. The MPAA notes that the film had "sadistic graphic violence, bizarre sexuality/nudity, pervasive disturbing images, and some strong language." This leaves us awaiting the director's cut. For the art of course!
Zombie told a fan on Facebook, that the "Zombie Cut" would eventually be released on DVD.
Clown Hell
The crazed clowns are all given "head" monikers and have creative names like Sex-Head, Schizo-Head, Sick-Head, Psycho-Head, and Death-Head. For the first time in my life, I find myself rooting for the carnies. The evil clowns are remarkably deeper characters than you'd expect. The opening scene with Doom-Head leaves you with a sense that there may be something more to his character and the movie.
Of course, it all goes to Hell once the blood-lust commences. 31 nicely touches on the struggle of a psychotic killer clown's state of mind. Or, at the very least, the mindset that any psycho (John Wayne Gacy comes to mind) who would put on clown make-up to kill their victims would assume. After all, who has time for philosophical thoughts and musings when you're looking for the best way to kill your victims?
31 is a great, horrifying, terrifying, intense, scary clown movie that is a perfect addition to the Rob Zombie horror portfolio. It's fun, has brains, some heart, and gory humor spliced in along the way. It's a Grindhouse movie, and few do that better than Rob Zombie.
31 Trailer [ updated trailer from Saban films ]
This is the new trailer for 31 with Saban Films taking over distribution. Releasing on VOD September 16, 2016 and in theaters October 21, 2016.
Want the full clown experience? Try a stay at the haunted Clown Motel in Tonopah, Nevada. It's one of the craziest places in the US sitting right next to an early 1900s cemetery.