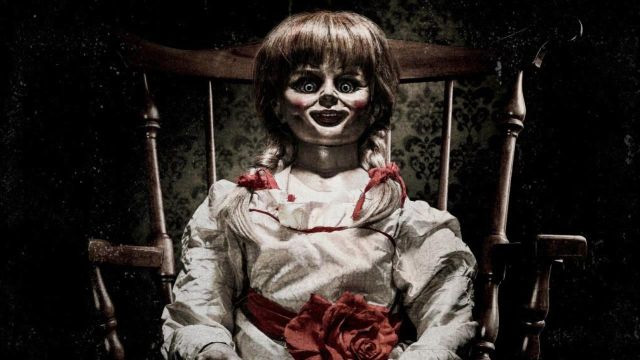 The Conjuring universe continues to expand with the upcoming release of Annabelle: Creation. FrightFind had the chance to sit down with Lou Lou Safran, who plays Tierney in the much-anticipated Annabelle: Creation.
FrightFind: Welcome, Lou Lou. Thank you for taking the time to answer these questions about your upcoming role in Annabelle: Creation. Our audience is excited to hear from you.
Lou Lou: I'm frightfully happy to be talking with you Tracy and the FrightFind fans!
FF: After The Choice, this seems like a distinctly different role & genre. How did you get involved? Is horror something you're a big fan of?
Lou Lou: I am fascinated by horrors and terrified by them at the same time. The Choice was my first movie and since the first scene, I knew that acting was what I wanted to do. So, when I heard about the part of Tierney in Annabelle Creation I knew I had to audition for it. On top of getting to act again, I figured watching how the supernatural thriller magic happens up close would be fascinating and make me less scared of the end result. Seeing it all being filmed was completely fascinating. If it seems less scary on the screen we will see at the premiere.
FF: Tell us a little bit about your role in Annabelle: Creation.
Lou Lou: Tierney is one of six orphaned girls who together with their nun, move to an old farmhouse in the middle of nowhere. Our orphanage got shut down so we have no choice but to make our new home there, but everything about the place seems creepy. The couple who invites us to live with them are very strange and soon things start to go horribly wrong. We are basically a family all of us girls, so we stand up for each other, but this turns out to be so evil it is far beyond our power to control.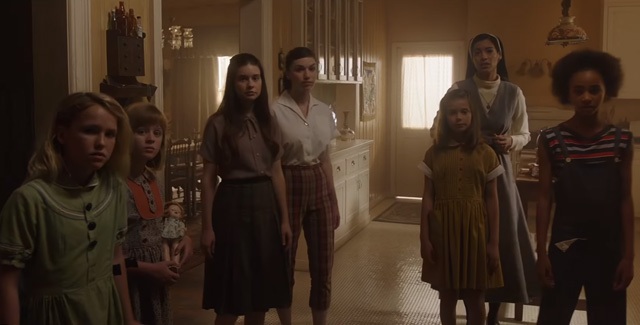 FF: Were you a fan of the first Annabelle and The Conjuring films?
Lou Lou: I was the Annabelle doll for Halloween when the movie came out! I have seen scenes from the movies but have never been able to watch them all the way through. I mean, they are scaaaaaaaary!
FF: What was it like playing opposite the Annabelle Doll?
Lou Lou: It was pretty intense. The doll itself is actually quite beautiful: very intricate with all movable parts, including the eyes of course. She's really large, heavy and not easy to hold. We would make fun of her when she'd be on the set but I think secretly we were all a little afraid of Annabelle. Sometimes you'd turn around and see her just sitting somewhere in the other corner of the set waiting for her next take, looking so quiet and inanimate. Or sinister? You are never quite sure.
FF: What should we expect from Annabelle: Creation?
Lou Lou: A really great movie! It has blood-curdling scares and is really intense so definitely expect to be jumping in your seat. David Sandberg, the director, is a master of darkness and suspense. Some set ups would make us actors jump for real even though we knew they were coming. But this movie is much more than just a great supernatural thriller. The characters are really lovable I think and the plot is very moving, so I think the audience is going to root for us and care about what happens. Also, the set that Jennifer Spence designed is simply fantastic and Leah Butler's wardrobe is so beautiful and authentic, that you will look at the screen and instantly be transported to the 1940s and 50s.
FF: Tell us one thing about the movie that made you jump.
Lou Lou: There are so many! Well, there is one scene involving the lady of the house that will make your heart stop. We would scream for real in every take.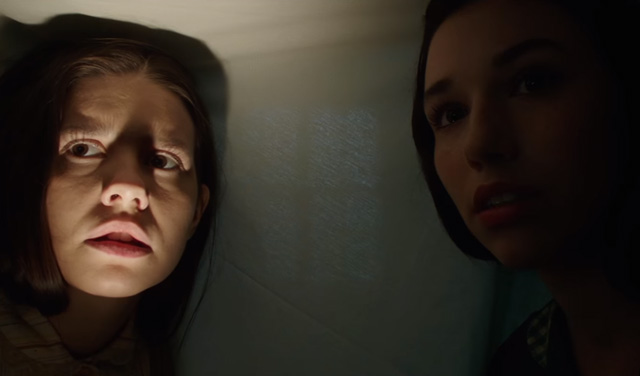 FF: Do you have a favorite horror film?
Lou Lou: Annabelle Creation of course!
FF: What was more fun? Making The Choice or Annabelle: Creation?
Lou Lou: Wow, you are putting me in a difficult spot because it's impossible to pick! The Choice was my very first movie, the cast was amazing and I loved my movie parents Ben Walker and Teresa Palmer. The set was a gorgeous green property on the water in Wilmington, North Carolina. Ross Katz, the director is amazing at what he does and he made the atmosphere on the set so good.
Annabelle: Creation was the opposite looking set with all the dark scary corners and the film has a completely different tone. But I loved having five other girls with me on the set and the camaraderie we built during the filming. It turns out that I also love shooting super scary scenes in which I have to run and scream a lot. (laugh)
FF: As a young star in Hollywood, what advice would you give girls who look up to you and want to work in film? Fair warning, I have 3 daughters of my own and they wanted me to ask.
Lou Lou: Aw how sweet, please tell them Lou Lou says Hi!
I think the best advice I could give anyone is to pursue what they want most in life no matter what the obstacles are and what anybody tells them. I know we need to listen to our parents when we're younger and sometimes they decide things for us, but I think if you show them that you really want something badly, that you can stick to it and work hard for it, you can convince them your passion is not a whim.
For those who want to act, I would say the most important thing is not to pretend the character they are playing but to be that character. To understand their life, their troubles and dreams and channel that in every scene.
Also, don't eat too many Life Savers from craft service, you will get a belly ache. Oh, and don't let social media take over your life. Get outside, play an instrument and real games with friends, it's so much better than being on a phone all the time.
FF: What's next for you? Any new projects? Anything in horror?
Lou Lou: Not in horror yet. It has been such a crazy busy year and I am in Australia right now, that I just look forward to getting back home in August and attending the Annabelle Creation premiere. It will be so fun to walk that black carpet with all my friends. Besides that, I need to find time to practice my piano more and post all my videos with the Arctic Monkeys covers that I've been working on. I'm obsessed with them and I just launched my YouTube channel to share the obsession. There will be other music on it as well. I just got a ukulele here on the Gold Coast and I've been practicing all the Eddie Vedder songs.
FF: Last questions! What is your favorite Halloween candy? And what will you be dressing up as this Halloween?
Lou Lou: I like Almond Joy the most. I'm going to dress up as one of The Gorillaz but I might also attempt another crack at the Annabelle doll. There are a lot of dress up events at Halloween so I can do a costume change.
Thank you, Lou Lou. We can't wait to see you in Annabelle: Creation.
In her free time, Lou Lou likes to spend time with her friends and support charities that are close to her heart. One of her favorite charities is called Animal Tracks, and she also volunteers for Project Angel Food.
Keep up to date with Lou Lou on Instagram and be sure to check out Annabelle: Creation in theaters August 11th.