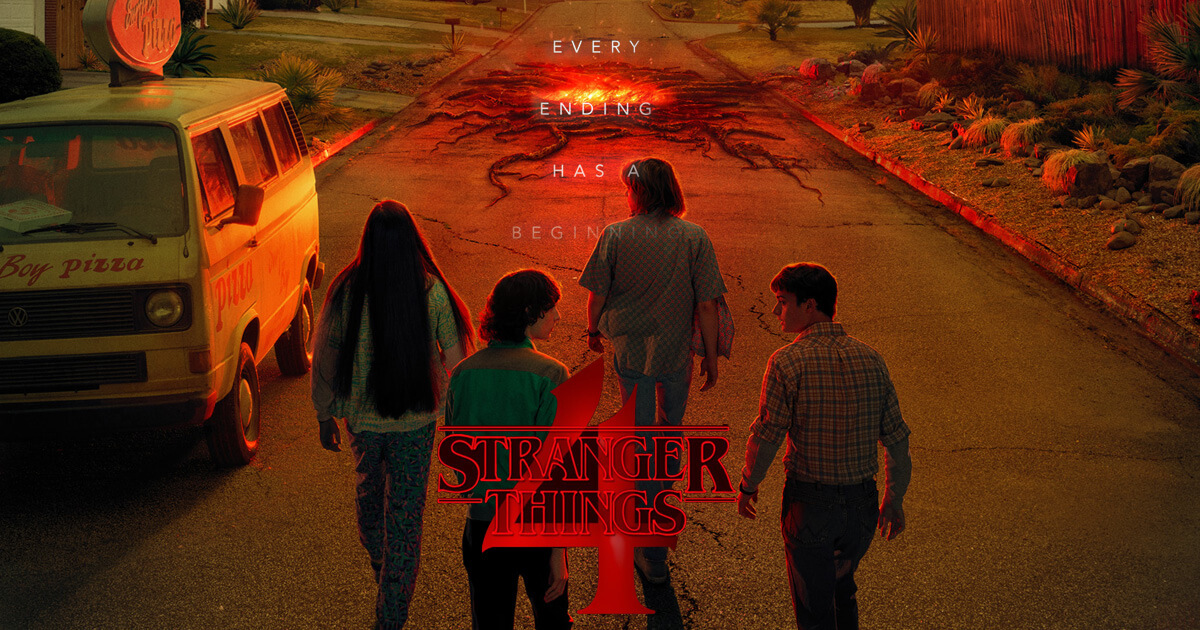 Every ending has a beginning
The season is upon us. Stranger Things season 4 Volume 1 has an official premiere date of May 27th, 2022. What's this "Volume 1" you ask? Read on for more great Stranger Things updates.
Stranger Things Season 4 will be Separated Into Two Volumes
The Duffer brothers shared in a letter to all us nerds that Season 4 will be split into two volumes. "Volume One will release on May 27th; Volume Two will release five weeks later on July 1st." They go on to say, "Season 4 will be the penultimate season; season 5 will be the last." That's right, a 5th Stranger Things season is coming and it will be the end of the series.
Volume One will release on May 27th; Volume Two will release five weeks later on July 1st.
It's been nearly three years since season 3 was released on the 4th of July, 2019.  Season 3 left Hawkins in shambles after the Battle of Starcourt Mall. "The Party" is now separated from Eleven and the Byers family in California. This season is slated to be the biggest and most intense yet, spanning several locations outside of Hawkins and the Upside Down while setting Season 5 up for an epic conclusion.
The Letter from the Duffer Brothers
How long will Stranger Things Season 4 be?
Netflix teased that Season 4 is to be "super-sized," meaning the ST4 is "2 times as long as Season 3." There were 8 episodes in Season 3. Considering Netflix already teased the titles for Season 4's episodes, which came to 9 total; does that mean we're getting 9 episodes in Volume 1 and another 7 for Volume 2? We're just guessing (hoping) at this point, but the announcements are encouraging.
Season 4 Episodes Announced
So far, the episodes announced for Stranger Things Season 4 are "The Hellfire Club," "Vecna's Curse," "The Monster and the Superhero," "Dear Billy," "The Nina Project," "The Dive," "The Massacre At Hawkins Lab," "Papa" and "The Piggyback." No word on how these episodes will be released and if they are the entirety of the season, or if they might be just the beginning.
New Characters in Stranger Things Season 4
ST Season 4 brings us new characters, including Nightmare on Elm Street's infamous Robert Englund. The new season also features new additions of Amybeth McNulty as Vickie, Myles Truitt as Patrick, Regina Ting Chen as Ms. Kelly, Jamie Campbell Bower as Peter Ballard, and Grace Van Dien as Chrissy.
Stranger Things Season 4 Teaser
What comes next is going to be exciting. The Stranger Things universe is setting itself up for an exciting finish. It's sad to hear there will be an end, but just as the title suggests, it's only the beginning of the end.  We have a lot in front of us. Stay tuned, nerds!