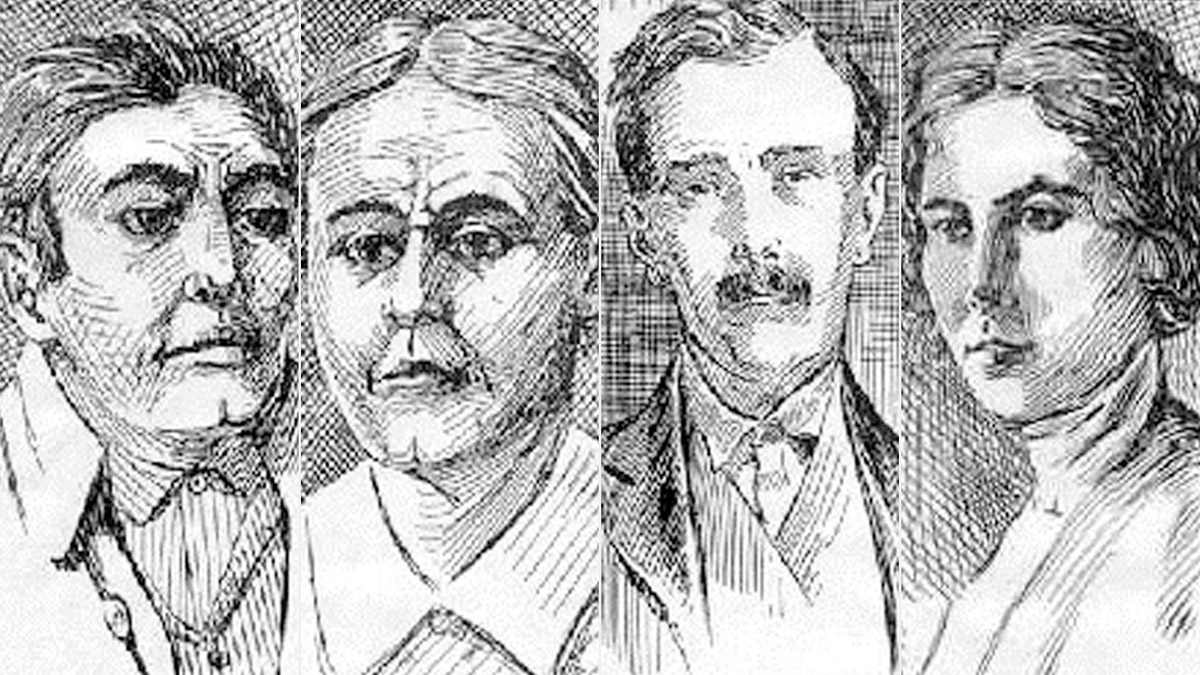 While there are conflicting theories and questions as to who the first serial killer was, we here at FrightFind have an even bigger one for you. Who was the very first family of serial killers? The Sawney Bean Clad is of an Irish true crime legend were the numbers and exploits of victims are hard to certify. The Kelly Family of the Midwestern United States actually had a trap door built under a chair at the dinner table to dump victim's bodies to their deaths, but even then the death tally is marginal. Just who was the biggest and worst serial killing family on the planet? That grotesque notoriety goes to none other than the Bender Family of Labette County, Kansas. And guess what? Their infamous land is now for sale and you can be the lucky owner of one of the bloodiest places in serial killer history.
Who were the Bloody Benders Family?
Back in 1870, homesteading was still the primary method that a large portion of Americans used to own land. Given away totally for free by the United States government, millions of acres were up to anyone who applied. Among the more socially awkward and unappealing applicants was a German immigrant family by the name of Bender. Late middle-aged patriarch John Bender Sr. and his wife Elvira, were able to secure over one hundred and sixty acres upon which they could build their dream farm. John Sr. spoke almost no English (opting almost always for his native German) and what little that came out was in guttural forms that were likened to that of a vicious dog barking. His wife Elvira barely spoke anymore English than he did and her demeanor and personality were so mean-spirited and vicious that many people who met them believed her to be Satan's wife in the flesh.
Along for the homesteading farm build was John and Elvira's only son, John Jr. Most surviving accounts recollect John Jr. to be in his twenties with a shock of red hair and a joker-esque personality. Also with the family was their only daughter Kate. In great contrast to her parents and brother, Kate was reported to be extremely attractive and spoke English perfectly.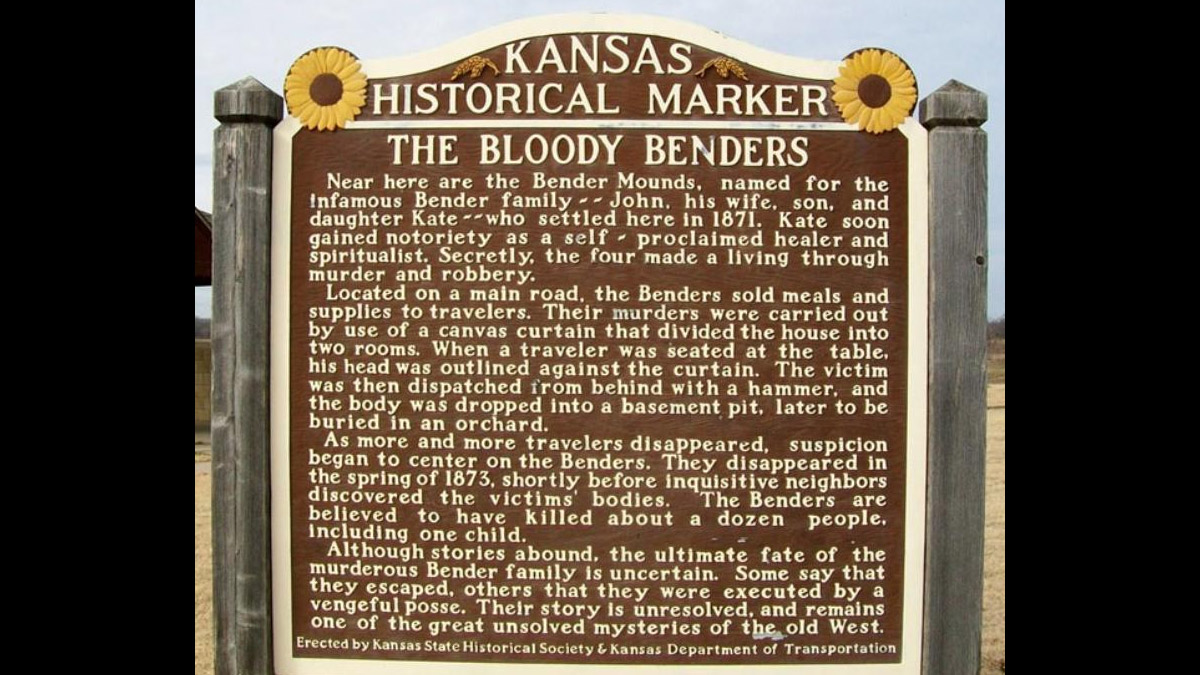 In 1871 the Benders opened up a roadside inn adjacent to their Parsons, Kansas property. Their murderous gimmick was later revealed in the national newspapers to be quite simple. Wayward travelers or spiritualist would be lured inside. It was known throughout the town of Parsons that Kate was often seen hanging up flyers advertising her psychic readings and seances that she would hold at the inn. Inside the inn, a table or bench in which a victim sat would have a very simple canvas curtain inconspicuously strung up behind them.
Having the room lit with a typical oil lamp of the time and ready for a psychic reading or seance, the victim's guard would be down. Behind the curtain would be standing either John Sr. or John Jr. who would then take a sledgehammer and bash the unsuspecting victim in the head from behind. With their skull crushed and brains oozing out, Kate would then produce a knife to slit their throats to ensure their total death before Elvira stripped them of all their monies.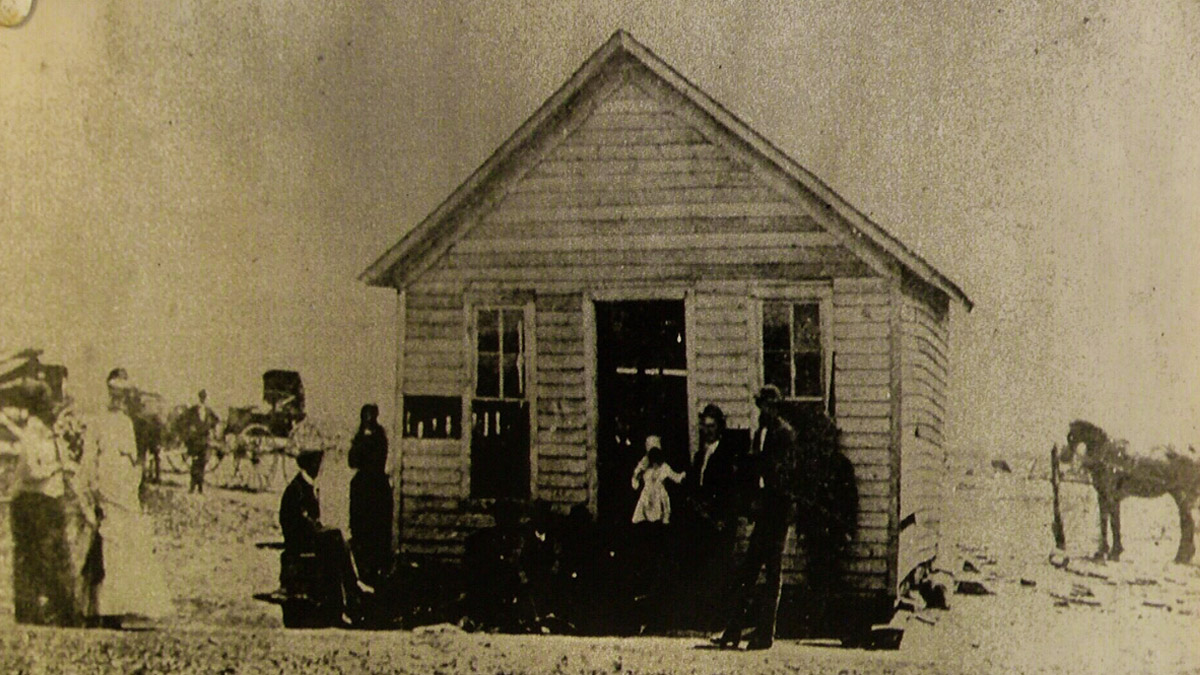 Bodies were kept in the basement area and eventually buried out into the family orchards. The Benders were able to keep up their bloody serial killing ways for nearly two years until they came across their final victim. Dr. William York was a man who went calling on the Benders in the Spring of 1873. When he never returned, his brother Colonel Ed York and Kansas State Senator Alexander York, organized a search party to find their brother. Suspecting the Benders, the York brothers procured warrants to raid the property. Upon seizing the property the Benders escaped, however with what the York brothers found, they simply couldn't give chase.
What happened to the Bloody Benders?
Bodies were buried in the basement of the inn (which was difficult to breach since the hinges were rusted over with clotted human blood), while out in the orchards, even more victims were found. Most had crushed skulls, others multiple stab wounds, and some even were evidenced as being buried alive. Eleven bodies were officially tabbed by officials while twenty one more were partially confirmed. Across the property were other body parts that never could be claimed thus revealing the true number of unsuspecting victims at the hands of the Bender family to be never truly known.
In their hasty escape, the Benders were able to successfully evade capture for their crimes. One of the most prevailing theories is that John Sr. and Elvira later fled to Minnesota while John Jr. and his sister Kate went to Texas. One of the posse members with Colonel York made a deathbed confession that Kate was captured and set on fire in a ditch right there in Kansas, burned alive for her crimes at the hands of vigilante justice. Her remains were never found.
Through the ages, the property itself was surprisingly maintained and the 152 acres of former bloody Bender property has been put up for sale by the Schrader Real Estate and Auction Company of Kansas. But do you know what is the most terrifying and chilling downside to owning this piece of serial killing family history? The land the bloody Benders once roamed has never fully, and totally be excavated! Are there still remains? Whatever happened to the Benders? For now, only the supernatural heavens know.
Address
:

Kansas, USA
:

Road Map