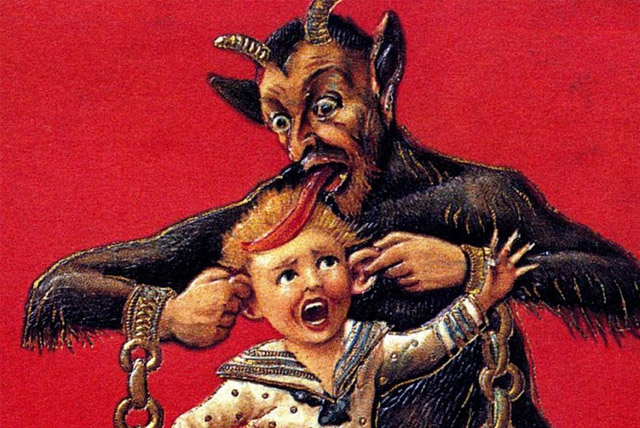 Christmas Day is the absolute greatest day for children everywhere. For those young enough, they go to bed with sweet anticipation of what Santa Claus will bring them overnight. They awaken in a flash the next morning and tear open with reckless fury anything that's wrapped in the shiniest of packaging with elaborate bows. It's pure unfettered mayhem at first glance, but ultimately a child's memory of what happens on such a day brings them joy to cherish for years to come.
The generosity of Old St. Nick seemingly knows no bounds as he is renowned both the world and history over, as the most generous giver of presents. However, for children and even some adults in the Alpine States region of Europe (Austria, Switzerland, Germany, Italy, France, etc) they do not clamor in joy at the prospect of presents and treats to be delivered by St. Nick. Instead, they lay in fear of a gruesome twisted demon creature with ungodly power who prowls the night looking for those who have wronged the world. He is known terrifyingly through history as Krampus.
Who is Krampus?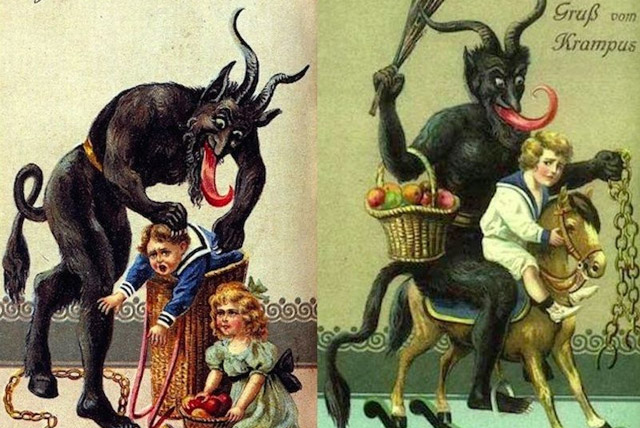 Krampus seems to have originated from seventeenth-century Germanic folklore that was partially influenced by Norse mythology. Considered to be the offspring of the Norse deity Hel, a subset ruler of the underworld, Krampus physically resembles anything but human. Myth and legend has Krampus standing anywhere between seven to nine feet tall and covered completely with dark thick fur. The eyes have been described as rather large and piercing, almost bulging out of the face completely. The tongue is also depicted as rather long and forked, which parts two rows of the most jagged and menacing teeth one has ever seen complete with imposing fangs.

There is a tail that is somewhat long and does flip and twist around the body while standing on both legs that are bent like that of a goat. The feet, in particular, are of interest as most depictions have Krampus sporting two black hooves. However, other appearances have just one hoof present while the other is actually a human foot. There has been no reveal as to why Krampus would have one human foot, but a prevailing theory now is that perhaps Krampus was in fact once human and therefore turned into the beast of today and that human foot is the only real piece left that did not turn. Horns also spew forth from the skull in an intimidating manner, while the hands are twisted into a pair of razor-sharp claws. In fact, the Germanic translation of Krampus means just that….claw.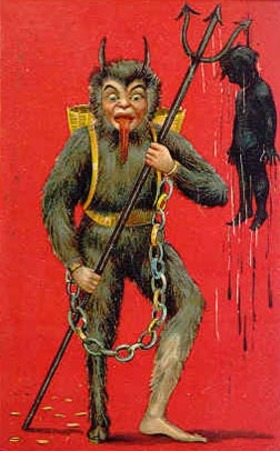 As with tradition in Europe, Krampus is believed to begin the night of terror on what is called, Krampusnacht which translates to Krampus Night, in German. This is traditionally held on December 5 around midnight before it is officially December 6. This is an important date because to some households in the Alpine States, this is known as Nikolaustag, the night when St. Nick comes around with presents for the children. Therefore, the children truly do not know who they will be visited by that evening.
What does Krampus do?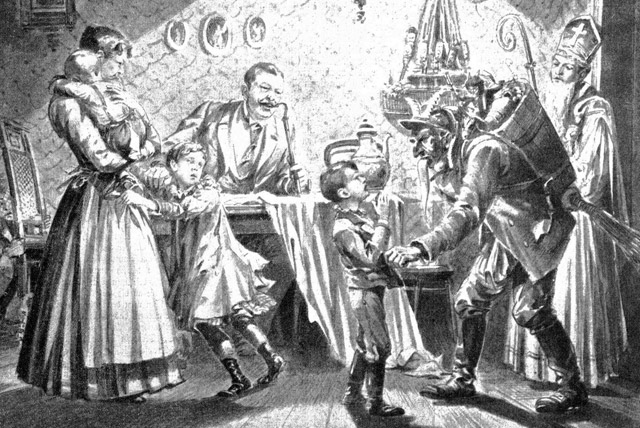 Krampus is the complete antithesis of St. Nick and brings about total dread, pain, and misery to supposed misbehaved children and some adults. Carried upon his furry shoulders is a sack that holds various implements of torture. One of the most common items being a very intimidating rod or stick that is used to physically beat the child or adult if caught. Earlier Germanic folklore actually had Krampus taking away the children only to eat them later!
A sick trick of the Krampus is to actually steal away a present for the child and leave them with only a pile of sticks or rocks, thus cheating them out of a gift. Any adult that Krampus catches or has on its list, is most likely subject to a thorough scourging with a whip. Other times Krampus physically takes a misbehaving child or adult back to its underground lair where they are kept until they become repentant of whatever crimes that Krampus feels they are guilty of.

Over the centuries though, the Krampus has taken on the status of a cultural legend. When season greeting cards became popular in the nineteenth century, Krampus's image was imprinted on many cards, thus making his presence widely known to those looking to celebrate the holidays. Like any celebrated occasion, certain sects of humanity actually champion Krampus as something of an anti-hero who disciplines out of control children and adults so that society might function better overall as a whole.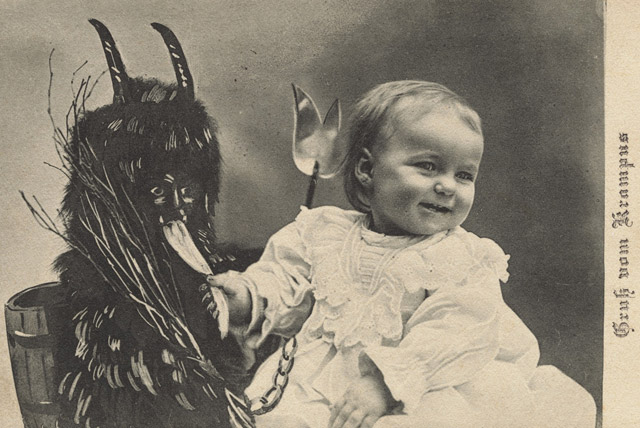 There are now events called the Krampus Ball, where it is something of an elaborate masquerade party where attendees don masks that resemble the Krampus and pretend to flog other revelers all in the name of fun. Even in Germany and Austria there are Krampuslaufs, which are street events where people dress up like the Krampus and chase others around the streets trying to strike at them, all in a bizarre homage to Krampus.
Are you safe from Krampus?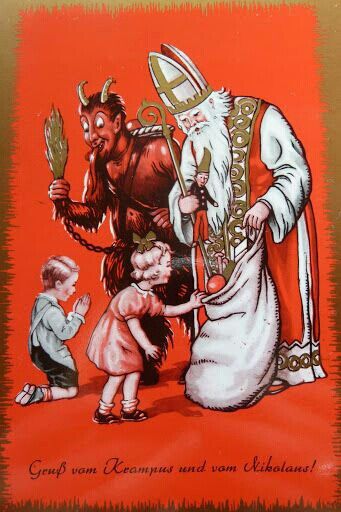 For the children who do awaken the next morning, the only sure sign that Krampus has not visited and that they are considered safe and are absolutely no sticks found in the home. Krampus is known to leave a large size amount of sticks for particularly troublesome children which correlates to how badly they've behaved. Other times, a child may only find a stick or two and are thus very low on Krampus's list. But the prevailing theory is if no stick at all is found, then safety is assured and if a present is left by St. Nick, then they are definitely in the clear.