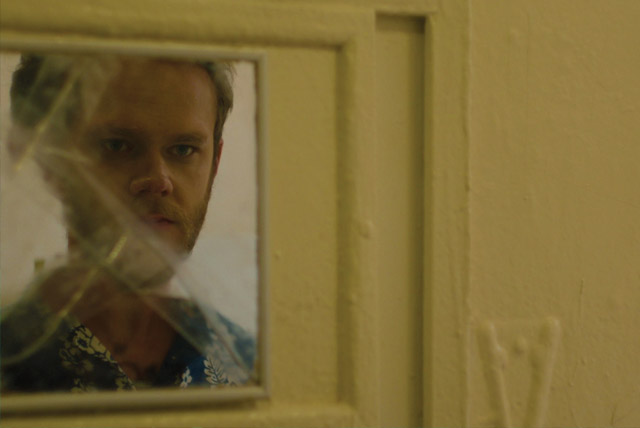 Kasra Farahani (Director, co-writer) and Jason O'Leary (co-writer) will be debuting Tilt at the Tribeca Film Festival this Saturday, April 22, 2017. Tilt will make its world premiere in the Midnight Section of the festival. In 2016, Farahani premiered The Waiting starring James Caan at SXSW.
Tilt is the chilling story of Joseph, a struggling film maker, and his pregnant wife Joanna. Something is obviously wrong with Joseph, he shouldn't be this sad with a baby on the way. But you can tell from the teaser that Joseph has some issues. Is he schizophrenic? "I'm watching myself do these things" he tells us. Maybe he's possessed? "I can't be normal" he repeats several times. Maybe Joanne can cheer him up. "Everything will be  better when the baby comes," she tells him. Joseph doesn't seem so sure.
The Tilt Teaser
Summary of Kasra Farahani's Tilt
All seems normal with Joseph and Joanne. Joanne is pregnant with their first child. Life in their little urban house is cozy and familiar. But something is off about Joseph. He doesn't seem excited about the baby. Work on his documentary is becoming increasingly untethered. As Joseph struggles to maintain the routines of his domestic life, his mask begins to slip. Late at night, while Joanne thinks he is working, Joseph prowls the streets of Los Angeles, deliberately courting danger. Joanne is growing worried about Joseph's odd behavior. But not as worried as she should be.
Tilt explores how quickly the most familiar person in your life can become the most terrifying. How quickly we can become terrifying to ourselves.
10:15 AM – Sunday 4/23               Cinepolis Chelsea – 03 (PRESS & INDUSTRY)
10:00 PM – Sunday 4/23              Cinepolis Chelsea – 09
9:15 PM – Monday 4/24                Regal Battery Park Stadium 11-01
9:45 PM – Thursday 4/27             Cinepolis Chelsea – 02
3:15 PM – Friday 4/28                   Cinepolis Chelsea -05 (PRESS & INDUSTRY)
So, are you lucky enough to make it to the Tribeca Film Festival this year? If so, come back and let us know what you thought of Tilt!