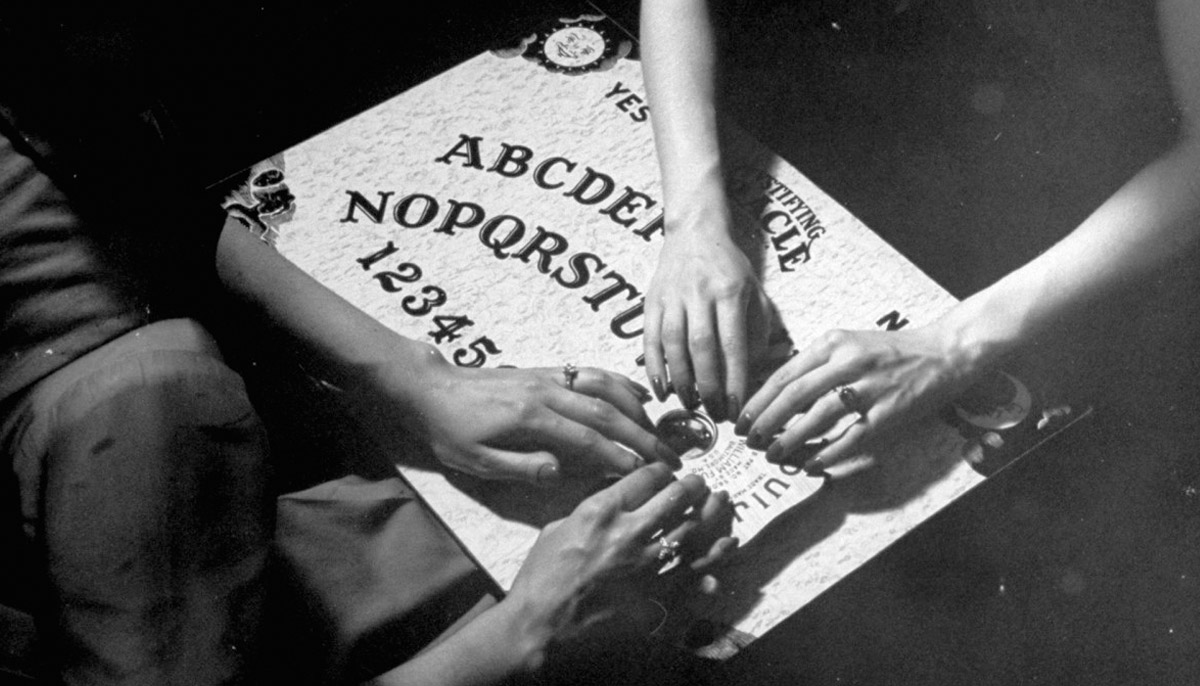 Man has always possessed an unslaked thirst for knowledge from the other side.  Historical texts tell of man wanting to contact the afterlife as far back as the Biblical days and the various warnings against it in Levitical texts from 538 B.C.  Curiosity cannot be helped as humanity wants to know what happens when we die.  Where do we go?  Who do we meet?  Boiled down, this curiosity evolves from a need for ultimate knowledge.  Over time there have been many ways and methods used to make contact and get these answers.  Divination rods, runes, tea leaves, seances, scrying, automatic writing, and even sigil spell-casting has been used to try and elicit answers from spirits.  All reasonable, yet they contain the fatal flaw of personal interpretation to try and decipher what spirits are trying to say, but is there another way?   Enter the Ouija board.
History of the Ouija Board
The Ouija board was first documented as being found in human history way back in China 1100 A.D.   It was a newly discovered way to conquer necromancy within the Jin Dynasty by forming drawn-out Chinese letters on matted bast fiber paper scraps.  Then an instrument called a planchette was uses in conjunction with the letterboard.  The planchette was a crudely shaped wood disk with the center removed leaving a quarter-sized hole that reveals just what letter the planchette happens to be situated over.  Subsequent boards were used for the next four hundred years until they were outlawed by the Qing Dynasty as being contrary to the moral good.  By the mid-1600s, the world was in love with Eastern Asia and many merchant ships with eager traders came in and out of the Orient and by proxy, the ouija board was further spread around the world to include stopovers in India, Africa, and most of Eastern Europe.
Elijah Bond, William Fuld, and The Ouija Board
In 1890 an American inventor and businessman named Elijah Bond came across a rudimentary form of the ouija board.  Seizing the momentum on the popularity of post-Civil war seances that were occurring across the country (even former First Lady Mary Todd Lincoln was a rabid user of), Bond filed a formal patent on the board.  He slightly redesigned the planchette so as to have a see-through glass piece with a triangular gripping ridge to employ this as the must-have parlor game at the time.  He also formally pressed and printed out the board to include the full American English alphabet complete with number board as well as smaller whole words to include "yes", "no", and "goodbye".
Bond eventually sold his patent to an employee named William Fuld who set to formally market and name the board as the Ouija Board.  There has ample speculation on the name ouija itself.  Some historians believe it to be derived from an Egyptian phrasing that means "good luck".  Others believe it to be a combination of the French word for yes ("oui") and the German word for yes ("ja").  Fuld took the board to new heights as Bond eventually passed away in 1921, yet he is still formally recognized as the father of the Ouija Board so much so that even his grave is modeled after the board.
The Ouija Board Goes Mainstream
The Ouija Board was subsequently marketed as a talking board; a fun-time parlor game for attendees to try and contact the other side with any burning questions they had.  Sensationalism grew from the board's use and subsequent answers to the point science attempted to step in.  Prior to the board going mainstream, British scientists and founding father of electromagnetism Michael Faraday, attempted to debunk the board under controlled tests.  Faraday believed the responses from the board were not from spirits, yet an ideomotor response.  He theorized that participants in the board were subconsciously moving the planchette to answer questions with answers they wanted.  Faraday's theory could have some credibility with one or two users as Ouija Board enthusiasts claim, but not party gatherings with seven or eight different people touching the planchette.  For Faraday, the rules of conjuring and talking to a spirit were too informal despite having some rules accompany the game; primarily that the board must be opened and then subsequently closed.
Eventually, the board was sold to Parker Brothers in 1967 who took advantage of the 20th Century's fascination with the afterlife.  The gaming company redesigned the board to give it a sleek, yet dark look with an expertly crafted planchette and hailing production of the board straight from Salem, Massachusetts.  Marketed as family-friendly, the gaming company and board did run afoul of protests.  Christianity, and Catholicism in particular condemned the manufacture and use of the board as not a family-friendly game, but instead an ungodly way to make communion with powerful and dangerous demons.  In 1973 the box office horror smash film The Exorcist hit theaters depicting a young girl wickedly possessed by a profaning demon after having played with a seemingly harmless Ouija Board in her basement.
Famed paranormal talk radio show host Art Bell had a deep fascination with tales from the afterlife to a point in which he himself privately used a board.  His experience with the board yielded something so terrifying and revelatory to him that he refused to ever reveal what happened to him, which became a lifelong oath that he took to his very grave in 2019.
Today, the manufacture of the Ouija Board is still very much alive across all spectrums of capitalistic design.  Shirts, hats, coffee mugs, keychains, and even doormats styled after the Ouija Board are directly available for purchase.   Through social media, there are Ouija Board seances, consultations, and even how-to's across a wide array of channels.  For every video documenting its experimental use, there is another debating against it.  There is no question that using a Ouija Board opens up a powerful doorway to the spirit world, but in using one must always remember that you never know exactly who…or what….you may be talking to.