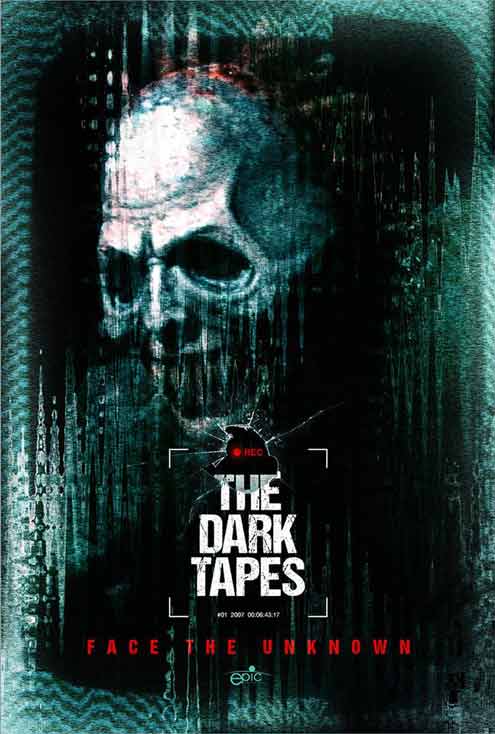 Recently we were fortunate enough to get an early screamer, er screener, of the indie horror production, The Dark Tapes. Written, directed and edited by triple threat Michael McQuown, The Dark Tapes has already made the rounds at several film fest circuits, picking up over 60 nominations or wins, including the Rondo Hatton Award for "Best Independent Film" – and for good reason.
"The film instantly teases you with a dose of mystery and intrigue while cleverly weaving an anthology of stories into a grand finale." -FrightFind
What to Expect from The Dark Tapes?
The Dark Tapes is described well as a wraparound anthology film, opening with an ominous voice-over and CCTV footage of our introductory characters Sam and Marie (David Banks and Sara Castro). Enter a blood stained and disordered studio – complete with rolling cameras, bizarre technical equipment, and one single bloody medical gurney. The story reminded us of a Tarantino-esque style of editing and storytelling. The film instantly teases you with a dose of mystery and intrigue while cleverly weaving an anthology of stories into a grand finale.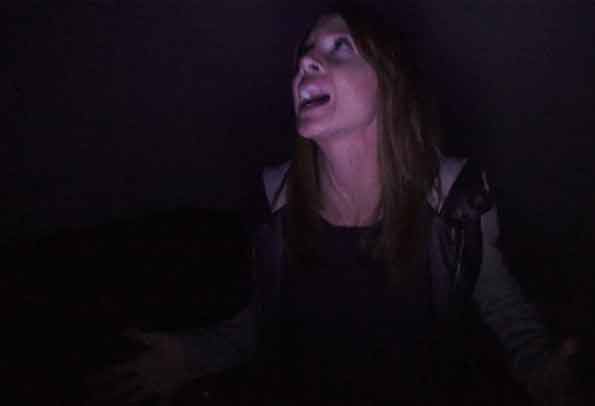 The opening shot transitions to the introduction of our main characters, Nicole (Cortney Palm of the slapstick slasher Zombeavers), Martin (David Rountree of xXx: State of the Union fame), and Jason (Matt Magnusson of 2015's Hades) embarking on a mission fit for a paranormal Dateline segment -"To Catch a Demon".
The very intentional and almost deafening silence that occurs between character dialogue builds throughout the film. The kind of silence that forces your brain to retreat to a safe space and makes you want to pull the covers over you. If only to hear the rustling of the blankets…and well, because we all know those monsters under the bed can't get you if you're completely tucked in – or can they? The Dark Tapes might just make you question that logic.
The Dark Tapes Trailer
An Independent Success Story
This film is entirely independently produced. Completely written, directed, produced, edited AND acted by a small crew of passionate filmmakers, we are treated to an anthology that rivals cult classics like VHS and REC.
Another treat that is rarely displayed by most other independent films, including indie successes like Paranormal Activity, is the full view of the various demonic forces (or "trans-dimensional entities" as the film calls them) that are present. The Dark Tapes wants you to be afraid and rest assured, they're going to show you exactly what you need to fear.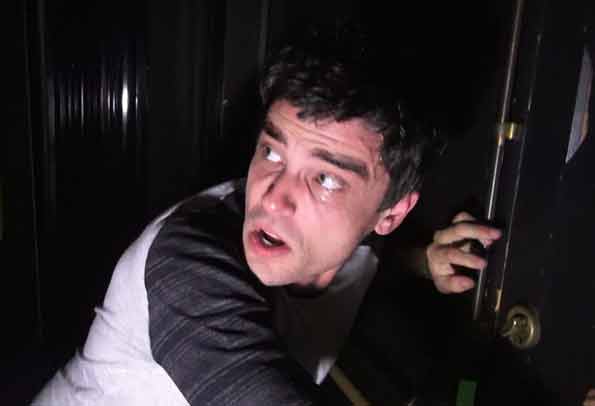 But they're not done there, The Dark Tapes offers yet another tasty treat (can we officially declare April 18th as second Halloween already, because the treats keep coming with this flick). While the film is neatly tied together at the end, each spooky segment stands well on its own, fleshing out characters despite the short screen time, offering Six Flags levels of twists and turns, and individually creating its own small movies inside a movie. (Seriously, "The Hunted and The Hunters" is worth a full-length feature on its own.)
So with all of that being said we can just say one more thing: Get ready horror fans, April 18th has some rather "dark" surprises in store.
Get The Dark Tapes Now
The Dark Tapes can be pre-ordered at iTunes at iTunes.
On April 18th, the film will also be available on Google Play, Vudu, iNDemand (Comcast- Xfinity, Time Warner, Cox, Bright House & more), Dish TV, Amazon, YouTube, Vubiquity (Verizon Fios, Charter, Sudden Link, Media Com &more), Xbox, Microsoft, Playstation, Sling TV & Vimeo.
Tell us what you think of this indie horror film below.