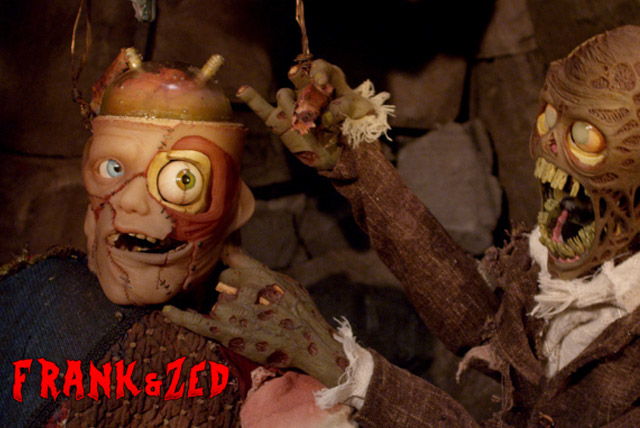 Last month, Frank and Zed, the first feature-length, "glove-style" puppet horror film in 3 decades, made some waves online when their official trailer finally surfaced after 2 years of hiding in the Youtube depths.
Horror fans were enthralled, taking to horror blogs and forums to share the Kickstarter deets. Thankfully, as of this month, the project appears to be fully funded, bringing their planned 2018 release date one step closer to fruition.
The project wrapped up on November 9, 2017, with $21,841 pledged of their $15,000 goal. Over 200 backers donated to the ambitious project filmed entirely in creator Jesse Blanchard's Portland, OR basement.
"Everything is homemade" touts the successful Kickstarter page, which promises the film relies on practical effects and fully handmade sets, props, and characters.

Frank & Zed Get Kickstarted
If you were still hoping to support the campaign and fear you missed your deadline, no worries! The Kickstarter still offers access to a Frank and Zed store where fans can leave as little as one dollar to show their support, or pre-order the film and get your hands on some nifty merchandise.
If this is the first you're hearing of this or if you simply want to get another glimpse into the gory lives of some seriously deranged puppets, read the synopsis and check out the trailer below. Parents beware though, these puppets aren't kid friendly!
Frank and Zed (2018) : Centuries ago, a desperate battle left a village wasted, a new bride dead, and two mortal enemies dependent on each other for survival. Forgotten amongst the crumbling ruins, our two heroes have eked out a meager existence, each responsible for feeding the other. One fateful day, a villager trespasses into Frank's hunting grounds. The resulting 'harvest' provides Zed with a full tummy and sets the entire town on a course of bloody retribution.