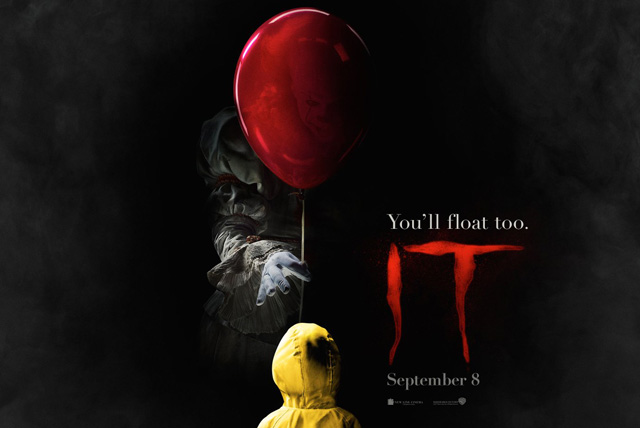 After a series of pics from director Andres Muschietti (@andy_muschietti on Instagram) showing a colorful balloon filled countdown, the first official trailer for the highly anticipated IT remake is here!
The IT: Part 1 Trailer
While a horror classic like IT leaves some awfully big clown sized shoes to fill, horror master Stephen King has given the film his blessing, tweeting the following just this past month:
Andy Muschietti's remake of IT (actually it's Part 1–The Losers' Club) succeeds beyond my expectations. Relax. Wait. And enjoy.

— Stephen King (@StephenKing) March 7, 2017
Planned as a two part release, IT: Part 1 -The Losers' Club will focus on everyone's favorite Derry, Maine school children and their nightmare inducing nemesis, Pennywise the clown. And while the sequel hasn't nabbed a green light quite yet, if the movie lives up to the trailer we're sure to see the Derry children back as adults soon.
The Cast of IT
The film has a notable cast, including Megan Charpentier and Javier Botet of Guillermo Del Toro's horror hit Mama (as Gretta and The Leper respectively), Stranger Things actor Finn Wolfhard as Richie "Trashmouth" Trozier, and Jaeden Leiberher of St. Vincent fame as "Stuttering Bill" Denbrough, leader of The Losers' Club.
But it is perhaps the choice of Bill Skarsgard as the shape shifting Pennywise that has everyone most excited…and horrified. Speaking to Collider.com, Producer Dan Lin had this to say regarding Skarsgard's audition, "You've had Ledger doing almost a clown joker, you've seen obviously Tim Curry as a clown. We wanted someone who created a Pennywise character that would stand on its own and Bill came in and created this character that frankly freaked us out."
After viewing the trailer ourselves, it's obvious Skarsgard has kept his monstrous momentum up and Lin isn't the only one "freaked out" by his performance. But don't just take our word for it, watch the first official IT trailer for yourself.
IT is scheduled to hit theaters September 8, 2017.