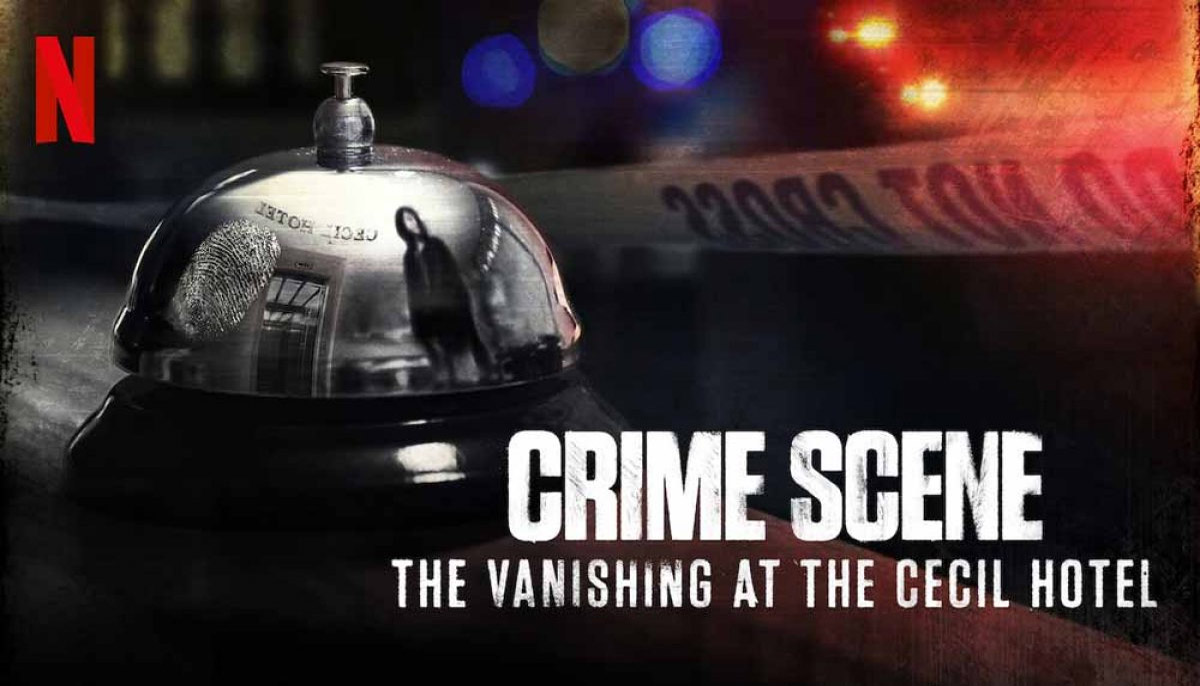 Missing persons, serial killers, demonic activity, and even mind-bending realities.  No those aren't fixtures in a new horror film, instead, they're commonplace in one of the most haunted Hollywood spots in all of Los Angeles…..The Cecil Hotel.   A place so popular amongst horror and true crime fans, that even stylish fright shows such as American Horror Story and the streaming giant Netflix have dabbled in its legend.   Wanna get caught up in some true horror history?
Crime Scene: Vanishing at the Cecil Hotel
Most media pundits and critics today agree that you haven't made the big time….unless you're on Netflix.  The streaming zenith is home to just about every television series, movie, and documentary known to man and it came as no surprise that in February 2021 it debuted it's latest talked-about hit.  Famous documentary series director Joe Berlinger brought to life a new series entitled, Crime Scene: The Vanishing at the Cecil Hotel. Berlinger is no stranger to the true-crime macabre as his earlier Netflix show's on, Jeffery Epstein and Ted Bundy, were massive hits with fans and critics alike.
In Crime Scene, Berlinger directed four, one hour long shows documenting the sordid and bloody history of the Cecil Hotel, serving as a backdrop to the series's focused crime. Doctors, authors, detectives, former employees, and everyone in between, Berlinger leaves no stone unturned.  Centering primarily around the disappearance of Elisa Lam, each episode is interlinked and immediately worthy of a must-do binge watch on the whole series to discover just exactly what caused perhaps one of the most puzzling personal disappearances in Los Angeles crime history.
Cecil Hotel's Serial Killer Resident
Richard Ramirez: The Night Stalker
The Cecil Hotel was known to have some of the lowest daily or weekly rates of any hotel in the area, along with a no-questions-asked sort of registration policy. Terrorizing L.A. residents on a rape and murder spree during the summer of 1985 was a young derelict named Richard Ramirez. Dubbed the "Night Stalker" by the media, his penchant for blood and Satanism knew no limits as he murdered his way into the night while lounging and sleeping off his horrendous crimes during the day at the Cecil. Ramirez often stayed on the 14th floor and while he never brought any victims in or killed on-site, people remember his behavior as low key and unassuming. A total contrast to his bloodthirsty murder sprees he'd engage in before sleeping it off to do all over again.
Jack Unterweger: The Vienna Woods Killer
The Vienna Woods Killer, Jack Unterweger as was a resident of the Cecil Hotel. Also known by Austrian media as the "Poet of Death" for his exceptional writing skills while in prison or on trial, Unterweger was working for an Austrian true-crime publication that sent him to L.A. in 1991. The murderer of at least ten sex workers and possibly more, the belief among true-crime theorists is Unterweger vehemently explored the seedy L.A. underworld of prostitution and used the Cecil Hotel as a home base to retire too and sharpen his deadly ambitions.
The Elisa Lam Mystery
"You're always haunted by the idea you're wasting your life."
A quote from Elisa Lam's favorite author Chuck Palahniuk, the 21-year-old Canadian University student tragically would find herself wasting her own life right there in the Cecil Hotel. Lam was on a trip to California from the British Columbia area in late January 2003 and chose to stay at the Cecil Hotel, likely due to the affordability.  Little did she know she'd be dead five days later. Going out to explore L.A. is something she dreamed of and wrote about in her social media Tumblr blog (which is still online and can be found here: https://nouvelle-nouveau.tumblr.com/archive/filter-by/text and read in its haunting entirety). Renting initially a shared room, Lam's roommate requests she be moved due to her erratic behavior.
Lam was eventually relocated on the 14th floor (the Night Stalker's former floor) and spent time exploring bookstores in the L.A. area while making sure to call her family every night. January 31, 2013, Elisa disappears, her family then reaches out to the police. A thorough missing person investigation is launched with little to go on as everything led to a dead-end for investigators. By February 15, 2013, investigators discovered a surveillance video in the hotel's elevator which showed a panicked Lam hiding inside the elevator. Peeking out to check if the hallway is clear, she appears to be running from someone….or something. Lam exits the elevator and is never seen again.
On February 19, 2013, guests at the Cecil complained to maintenance manager Santiago Lopez about the taste and color of the hotel's water. Lopez bridged the roof and breached one of the hotel's four water supply tanks to discover Lam's naked, and bloated corpse floating face up in the water supply. The police drained and cut through the tank to pull her body out. How could a smaller woman escape to a reclusive and hard-to-reach portion of the hotel's roof without a ladder? How did she alternately lift the 100 lbs hatch lid and then close it from the inside? Police were dumbstruck by the scene and chalked her death up to a simple drowning. Eerily enough Lam's phone was never found, but that didn't stop her Tumblr posts from posting even after her death!
Spiritual Portal?
In recent years, the Cecil Hotel has absolutely been one of the most popular true-crime horror destinations in the area. Elisa Lam's death has attracted throngs of attention, and one of the more interesting theories is her frantic button-pushing in the elevator on the day of her disappearance was not as it appeared. Theorists believe she was engaging in an East Asian paranormal act dubbed the Elevator Game. It's a maddening button push game in which someone goes in an elevator and must go in between, up and down floors in a certain pattern, while never exiting the actual elevator. If done properly, the last floor reached will open up not to our reality, but instead to an ethereal otherworld dimension. People report seeing a woman with a red cross on her chest who somehow helps answer your questions, while others claim that they're relentlessly pursued by a female demon who aspires for nothing more than collecting your soul before you can reverse the process in the same elevator. The consensus among these theorists is that Elisa played the Elevator Game, and permanently lost.
American Horror Story Gets Involved
Uber popular horror anthology recently took a stab at shooting some scenes for their show at the Cecil. Showrunner Ryan Murphy is a self-confessed fan of the Cecil Hotel, so much so that he incorporated season five's theme of a hotel in the "Hotel Cortez" where guests check-in and go missing…..straight from Cecil's history, a mix between the true life Cecil and H.H. Holmes Murder Castle in Chicago. Not to be outdone in the area of just missing guests, Murphy crafted perhaps the most terrifying episode in all of AHS history with the infamous "Devil's Night" episode in which a recreated portrayal of the Night Stalker himself, Richard Ramirez, is featured on the show.
The long and sordid history of the Cecil Hotel is one that is of a living legend in the true-crime paranormal world……and the vacancies are currently open.