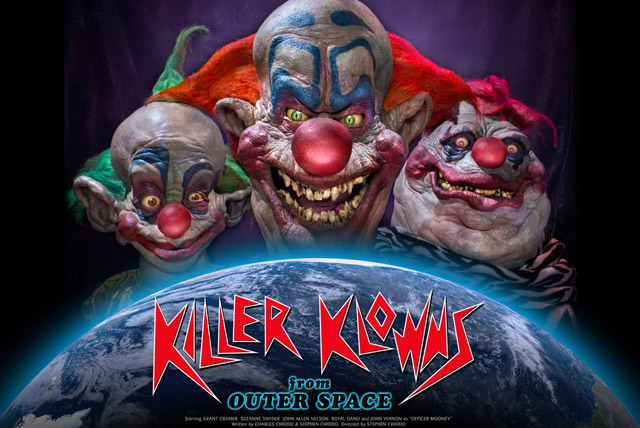 KILLER KLOWNS FROM OUTER SPACE 30th YEAR ANNIVERSARY CELEBRATION!
Killer Klowns From Outer Space is turning 30! Klowns is one of our all-time favorite clown klown horror films. Not only does that mean I'm getting old, but it means the Klowns are back. Celebrate the 30th Anniversary of Killer Klowns From Outer Space with a Bacchanalian Circus Celebration and Fan Tribute on May 19, 2018, at The Montalban Theater at 1615 Vine St. Los Angeles, CA 90028. Get tickets to the event here.
America's fascination with Killer Klowns From Outer Space began on screen in 1988, as a group of clown-like aliens land their trans-dimensional spaceship and terrorize a small American town. The film has achieved cult status with its clever blend of horror, science fiction, and comedy.
"Clowns can be frightening, bizarre and terrifying. We took that primordial fear and put it in a Sci-Fi movie," explained composer John Massari. "You have something that should make you happy and laugh, but now it will kill and eat you and… it's from outer space! Who would have dreamed of this? That's the craziest idea in the world." Over time the film has earned generations of fans – many of whom Massari has connected with both through social media and at conventions leading him to create this special celebration of all things Killer Klowns.
For the 30th Anniversary, Massari has created a three-ring Sci-Fi/Horror celebration, reuniting an amazing line-up of special guests, including the film's creators, the Chiodo Brothers, musical guests The Dickies, stars Grant Cramer and Suzanne Snyder.
At 6PM, the Kosmic Klown circus celebration will begin with stilt walkers, balloon folding artist Buster Balloon Cadwell, contortionist Bonnie Morgan, plus fortune tellers, strong men and women, magicians, body art, fan arts and crafts, and of course the Killer Klowns. There will be a pre-show Q&A at 7PM featuring Stephen Chiodo (writer/director), Charles Chiodo (writer/art director), Edward Chiodo (writer/producer), Grant Cramer (Mike Tobacco), Suzanne Snyder (Debbie Stone), members of The Dickies, and composer John Massari, moderated by Jim Branscome of Cinematic Void.
The Dickies perform Killer Klowns From Outer Space Theme Song
Following the Q&A, at 8 PM, the film will be screened with its original musical score performed live by The Hollywood Chamber Orchestra, conducted by Massari. LA's very own original punk rockers, The Dickies, will perform their enduring classic Killer Klowns From Outer Space theme song. Stephen Chiodo declares, "Whoopdee God Damned De Do!! What a fantastic way to celebrate a 30 year anniversary surrounded by fans, John's incredible score, and the Dickies."
Varèse Sarabande Records will be releasing a new recording of the soundtrack on CD and LP, available for sale at the concert. The album features the original score performed by members of The Hollywood Chamber Orchestra, with new orchestrations by Massari and Bernhard Eder. The Dickies recorded a BRAND NEW version of the film's theme song featuring an extra creepy intro followed by their signature pure punk energized sound.
"For 30 years, love and loyalty from fans the world over made this extraordinary movie a beloved cult classic," said Massari. "This event is our way to celebrate Killer Klowns From Outer Space directly with these fans."