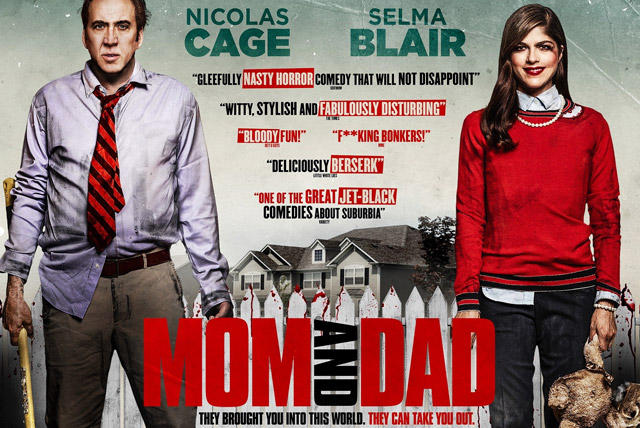 Nicolas Cage and Selma Blair are anything but good ol' "Mom And Dad" in this blood-splattered flick. Described as a "wickedly dark, bloody comedy" by Rotten Tomatoes with a 73% freshness rating, this movie is a mixed bag that has a little something for everyone but does not necessarily deliver on all of them. However, for horror fans looking for a quick-paced thrill that delivers the scares on the back of the parents-who-secretly-hate-their-kids taboo, this is for you.
Mom and Dad Movie Plot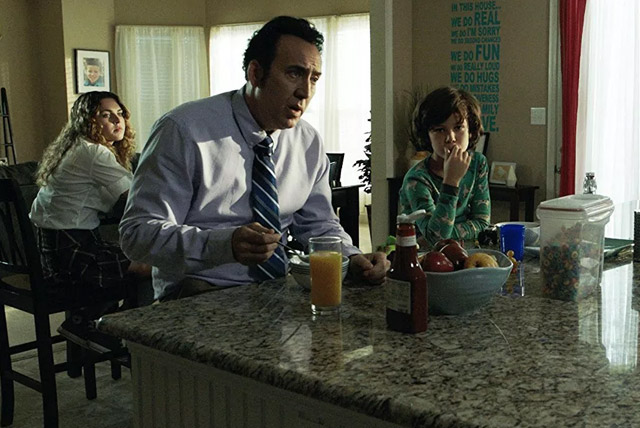 Cage and Blaire play the overworked and communication-starved Brent and Kendall Ryan, who are reluctant parents to Carly (Anne Winters) and Josh (Zackary Arthur). When the parents in their town begin to fall suspect to "a strange disorder [that] causes parents to violently turn against their own children," according to the synopsis on Rotten Tomatoes, the Ryans are left attempting to make sense of the growing chaos surrounding them, and the simmering discord brewing between each other.
Some elements of the plot are somewhat unclear — somehow, the homicidal syndrome is triggered when parents are exposed to a mysterious static broadcast, which appears throughout the movie.

Although described as a comedy, the movie's humor struggles with finding its footing. There are plenty of half-effort lines and scenes that attempt to push the envelope with the film's controversial topic, and out of those moments, few land with a similar level of comedic timing as when Brent's parents arrive for dinner. However, as far as the horror and the movie's pacing goes, it is practically an electric current, and the unfolding chaos reveals itself with a quickness that keeps on coming.
Nicolas Cage is back and is crazy as ever!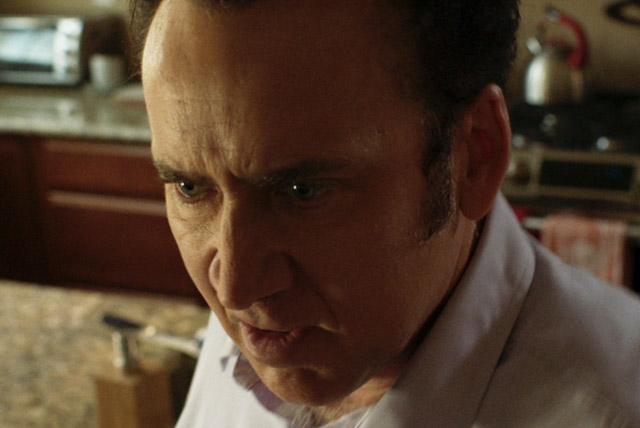 Cage's infamous over-acting is right at home in this movie as Brent Ryan, and his performance perfectly rides the line between being outrageously ridiculous and outright horrifying. He nails it as the pudgy-bellied asshole office dad who resents his wife and his children, and pretty much everything about the millennial age. Brent is also not good about healthily expressing his frustration, especially when he protests the corruption of the Internet with a tirade featuring, perhaps, the most illustrious line of his career:
"mouth to dildo, dildo to ass, ass to ass… 'Hi Brent, anal beads!'"
Also, watching Brent bark around his home while in murderous pursuit of his son is hysterical — the man is a psychotic infomercial disaster in motion, and I still have yet to get the sight of the whites of Cage's eyes out of my head.
Mom and Dad Horror Movie Trailer
The Ryans' dysfunction is often the butt of extremely uncomfortable jokes throughout the movie, often seen in flashbacks that interrupt more than they inform the viewer of the underlying tensions and resentment between the Ryans. These moments often center around the parents' jealousy of their children's' youth, and to say this politely, the gloves are completely off.
There is content that some viewers may find disturbing, such as the post-workout class chat between Kendall and her fellow mom friend Jenna (Samantha Lemole), who pointedly describes seeing her teenage daughter changing: "one day, those tits are gonna drop, you little whore."

The sheer unabashedness with how these characters both sexualized and shamed their children brought a wave of the creeps up and down my back. The terror that arises between the women of this film, especially with Kendall's rising paranoia over her age and beauty as she awaits the arrival of her sister, Jeanne's (Rachel Melvin) baby, holds its own against the overwhelm of Brent's rage with just as much tension.
They Brought You Into This World. They Can Take You Out.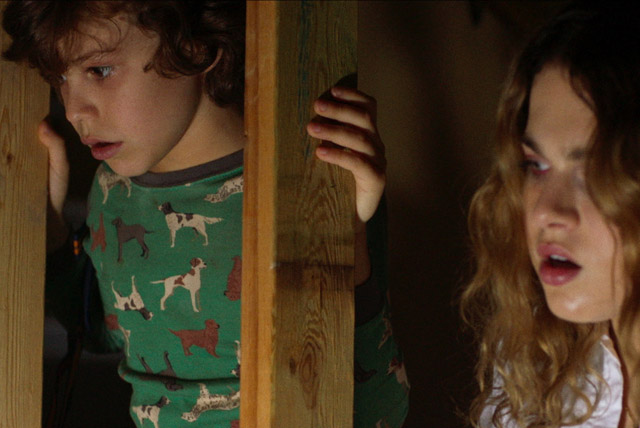 The kids of this movie have a bone or two to pick with their parents as well, who do not respect their emerging independence nor what they have to say about it. Kendall is brought to tears attempting to even talk about it with Carly, who ultimately backs down because she does not want to break her already fragile mother.
These families are a mess and ignore their own advice for the sake of providing us a good hour-and-a-half of gory family fun. Brent's one shining moment as an actually good father, and a potential voice of reason, emerges in his call of "maybe we need to have boundaries."
This movie's answer?
"Whatever, Dad."