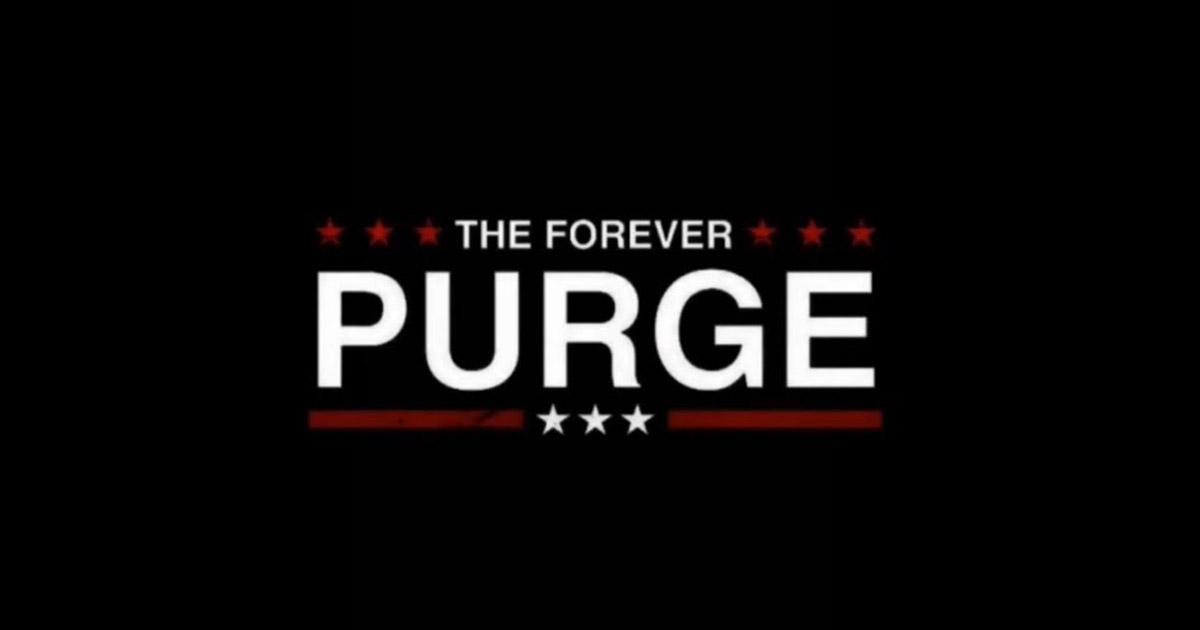 Dystopian action horror film franchise The Purge is looking to conclude its eight-year theatrical series run by finishing off its bloody pentalogy with the most violently satisfying entry yet, deemed The Forever Purge.
Intended to be just a standalone film in 2013, the series's first entry, The Purge, was a box office hit with action horror fans. Made from a paltry $3 million dollar budget, the film ended up grossing $90 million worldwide and along with movie critics praising the film for its originality, the producers at Blumhouse Productions instantly knew that there could be more sequels and possible franchise out of the film's concept.
The Forever Purge Plot
For those unfamiliar, the film's central plot centers around a modern and thriving society where just one night a year for twelve hours, all crime is completely legal….including murder. Low-category class weaponry is used by individuals to hack, slash, steal, plunder, smash, and kill virtually anyone without any judicial repercussions whatsoever. The gruesome and dystopian theme struck a powerful chord with action horror fans who long wondered, what would happen if the Purge lasted longer than twelve hours? Enter The Forever Purge.
The plot to this fifth installment plays out from the title itself, wondering if one night is ever enough. Building off from The Purge: Election Year, the ruling politicians have officially ended the annual purge night….or did they? Purge series creator and writer James DeMonaco team up with eclectic filmmaker and director Everado Gout to bring about the most satisfying conclusion to this bloody series. With some plot details still kept under wraps, the film centers around a couple fleeing from a murderous Mexican drug cartel. Hiding out in what they think is safe haven refuge at a Texas ranch, the couple soon finds out that there is a contingent of deranged people who are refusing to acknowledge the ending of the annual purge and vow to continue the murder rampage….forever!
The Forever Purge Cast
Telenovela soap star, Ana de la Reguera has been cast to star in the film alongside one of Mexico's busiest actors, Tenoch Huerta. Rounding out the flavorful cast is longtime actor Josh Lucas, television star Cassidy Freeman, and horror character actor Will Patton.
Purge Release Date and Trailer
COVID-19 interrupted the initial film release to theaters which was originally slated for the early summer of 2020. With a largely vaccinated world now, the film's distributors fully intend on releasing this all-out violent film in movie theaters this summer, and a new release date of July 2, 2021 has been set.
Is one night truly enough? Watch the latest trailer for The Forever Purge and make those plans to find out July 2nd!