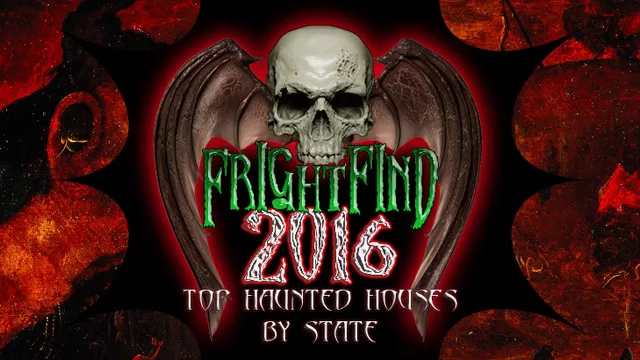 2016 Guide to the Scariest Haunted Attractions in Every State
The ghouls have spoken. The undead have risen. The clowns have done that weird thing that is freaking everyone out, whilst gaining national attention. FrightFind's annual guide of haunts is here. We're not here to rank or tell you whose chest is hairier, but to bring you at least one haunted house to visit in every state. With thousands of haunted attractions across the nation, some states are laden with frights, while some states are lucky to have even one. This year, we lost a few friends, but they'll be back or, so they say. Behold FrightFind's guide to the top haunts in every state!
To see the most recent Top Haunted Houses in America click here.
Where Nightmares Become Reality
Located in Fultondale, Nightmare at 3008's tag line is "Where Nightmares Become Reality." Yep, that's about right. And there are many ways they bring your nightmares to life. You can tour the Abandoned Still Yard, a haunted junkyard that includes a quarter-mile trail filled with horrific misfits eager to make it the worst walk of your life. After you wet your pants outside, walk (or crawl) inside to the Terror Within where the dark and twisting hallways threaten to swallow you whole. All screams aside, Nightmare at 3008 is also a scare that cares. Each year this haunt raises money for charity, and the cause for 2016 is childhood cancer research. The folks running this attraction have a lot of heart – even if they're trying to stop those of their guests. FrightFind salutes them for giving to such a worthy cause.
FrightFind It: Nightmare at 3008 in Fultondale, AL
Runner Up: Insanitarium in Pinson, AL
More Top Haunted Houses in Alabama
Anchorage's Oldest Haunted House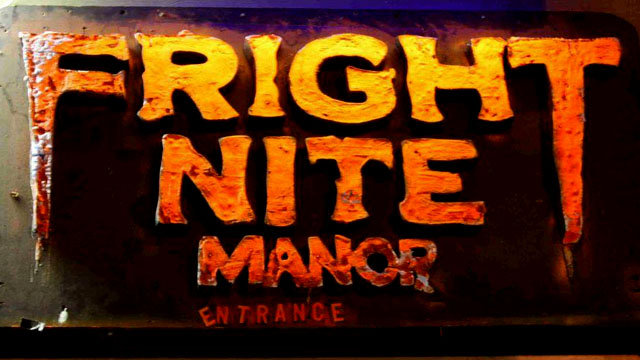 Founded in 1985, Fright Night Manor is one of the oldest and longest-running haunts in Anchorage. Located in the Northway Mall, the 10,000-square-foot haunted house features lots of jump scares, ghoulish props, and especially good use of 3D effects most of which are on creepy rather than gory side. It's accurately billed as a family-friendly haunt, but be advised that it's scary enough to not be suitable for younger kids. It's also wheelchair accessible.
FrightFind It: Fright Night Manor in Anchorage, AK
See all our Haunted Houses & Places in Alaska
Want a recap of our 2015 guide to the top haunted houses in America?
How About A Room On The 7th Floor?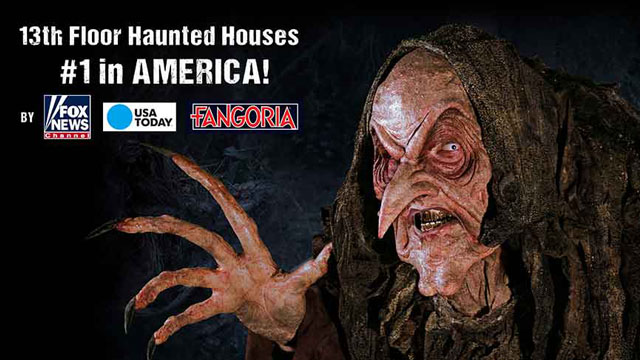 FrightFind's top haunt for Arizona for the second year in a row, the 13th Floor Haunted House is a real pro operation. Spread over multiple floors of a single horror-filled building in downtown Phoenix, you get access to two terrifying attractions for your ticket: "The Deadhouse" and "The Frenzy." The former is occupied by zombies that are actually manifestations of childhood nightmares, while the latter is described as a "visceral manifestation of humanity's most crippling fears." And they nail it. Designed by award-winning haunted house designers, this is the real deal. Be prepared to be scared.
FrightFind It: 13th Floor Haunted House in Phoenix, AZ
Runner Up: Sanctum of Horror in Mesa, AZ
More Top Haunted Houses in Arizona
Where Fear Is Made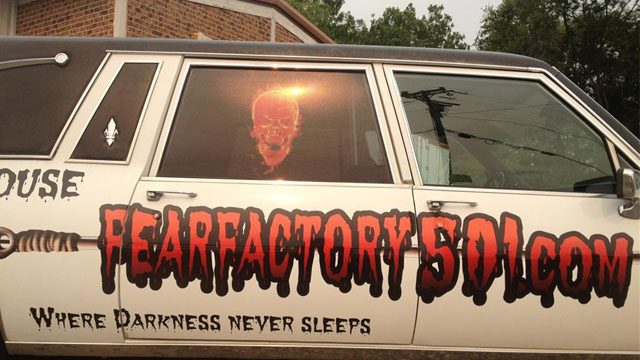 A two-time FrightFind winner, Fear Factory 501 is located in Jacksonville but worth the drive if you're anywhere in the region. Of course, you might regret going at all if creepy clowns make your skin crawl because this place is known for them. Overall, there are some great actors prowling the attraction and some over-the-top gory features that both terrify and impress in their attention to detail. The attraction will have a special "Kid Friendly Night" on October 23, but otherwise probably too scary for younger children.
FrightFind It: Fear Factory 501 in Jacksonville, AR
Runner Up: Carpenter's Mortuary in Gentry, Arkansas
More Top Haunted Houses in Arkansas
California Top Haunt: 17th Door
Mature Audiences Only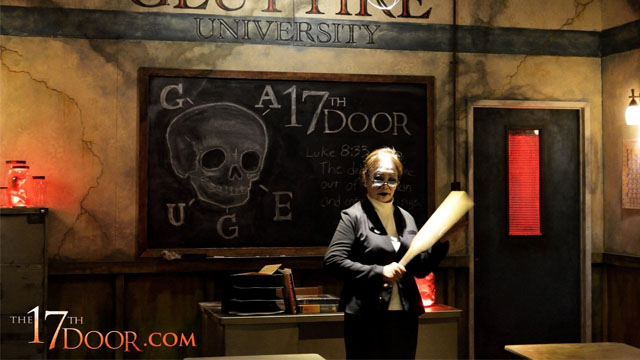 Located in Tustin in Orange County, the 17th Floor is for mature audiences only and definitely not for the squeamish or faint of heart. Billed as "34 minutes of psychological terror," the haunt leads you through 21 horrific rooms built around the story of an unhinged and haunted college student trying to come to grips with a suicide attempt, a stint in a mental institution, and a traumatic pregnancy. It's a mind-bending endurance test for visitors that hits all the senses. Totally twisted.
FrightFind It: 17th Door in Tustin, CA
Runner Up: Fear Overload in San Leandro, CA
More Top Haunted Houses in California
Voted Best Denver Haunted House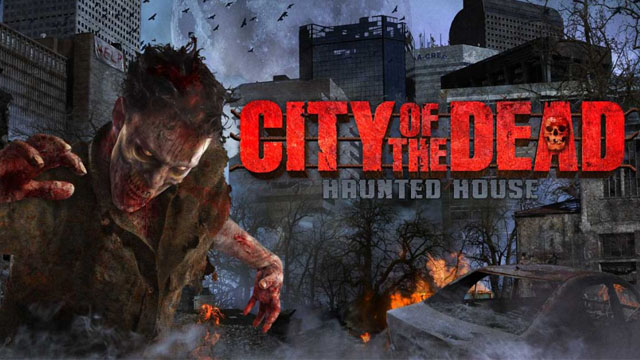 Located not far from Denver in Henderson, Colorado, City of the Dead is three seriously freaky haunted houses in one: City of the Dead, Curse of Darkness, and The Carnival of Carnage. Voted "Best Denver Haunted House" eight times, it's also a nationally known attraction, and for good reasons. With a huge cast of actors roaming the building and the grounds, you'll be assaulted the minute you get out of your car. This professional-level haunt really delivers the goods. Get ready to scream for your life.
FrightFind It: City of the Dead in Henderson, CO
Runner Up: 13th Floor in Denver, CO
More Top Haunted Houses in Colorado
Connecticut Top Haunt: Creeperum
Do You Have The Guts? They Want To Know.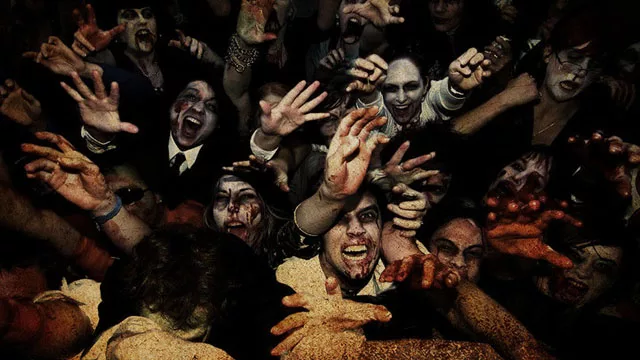 Creepy is right. Located in Hamden and advertised as an "emporium of the bizarre," Creeperum delivers a sensory overload of chills and horror. This warehouse attraction features a maze of corridors and rooms filled with optical illusions and a cast of horrific creatures from the lab of demented inventor and occultist Nikola H.P. Crowley. And he's one twisted doctor indeed. Not recommended for kids under 10. And that's probably pushing it.
FrightFind It: Creeperum in Hamden, CT
Runner Up: Fright Haven in Stratford, CT
More Top Haunted Houses in Connecticut
20 Years of Screams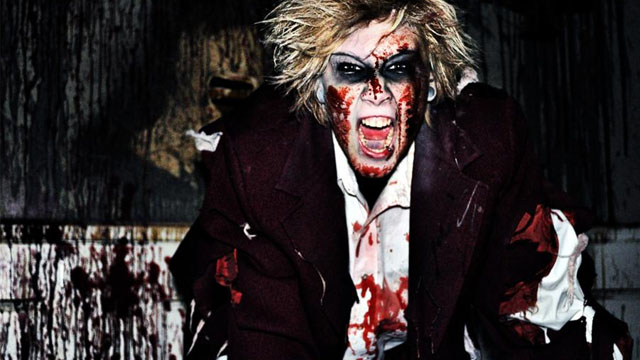 Now in its 20th year, Frightland is made up of several different attractions including The Attic, Zombie Prison, Idalia Manor, Ghost Town, and others. There's also a two-mile haunted hayride and a full amusement park with rides making this a great choice for those who like variety and want hours of scary fun. Located in Middletown, Frightland has been named a "Scariest Haunted Attraction" by the Huffington Post and the Travel Channel. The attraction also donates part of their profits to support the Leukemia Foundation of Delaware, so you're putting your screams to good use.
FrightFind It: Frightland in Middletown, DE
Runner Up: Screams at the Beach in Georgetown, DE
More Top Haunted Houses in Delaware
Death Is Always An Option
Located in Boca Raton, Enigma Haunt has three new indoor attractions for 2016: Pandemic, Into Oblivion, and Realms of Terror. Each is a full-blown madhouse of twisted imagination with impressive realism and attention to grisly detail. Spread over two floors and 19,000-square-feet, it takes more than an hour to tour the entire facility and endure all three attractions. But much longer to recover. But as they at Enigma Haunt, "death is always an option."
FrightFind It: Enigma Haunt in Boca Raton, FL
Runner Up: The Scream Park in Green Cove Springs, FL
More Top Haunted Houses in Florida
Featuring Hollywood Makeup Artist Roy Wooley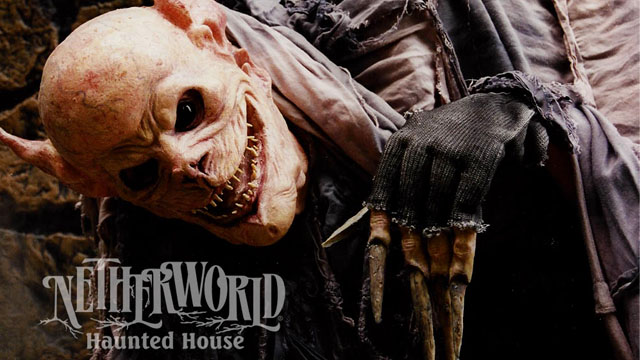 A FrightFind winner for the second straight year, it's tough to beat Netherworld Haunted House in Norcross, GA. The costumes and special effects are Hollywood worthy as are the more than 100 actors roaming this sprawling walk-through attraction. It's rated one of America's top haunted houses by multiple sources and simply a must-see for true enthusiasts. Do yourself a favor and get there.
FrightFind It: Netherworld Haunted House in Norcross, GA
Runner Up: Fear the Woods in Stockbridge, GA
More Top Haunted Houses in Georgia
Top Haunt 2 Years Running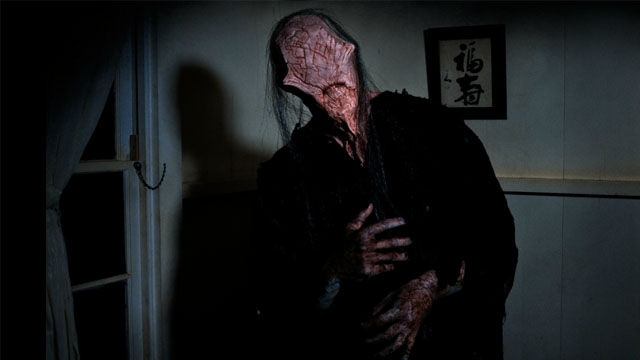 A FrightFind winner for the second year in a row, the Haunted Plantation in Waipahu on the island of O'ahu is reported to be on the site of an actual haunted village. Billed as Hawaii's scariest haunt, it's been the subject of paranormal shows on The Travel Channel and SYFY and on the short list of must-sees for horror fans. The walk-through attraction boasts a gruesome setting populated by more than 60 actors in professional level makeup who will torment you the moment you're on site. Be aware: according to the haunt's own website, the attraction "is not for children under 13 years of age, pregnant women, or people with heart or breathing problems." It's also a "physically demanding environment." Enough said.
FrightFind It: Haunted Plantation in Waipahu, HI
Runner Up: Nightmares Live in Wahiawa, HI
More Top Haunted Houses in Hawaii
No Clowning Around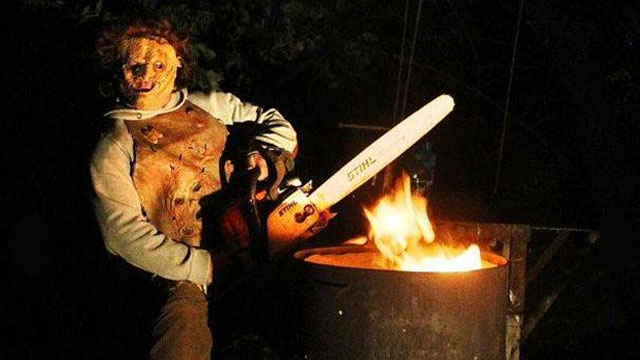 A two-time FrightFind winner, the Haunted Mansions of Albion in Albion, ID, is one of the biggest haunted attractions in the Pacific Northwest. The theme is a "school of chaos" that includes a "House of Clowns" and the "Zombie Academy." The setting also has a colorfully creepy backstory. Originally opened as a school in 1893, it went through several incarnations until it closed for good in 1969. Since then there have been rumors of rampant paranormal activity on site that has clearly infected the place. If clowns freak you out, this place is for you. Or not.
FrightFind It: Haunted Mansions of Albion in Albion, ID
Runner Up: Dr. Slaughter's House of Terror in Idaho Falls, ID
More Top Haunted Houses in Idaho
"Vulgar, Disturbing, and Aggressive." Sweet!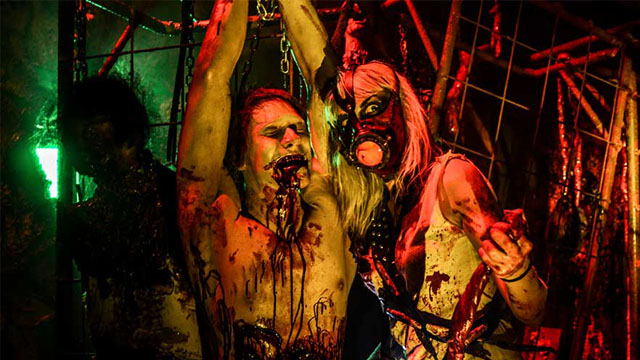 A 2015 FrightFind winner, the Statesville Haunted Prison offers a self-guided tour of 23 gruesome cells filled with unimaginable horrors, gore, and carnage. The haunt is wildly intense and claustrophobic at times and you will scream your head off. It's also "vulgar, disturbing, and aggressive" according to its own website – a description we'd agree with. Be advised that children under 10 are not admitted, and those under 15 must be accompanied by an adult.
FrightFind It: Statesville Haunted Prison in Lockport, IL
Runner Up: Nightmares Basement of the Dead in Aurora, IL
More Top Haunted Houses in Illinois
Six Attractions and Thousands of Screams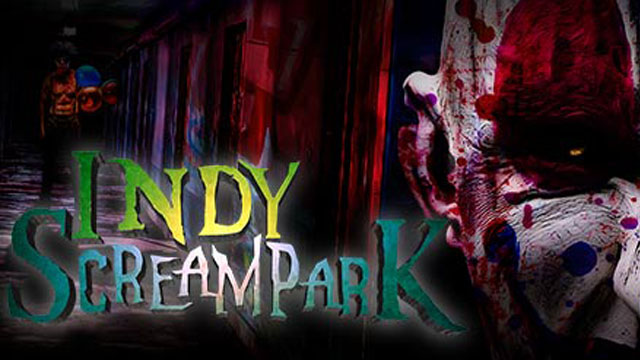 Last year's runner up, the Indy Scream Park in Anderson has been voted one of America's best haunts by both local and national sources and its reputation is deserved. Prepare to spend some time here – and to leave exhausted and emotionally shattered. The park has six attractions for one price. The newest for 2016 is Pandemic along with a redesigned Zombieland Apocalypse. The others include Rage 3D, Brickmore Asylum, and Backwoods. There's also a Monster Midway when you need to take a breather and grab some food and drink and play a few games to calm your nerves. This is a seriously pro operation where a terrifying time is guaranteed.
FrightFind It: Indy Scream Park in Anderson, IN
Runner Up: Fear Fair in Seymour, IN
More Top Haunted Houses in Indiana
They Don't Skip A Beat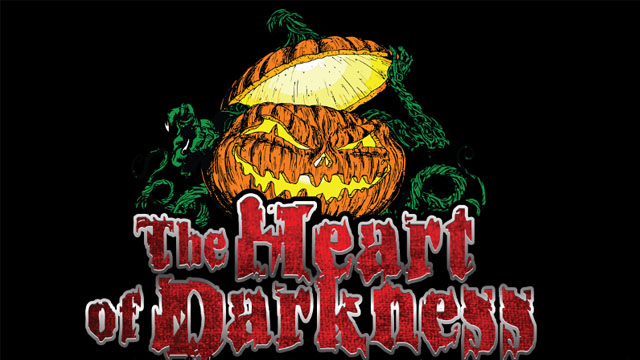 Located in Waterloo, the Heart of Darkness offers plenty of variety. You get 10 haunted attractions to choose from – or the truly demented can tour them all. Among the choices are the Killer Circus in Full 3D, the Haunted Bus, the Zombie Survival House, and the Coffin Catacombs. It's Iowa's largest haunted attraction and also includes a Monster Midway with live entertainment, food, and plenty of other distractions and fun. The Heart of Darkness definitely makes it worth your while.
FrightFind It: The Heart of Darkness Haunted Complex in Waterloo, IA
Runner Up: Thrasher's House of Terror in Mount Pleasant, IA
More Top Haunted Houses in Iowa
There's No Place Like Home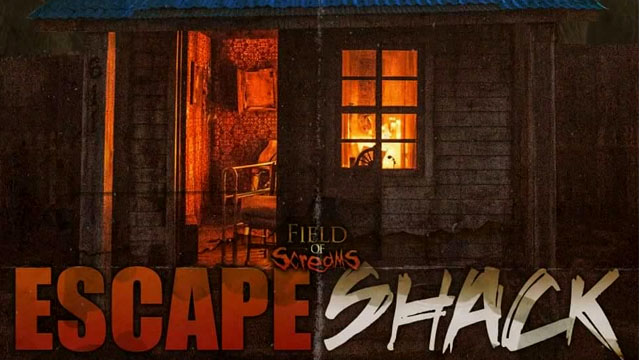 Last year's runner up, Field of Screams in Maize is where "the fields are sick." It's also where the infamous "vigilante murders" took place at the Spurlock family farm, the main part of the attraction. Along the way is Jebediah's Field, a 20-minute escape room in Jeb's shack, and Clown Town 3D with its mazes and top-notch effects. Build it, and they will scream.
FrightFind It: Field of Screams in Maize, KS
Runner Up: Shattered Souls Haunted House in Independence, KS
More Top Haunted Houses in Kansas
The Devil Went Down to Kentucky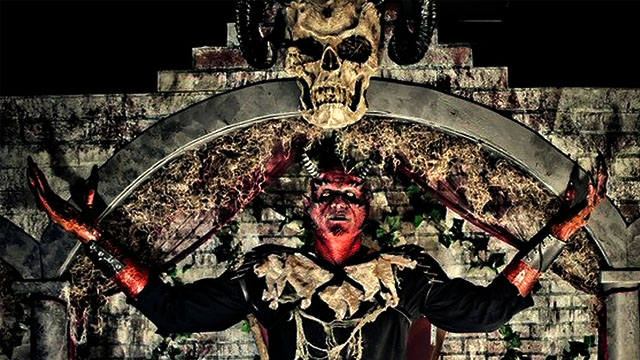 Located in Louisville, the Devil's Attic plays homage to scenes from many classic horror films. Populated by a cast of evil souls trapped by the Devil himself, this walk-through attraction is known for its attention to detail and interactive approach, and is why the haunt has won dozens of major industry awards. The Devil's Attic will scare the hell out of you.
FrightFind It: The Devil's Attic in Louisville, KY
Runner Up: Mayhem Mansion in Morning View, KY
More Top Haunted Houses in Kentucky
Enter At Your Own Risk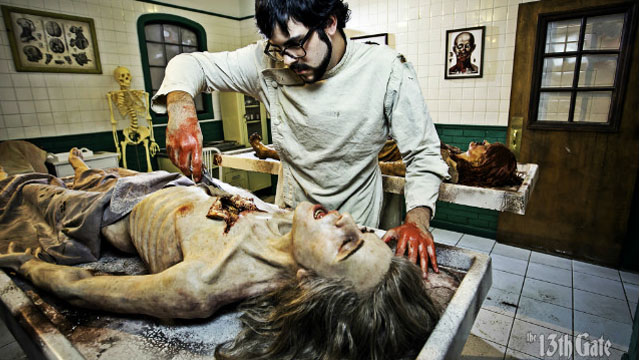 Widely recognized as one of the most realistic and graphic haunted attractions in the U.S., the 13th Gate in Baton Rouge is incredible – and terrifying – in its detail. The 13th Gate attraction takes visitors through 13 realms, each grislier than the one before. The haunt also has Necropolis 13, a tour through a haunted New Orleans-style cemetery, and the 13th Gate escape room game.
FrightFind It: The 13th Gate in Baton Rouge, LA
Runner Up: The House of Shock in New Orleans, LA
More Top Haunted Houses in Louisiana
They Are Coming!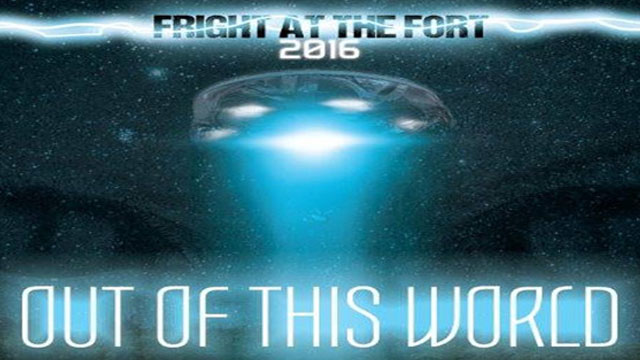 Located at historic Fort Knox, this haunted location has been featured on Ghost Hunters and is well known among paranormal enthusiasts. Voted the "best Halloween experience in Maine" from Down East magazine, the attraction has creeps and thrills for the whole family.
FrightFind It:  Fright at the Fort in Bucksport, ME
Runner Up: Destination Haunt in Lebanon, ME
More Top Haunted Houses in Maine
Two Stories Of Horror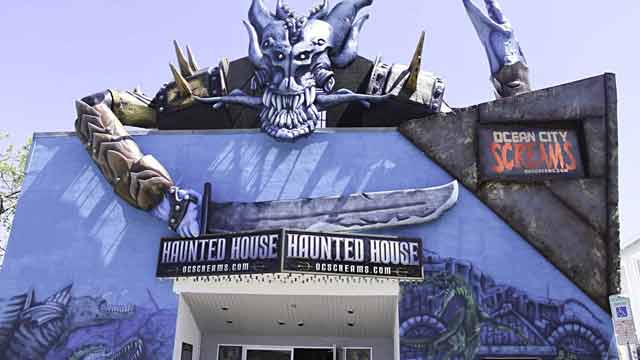 Located only 100 feet from the boardwalk, this 2 story haunt  is waiting for any brave souls to come aboard. Can you make your way through this "ship" before being ripped to shreds like most of the previous crew members? You will love the gorgeous sets and animation as well as the pro actors. Don't miss the grand opening of this amazing haunt.
FrightFind: Ocean City Screams in Ocean City, MD
Runner Up: Field of Screams in Olney City, MD
More Top Haunted Houses in Maryland
25 Years And Still Killing IT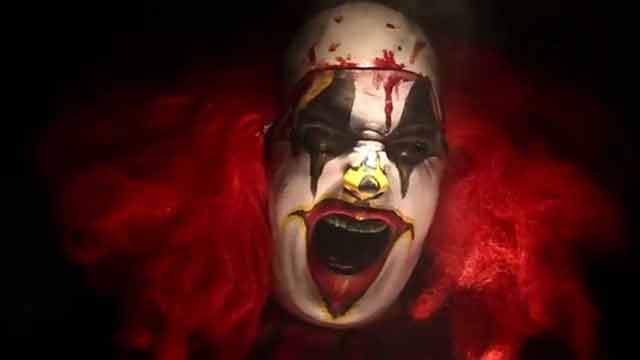 For two years running, Barrett's Haunted Mansion takes first place for top haunt in Massachusetts, although this is the 25th year that Barrett's has been in operation! Set within a post apocalyptic world, the Compound with its gangs of cannibalistic cretins will leave you yelling and screaming for help. On select nights, the lights go out and the rules go out the window for "Darkness Unleashed," a thrilling, no holds barred event that is so intense you'll barely survive the madness! They offer a special "Bite and Fright" on Sunday and Thursday which includes a meal at the neighboring Alehouse. This haunt is not recommended for children under 13.
FrightFind It: Barrett's Haunted Mansion in Abington, MA
Runner Up: Hysteria at Connors Farm in Danvers, MA
More Top Haunted Houses in Massachusetts
Don't Miss Your Exit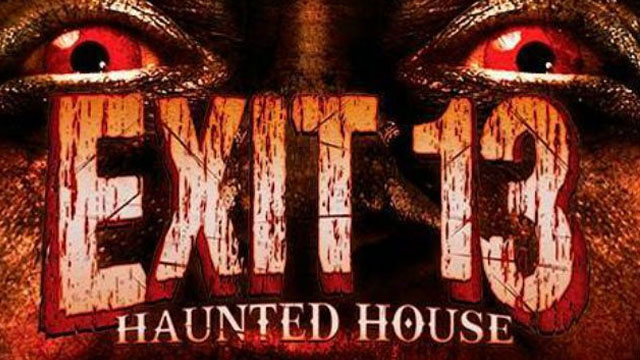 Exit 13 takes you on a highway of horror with its indoor maze featuring live actors who use physical tactics to keep you fully freaked out! When you set foot inside this haunt, you'll be touched, pushed, and jostled by a cast of characters created to creep you out! On your way to the bloodiest of boulevards, you may find yourself separated from your friends, alone in a dark room, wondering if you're the last person left on this hellish highway. "Think you have what it takes to survive? We dare you to get off at Exit 13, your destination for terror."
FrightFind It: Exit 13 Haunted House in Flint, MI
Runner Up: Haunt North Woods in Ishpeming, MI
More Top Haunted Houses in Michigan
8 Attractions In  1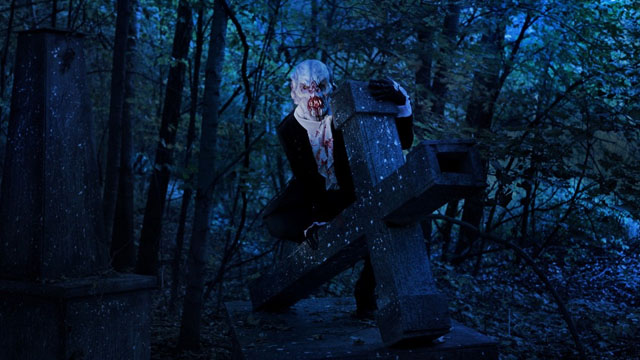 Situated just outside of town, Scream Town is surrounded by a 200 year old forest. This massive haunted house and corn maze features 8 separate attractions in one!  Visitors who enter the Redneck Resort will wish they had never crossed paths with Bubba and his hillbilly cousins! The Ludicrous Labyrinth has so many terrifying turns and defeating dead ends, you may start to believe you belong in the Circus Asylum! Ticket prices start at the low price of $25 per person and go up to $59 for VIP and Fastpass options.
FrightFind It: Scream Town in Chaska, MN
Runner Up: The Dead End Hayride in Wyoming, MN
More Top Haunted Houses in Minnesota
8th Year of Hellraising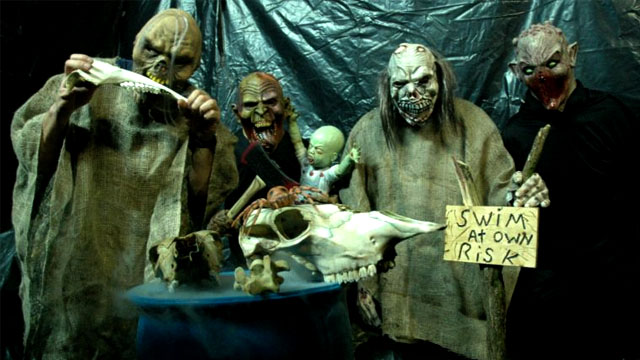 Enter the haunted forest and you will encounter gaggles of ghosts, ghouls, and goblins! Continue into the Haunted Firehouse and you may find yourself face to face with Jason Voorhees and his chainsaw or a maniacal Mike Myers! For the second year in a row, Bailey Haunted Firehouse wins best haunt in Mississippi! The Firehouse has been scaring the pants off adults and kids alike. Jamie said, "I literally left running! It was well worth it! My heart is still pounding…" The best part? Bailey Haunted Firehouse is a charity event and the cost of admission is only $10!
FrightFind It: Bailey Haunted Firehouse in Meridian, MS
Runner Up: Hurricane Haunted House and Forest in Thaxton, MS
More Top Haunted Houses in Mississippi
Missouri Top Haunt: The Beast
Careful, He's A Biter!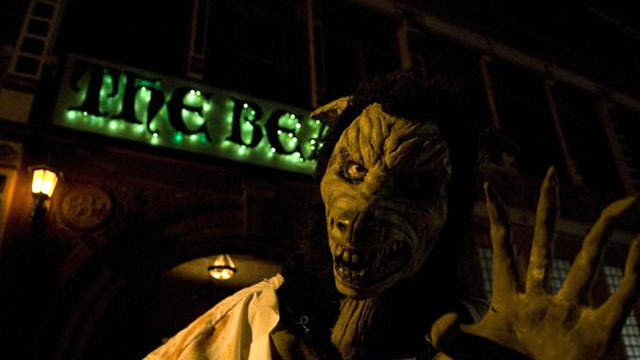 Where else will you have the chance to get up close and personal with a live alligator but at The Beast Haunted House in Kansas City Missouri?  The Beast was one of the first haunts to take on an "open-format" design that allows guests to experience the hair-raising happening without the constraints of a typical scene-by-scene haunted story. Live actors, as well as animatronic characters take turns scaring the daylights out of thrill-seekers in what one patron calls, "The most fun and unique haunted houses I have ever been to."
FrightFind It: The Beast in Kansas City, MO
Runner Up: Phobius Haunted House in Wright City, MO
More Top Haunted Houses in Missouri
Western Montana's Number One Attraction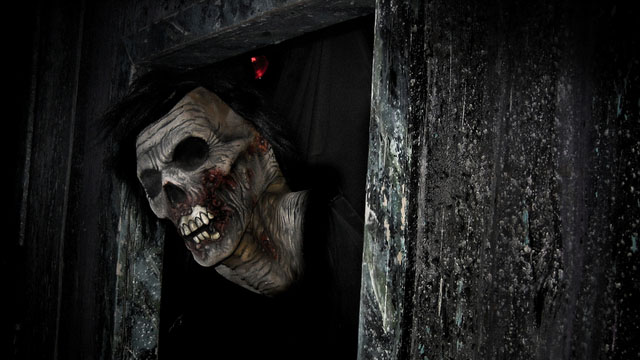 A repeat winner from last year, this outdoor haunt boasts being Western Montana's number one attraction—and for good reason. If you dare enter, you'll first have to navigate through a dense, tall, cornfield filled with…well, who knows what. As you push through shrinking tunnels, graveyards, and playgrounds, you'll meet some less-than-friendly clowns, ghouls, and maybe—unless you're lucky—a chainsaw-wielding madman. For weaker stomachs, this haunted attraction sells Depends underwear. No kidding.
FrightFind It: Field of Screams in Victor, MT
More Top Haunted Houses in Montana
20 Acres Of Scares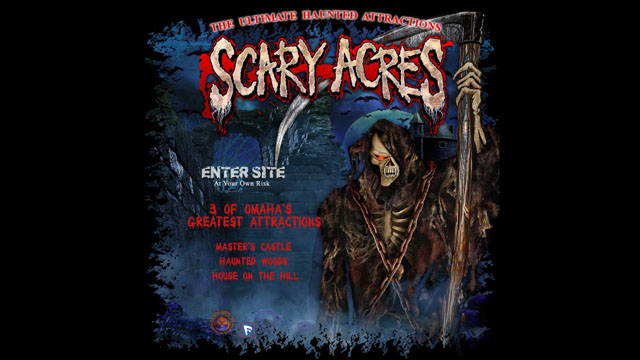 Though located in Omaha, Nebraska—the cornhusker state—this enormous park is far from corny. The twenty acre plot of land hosts three bone-chilling attractions—Master's Castle, Haunted Woods, and House on the Hill—all for the price of one. With insane surgeons, mutant clowns, zombies, and plenty of gore, this place might just put you in the fetal position. The layout of each attraction varies from year to year, so even return customers don't know what to expect. Just expect to be scared.
FrightFind It: Scary Acres in Omaha, NE
Runner Up: Haunted Hollow in La Vista, NE
More Top Haunted Houses in Nebraska
Become A Part Of The Feature Film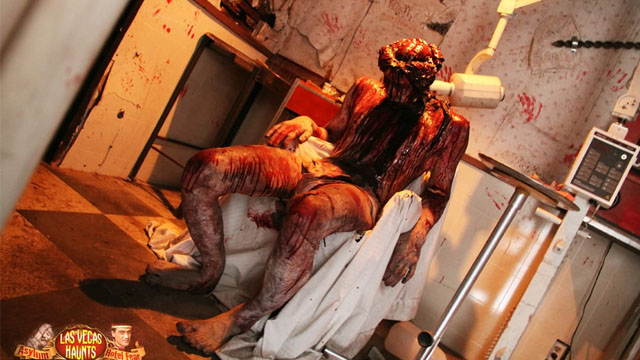 This Las Vegas haunt wins again! Even though the Asylum/Hotel Fear Haunted Houses' rooms are assembled out of repurposed shipping containers and semi truck trailers, don't expect to be any less convinced by this haunted house's horrifying narratives. In fact, walking from container to container, even the smallest of hotel "guests" are likely to feel claustrophobic, especially when the zombies and psychos start to move in on you. It's largely thanks to this unsettling funhouse effect that the site was picked as the setting of the 2015 slasher film, "Rust." In fact, there's even a rumor that some characters from the movie may have permanently set up shop there…
FrightFind It: Asylum/Hotel Fear Haunted House in Las Vegas, NV
Runner Up: Freakling Brothers' Trilogy of Terror in Las Vegas, NV
More Top Haunted Houses in Nevada
Once the Sun Goes Down…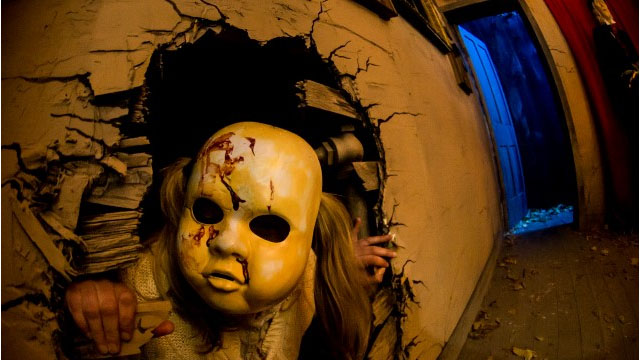 This New England treasure was a runner-up last year. Haunted Overload is one of the few entries on our list with strictly family-friendly options on certain days of the week and at certain times of the day. Children and the fainthearted can enjoy the impressive set decorations and the shrieking actors during Day Haunt or Fright Nite Lite. However, once the sun goes down on the other days of the week, the ghouls come out. And boy, they don't hold back. To see truly breathtaking set decoration artistry and maybe even pee your pants a bit, go in for the full Haunted Overload experience.
FrightFind It: Haunted Overload in Lee, NH
Runner Up: Fright Kingdom in Nashua, NH
More Top Haunted Houses in New Hampshire
Paintball And Paranoia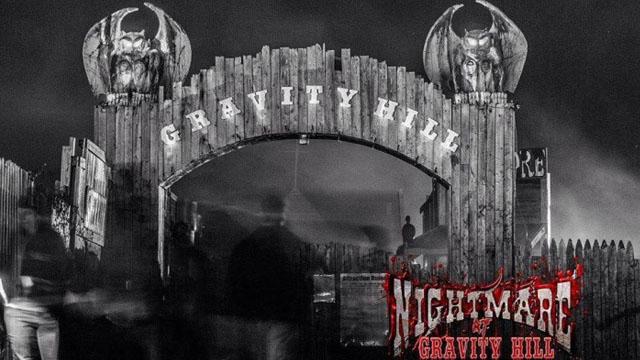 Legend says that cars sometimes roll uphill and defy gravity around this 5 acre farm, though I wouldn't stick around to see what causes it. This attraction appeals to most types. You can either walk through the haunted woods, shoot some zombies with paintballs, or both. While this still isn't a huge operation compared to some of the others on our list, a lot of heart goes into making this attraction deeply enjoyable. Then again, some of those hearts seem to have been ripped back out.
FrightFind It: Nightmare at Gravity Hill in Jackson, NJ
Runner Up: Brighton Asylum in Passaic, NJ
More Top Haunted Houses in New Jersey
A Monstrous Punch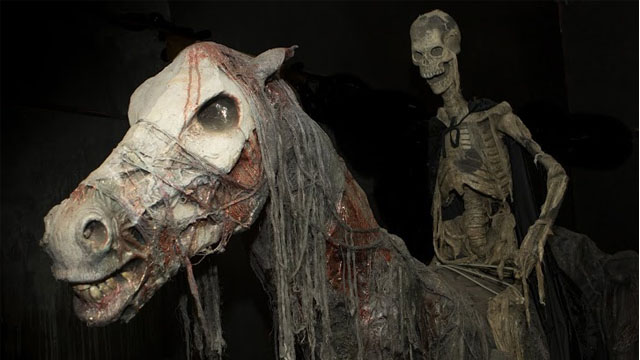 Albuquerque's Realm of Darkness packs a monstrous punch. In 2010, the management decided they wanted to start a haunted house that would serve the community and it terrified. It has since employed high school groups like athletic teams and extracurricular clubs as volunteer actors, who in turn receive a huge portion of the proceeds to benefit their organizations. The combined passions of the haunt owners and the students manifests into one of the most horrifying attractions in the Southwest. With impressive theatrical set designs, nightmarish creatures that change daily, and an inventive layout—all for a good cause—this haunted house is a must visit.
FrightFind It: Realm of Darkness in Albuquerque, NM
Runner Up: McCalls Haunted Farm in Moriarty, NM
More Top Haunted Houses in New Mexico
Not Your Parents Hayride!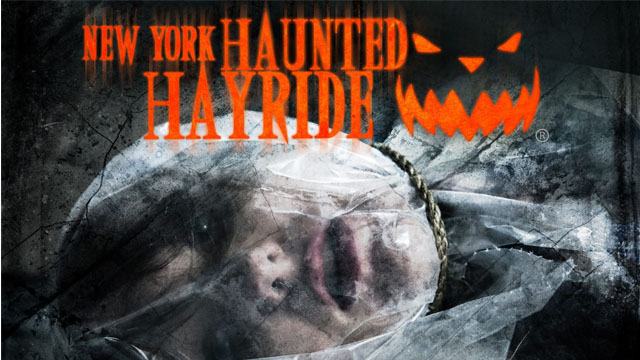 One of the most popular and critically acclaimed haunted attractions in the country, it strikes fear in the hearts of some of the most tenacious people in the world—New Yorkers. With its massive budget, thanks in large part to Mark Cuban of Shark Tank, this hayride has it all: ghosts, demons, Deliverance-esque hillbillies, cultists, you name it. Once you make it to the end, grab a (very dim) lantern and try out the brand new House of Shadows, a complicated pitch black maze filled with disfigured creatures of the night. Lastly, unwind a little it in Purgatory, where you can pick up a couple concessions and relax—that is, unless you get picked to participate in one of the reenactments of famous horror movie scenes. Even if you don't have polished acting chops, you'll luckily have already gained plenty of experience screaming your head off.
FrightFind It: NY Haunted Hayride in New York, NY
Runner Up: Darkside Haunted House in Calverton, NY
More Top Haunted Houses in New York
Lucky Number 13 (for the price of one)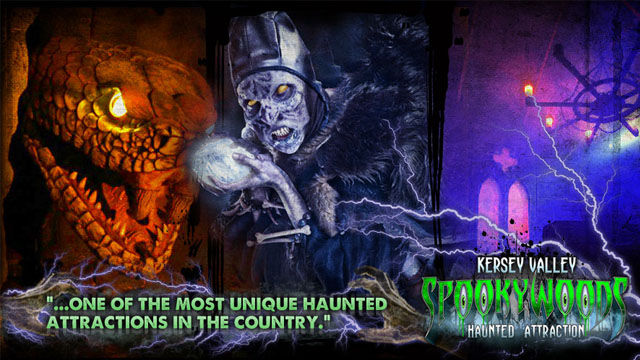 Very deserving of a second win, Kersey Valley Spookywoods of Archdale, North Carolina is one of the most successful haunted houses in America. The haunted park has remained in operation for over thirty years and its legacy is hard to beat. Not only does one ticket buy you in to THIRTEEN discrete, horrifying attractions, but you can even opt to ride a zip line over the valley for a witch's-eye view of the mayhem. A must visit.
FrightFind It: Kersey Valley Spooky Woods in Archdale, NC
Runner Up: Pinhead's Graveyard in Canton, NC
More Top Haunted Houses in North Carolina 
If They Build It, You will Scream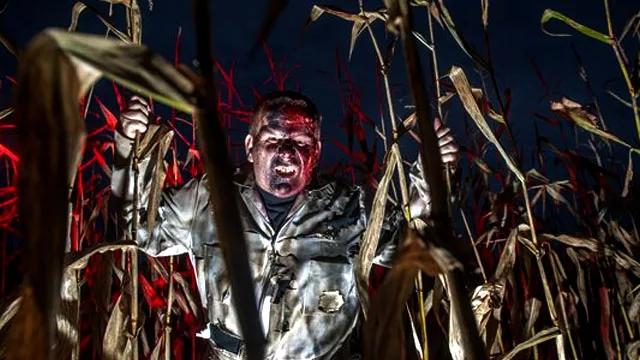 Located in Leonard, North Dakota, this haunted attraction has a whole lot of personality. You'll scream, you'll laugh, you'll cry, you'll scream some more. Walk through the woods, the corn field, and old Leonard High School to meet some incredibly developed, zany, oh-so-spooky characters. Then, immediately turn tail and run far away from them.
FrightFind It: Acres of Terror in Leonard, ND
Runner Up: The Crypt at Jacobs Manor in Leonard, ND
More Top Haunted Houses in North Dakota
Don't Forget Your Hall Pass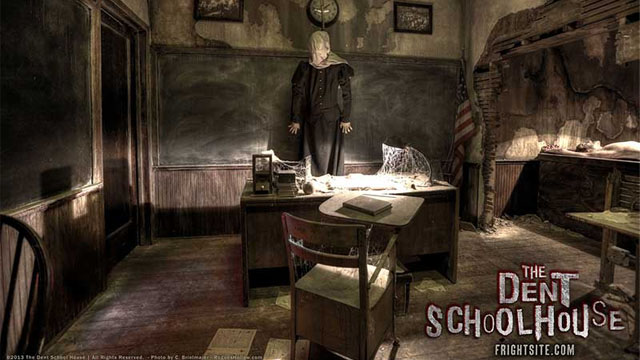 A past winner with Fright Find as well as many other major publications, Dent Schoolhouse in Cincinnati, Ohio is widely considered one of the scariest haunted houses in the country. The Dent crew has some of the highest standards of acting, makeup, set design, and storytelling in the business. In fact, the legend that surrounds the 1800's schoolhouse alone is enough to get your heart pounding—think missing (murdered) children and a homicidal Freddy Krueger-esque janitor. Hit this attraction and you'll long for the days when your worst school-related nightmares were about forgetting to study for an exam. Top marks if you don't tap out early.
FrightFind It: Dent Schoolhouse in Cincinnati, OH
Runner Up: Paranormal Penitentiary in Mansfield, OH
More Top Haunted Houses in Ohio
The Doctor Will See You Now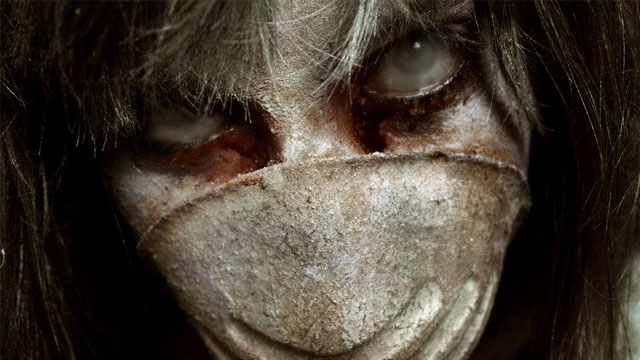 Near Tulsa, The 13th Ward is a Broken Arrow gem. Themed as a medical rehabilitation facility for the country's most violent and dangerous criminals, this haunted house pushes the trope's boundaries and horrifies its patrons in unexpected ways. The House even donates a portion of its proceeds to the River Wallace Luck Benefit fund and The American Cancer Society. Pure terror has never felt so good!
FrightFind It: The 13th Ward in Arrow, OK
Runner Up: The Hex House in Tulsa, OK
More Top Haunted Houses in Oklahoma
They Really Know How To GRAB Your Attention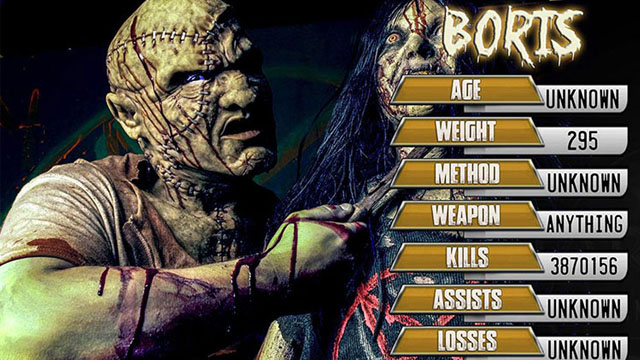 Located in Gresham—just 15 miles out from Portland—this haunted house is very R-rated. All seven attractions, a few of which we can't even name, are full-contact and based on some awesomely taboo themes. This haunt is physically charged and recommended for the most seasoned of haunt-goers. Expect to be really, really freaked out—especially if you don't like small spaces.
FrightFind It: House of Shadows in Gresham, OR
Runner Up: Fright Town in Portland, OR
More Top Haunted Houses in Oregon
Dark Underground Tunnels? Yes Please!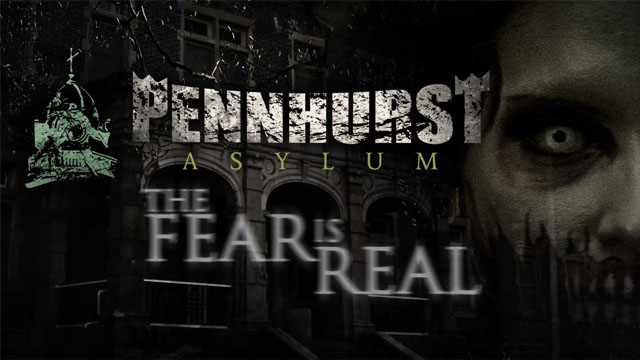 Also a previous winner, this extremely controversial haunted attraction's dark history—along with management's high standards of actors, makeup, CGI effects, animatronics, and attention to detail—makes for a profoundly horrifying experience. A combo pass will take you through Pennhurst Asylum, Dungeon of Lost Souls, and the Tunnel Terror, which runs underneath the grounds of the former state school, formerly known as Pennhurst Home for the Feeble Minded and Epileptic. That's right, the attraction was once an actual mental health facility, and not a nice one. Since it was shut down in 1987 for overcrowding and horribly inhumane treatment of "patients," many believe the grounds are haunted by very angry ghosts. In fact, the especially brave can even pay to embark on a self-guided ghost hunt in the Mayflower Building—which has been featured on both Ghost Adventures and Ghost Hunters—armed with nothing but a flashlight. But don't worry, they usually check the batteries.
FrightFind It: Pennhurst Asylum in Spring City, PA
Runner Up: Field of Screams in Mountville, PA
More Top Haunted Houses in Pennsylvania
Try And Compose Yourself, Then Aim For The Decomposing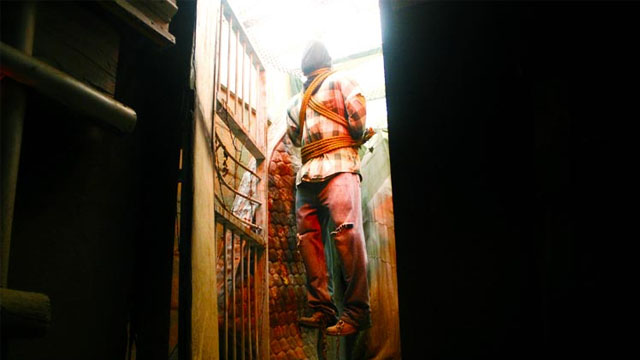 Why change a good thing? Also featured on last year's list, Field of Screams offers three classic haunt experiences for the price of one. With a dungeon crawl, a haunted hayride, and the clown themed Cirque de Souls, you're guaranteed to tap into one of your deep-seeded fears. They also have one of the coolest zombie paintball courses we've seen. Board a 30 foot, 5 ton military truck with mounted paintball guns and ward off the undead horde before you and your peers get overrun. George A. Romero, eat your heart out….
….(so to speak).
FrightFind It: Field of Screams in West Greenwich, RI
Runner Up: Haunted Labyrinth in Cranston, RI
More Top Haunted Houses in Rhode Island
Zombies, Ghosts, and Psychopaths. Oh My!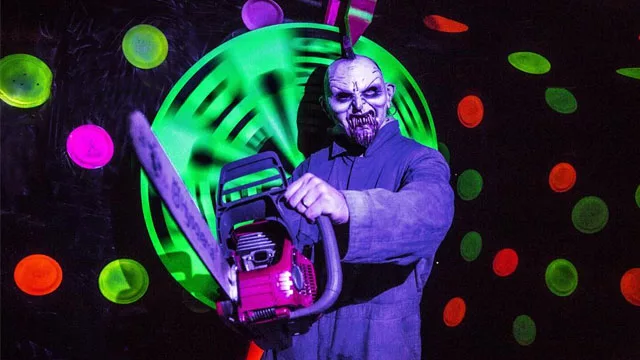 Winning again this year, we have Greenville's own Nightmare Dungeon. Thought to be legitimately haunted, the 110 year old two-story farmhouse hosts four discrete spine-tingling attractions. The place is loaded with inventive characters, each of whom seems to want nothing more than to gobble you up, sometimes immediately, sometimes with refrigeration in mind. Be prepared, these folks are truly dedicated to the art of scaring.
FrightFind It: Nightmare Dungeon in Greenville, SC
Runner Up: Deceased Farm in Lexington, SC
More Top Haunted Houses in South Carolina
South Dakota's Largest Haunted House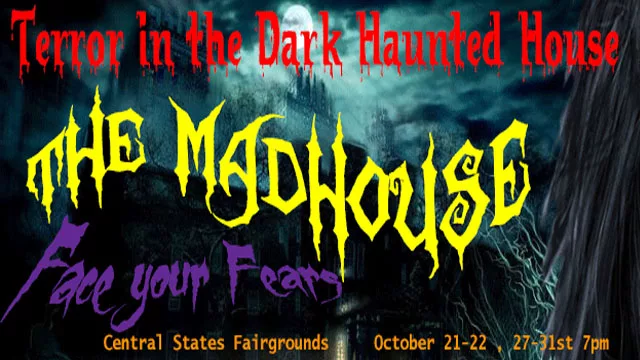 If you are freaked out by the true tales of creepy clowns wreaking havoc on cities and towns across the country, then prepare to be petrified by South Dakota's largest haunted house: Terror in the Dark, with live actors dressed as demented clowns. Scary as it may be to many, the attraction is considered "safe" and "fun" according to their Facebook page, though young children will not be permitted. Proceeds benefit various charities and youth groups. The attraction features a 12,000 square foot haunted house, including a maze and an exclusive VIP zone.
FrightFind It: Terror in the Dark in Rapid City, SD
Runner Up: Fear Asylum in Brookings, SD
More Top Haunted Houses in South Dakota
You Will Get Your Monies Worth, If You Can Last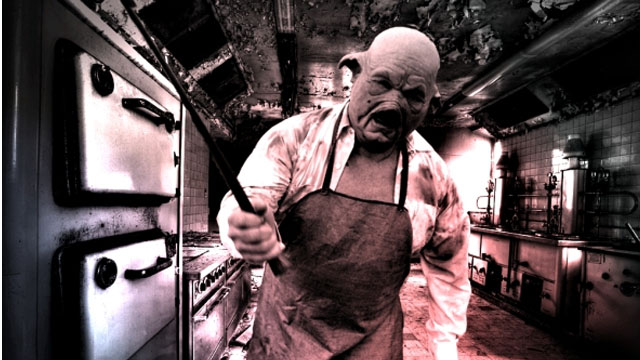 Featuring live actors and a very serious warning, the 13th Realm takes the top spot for Tennessee. The haunt takes 30 to 45 minutes to traverse and is mostly outdoors, but features live cast members within tight tunnels and narrows corridors, "intense audio, lighting… moving floors, special effects… and an overall physically demanding environment…"  While children are allowed, no refunds are issued to those who are forced to flee. The attraction includes a Minions Lair, which is a great place to hang out and still get some scares.
FrightFind It: The 13th Realm in Atwood, TN
Runner Up: Ruby Falls Haunted Caverns in Chattanooga, TN
More Top Haunted Houses in Tennessee
The Longest Adrenaline Rush Money Can Buy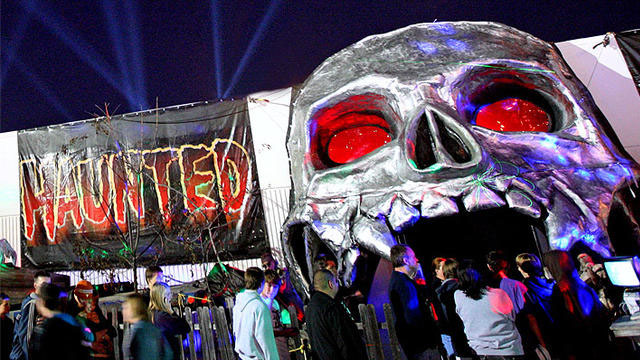 One of the largest haunted houses in the United States, Cutting Edge is located within a 235,000 square foot multi-level warehouse. The attraction features a haunted maze with live actors and in the fine print boasts that patrons will "receive ELECTRICAL SHOCKS." Guests will get covered in bubbles and foam from head to toe, so be prepared to be cold and wet when you leave. Cutting Edge is "the longest adrenaline rush money can buy," according to the Denton Record Chronicle. Definitely lives up to the hype.
FrightFind It: Cutting Edge in Fort Worth, TX
Runner Up: Phobia in Houston, TX
More Top Haunted Houses in Texas
Going Strong Since 1990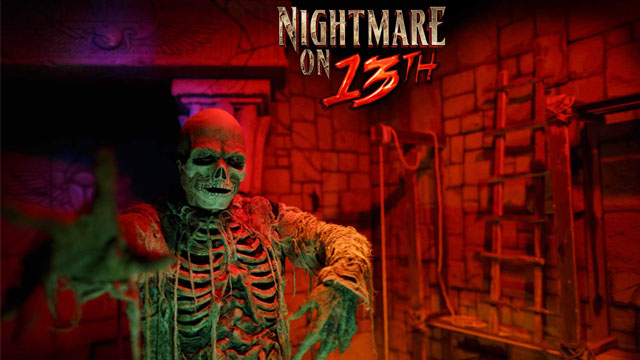 Nightmare on 13th was once featured as one of The Travel Channel's scariest attractions in the United States. It has been in operation since 1990 and continues to terrorize throngs of patrons with new nightmarish themes year after year. They spare no expense in creating the most realistic reenactments from your favorite Halloween classics. Its 36,000 square feet feature the  grotesque half-humans of The Hills Have Eyes, who compete with the Freddie himself in this scream-inducing house of all too familiar horrors.
FrightFind It: Nightmare on 13th in Salt Lake City, UT
Runner Up: Haunted Forest in American Fork, UT
More Top Haunted Houses in Utah
Come On In, If You Dare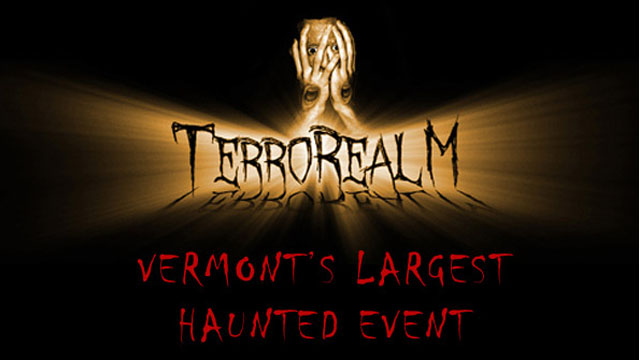 For the second year in a row, TerroRealm has been named the Top Haunted House in all of Vermont, and are also Vermont's largest haunted happening. Frightened visitors will enter the Dementia Asylum, from which they may never return… TerroRealm moved locations this year, but don't worry they moved the graves with them. There are rumors of a supposed staff member who locked every inhabitant of the facility inside – doctors, nurses, and patients alike – and a deranged doctor who performed bizarre medical experiments on them. "Although the old asylum is now abandoned, those who dare go near the old asylum hear screams of torture and madness emanating from within the darkened halls." Enter if you dare.
FrightFind It: TerroRealm in Danby, VT
Runner Up: Dead North in Danville, VT
More Top Haunted Houses in Vermont
Make Yourself Comfortable, You May Never Leave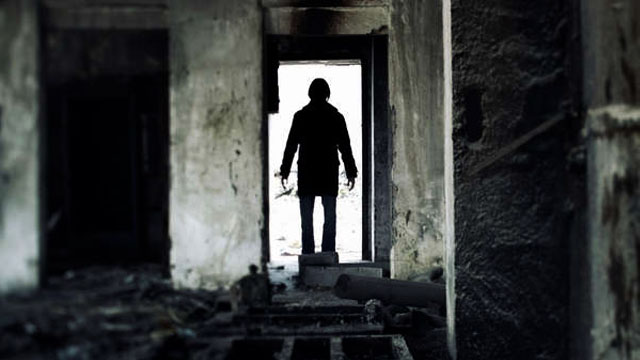 Madhaunter's Madhouse has been terrorizing tourists since 2013, but this year's new location is within the walls of the Old Lorton Workhouse Prison. While the prison is no longer housing inmates, the institution is be open to the public until Halloween, and Madhouse visitors can traverse the maze of homicidal history in under 30 minutes. The website claims that the attraction will bring "nightmares for those brave enough to enter," and warns that inmates – I mean, visitors – may be showered with various liquids throughout the malefic maze. This venue is not suitable for children under 10 years old.
FrightFind It: MadHaunter's Madhouse in Lorton, VA
Runner Up: Darkwood Manor in Luray, VA
More Top Haunted Houses in Virginia
Washington's Largest Manufacturer Of Screams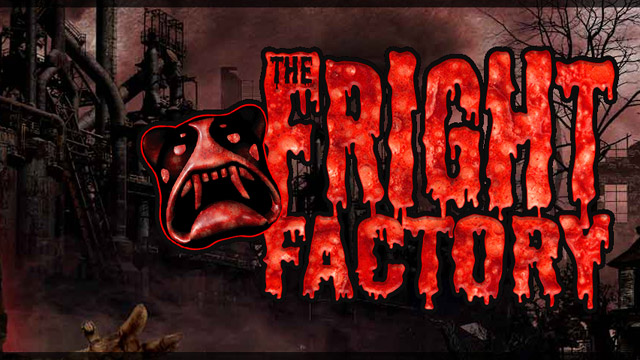 Seattleites, put down your espresso and head south to the dark hills of Buckley, Washington. The Fright Factory haunted house has everything from clowns and ghouls to pitch black mazes that may drive you insane. Not for the faint of heart and not recommended for young kids, but recommended for those ready to look into the abyss. At only $12, the Fright Factory is a killer deal. Bring some canned food for donation and save a buck. Don't and you're pressing your luck.
FrightFind It: Fright Factory in Buckley, WA
Runner Up: Georgetown Morgue in Seattle, WA
More Top Haunted Houses in Washington
The Doctor Will See You Now
For the second year running, The Asylum Haunted House has claimed the top haunt for West Virginia. "In the halls of what once was the area's most reputable hospital, a demented doctor has brought his patients' nightmares to life," their website claims. The Asylum Haunted House "MALICE" is located at the Trans-Allegheny Lunatic Asylum, previously known as Weston State Hospital. In the 1800's the hospital housed some of the state's most delusional and deranged patients. These damaged souls continue to serve the doctor who entrapped them, clawing and scratching at throngs of thrill-seekers as they make their way through the hospital's blood-stained halls. "Can you survive a journey into the Asylum, where the veil between life and death has been lifted?"
FrightFind It: The Asylum Haunted House Presents MALICE in Weston, WV
Runner Up: Fright Nights in Daniels, WV
More Top Haunted Houses in West Virginia
Want To Go Camping?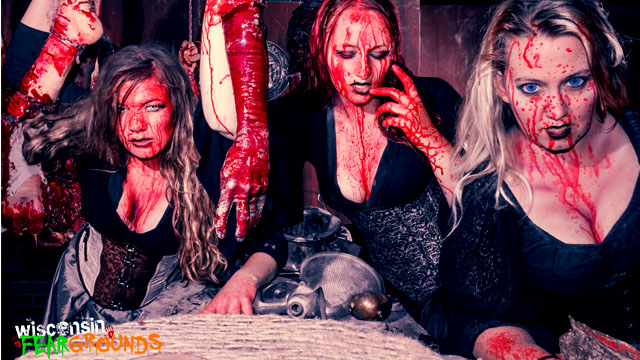 Last year's runner up is this year's penultimate paranormal attraction for the state of Wisconsin. Wisconsin Fear Grounds features THREE haunted houses in one! "Twisted" promises to torment you until you lose your sanity; "Unstable" occupies both indoor and outdoor space, giving the illusion that there is nowhere to hide; and "Zaszu" offers a challenge to escape in under 5 minutes before having your soul consumed by evil! Wisconsin Fear Grounds offers yet another unrivaled experience with Night Terrors: 13 hours of fear! – a unique opportunity to camp overnight, to those who can handle the horrors that lurk in the dark.
FrightFind It: Wisconsin Fear Grounds in Waukesha, WI
Runner Up: Burial Chamber Haunted Complex in Neenah, WI
More Top Haunted Houses in Wisconsin
Sweet Dreams Are Not Made Of These
For the second year in a row, Nightmare on 17th Street takes the top haunt for Wyoming. Spawned in 1989 by members of an international, non-sectarian fraternal order, the Knights of Pythias, the attraction terrifies 2,500 to 3,000 victims every year. Featuring 15 scenes so shocking, you'll have to leave pregnant women and young children at home. And on one exceedingly creepy night, guests are welcome to wander the haunted halls in complete darkness.
FrightFind It: Nightmare on 17th St in Cheyenne, WY
See all our Haunted Houses & Places in Wyoming
Want a recap of our 2015 guide to the top haunted houses in America?